British Summer Timeshift
The nation's appetite for timeshifted TV continues to grow: in January 2010, just over 6% of viewing was timeshifted; the figure is now over 14%.
Those of us with PVRs tend to do more of it year by year. And that's a trend that's bound to continue, especially as the new kit on the market allows you to record a lot more programming: six shows while you watch a seventh.
And of course there are so many other ways to access timeshifted TV these days, via catch-up players and apps.
So it's increasingly important to stay on top of the detail of timeshifted viewing behaviour. Look, for instance, at this month-by-month timeshift percentage chart. Note the fact that, though the line heads ever upwards, it dips a little each summer.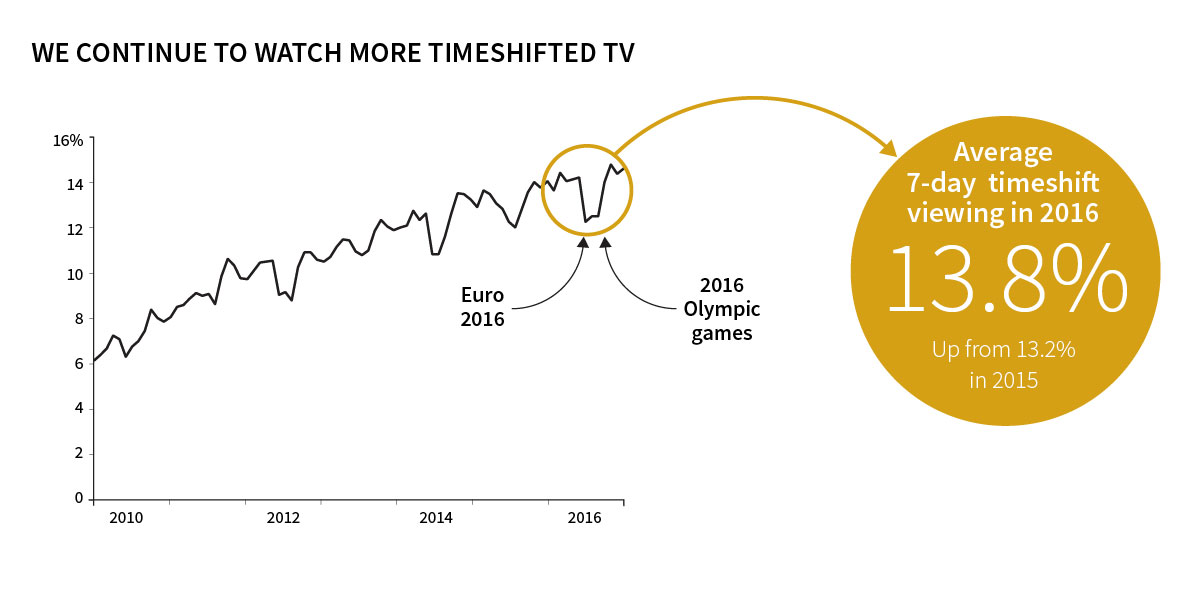 Source: BARB

This despite the fact that we're likely to be out and about more in the evenings, enjoying that perennial British treat, the barbeque summer. So you'd think that the PVR would come into its own in June, July and August.
Except, of course, that much of the must-see television around during those months are sporting events, which are usually more fun to watch live.
Just look at our detailed analysis of last summer's activity: the biggest dips in timeshifted viewing were during Euro 2016 and the Olympics. Andy Murray's Wimbledon exploits were also a factor too.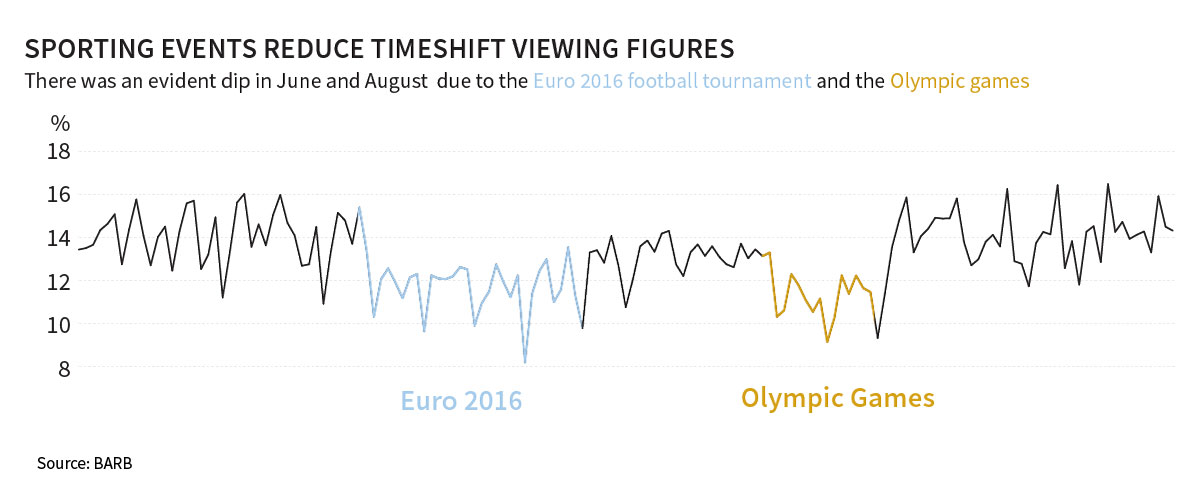 Generally speaking, however, drama (including series, soaps and single plays) is the genre with the most timeshifted viewing. And all the blockbuster drama and entertainment shows tend to be held back until the autumn.
Time-poor segments of the population are the most enthusiastic timeshifters. The 25-34 age group, it's worth assuming, either plays hard or works hard or both. And long commuting times in London and the South East are probably a prime factor in pushing these regions to the top of the regional bar chart.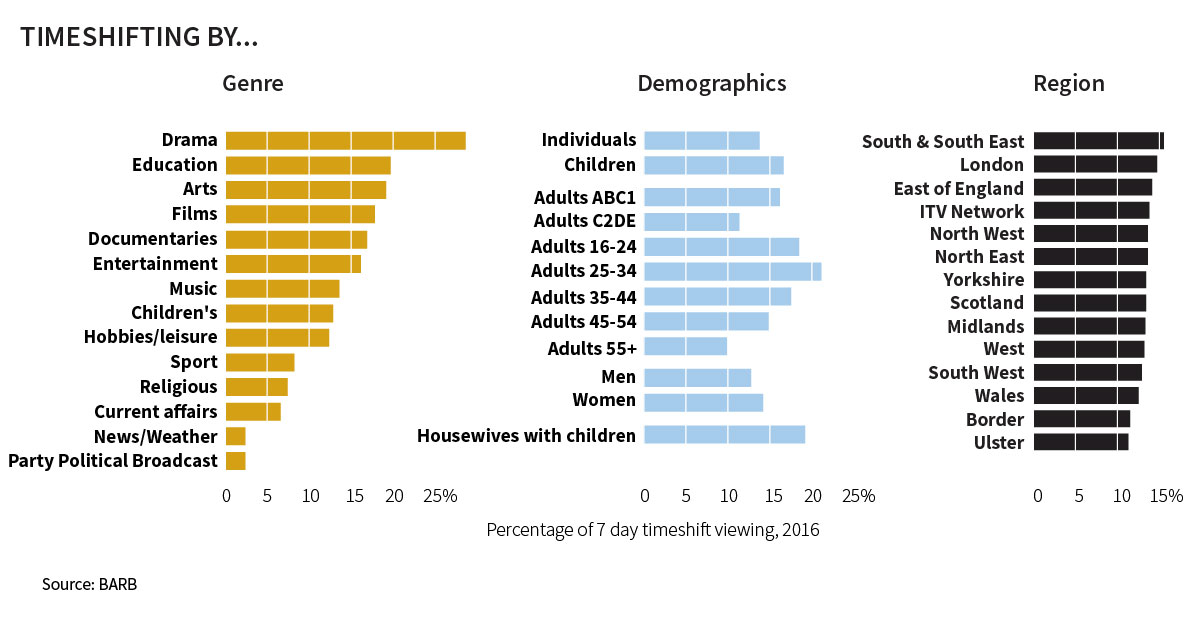 Our primary focus is, as always, the 7-day timeshift viewing figures that are consolidated with the live figures to make up the BARB gold standard. But this only tells part of the story. Within BARB data, it is possible to look at viewing beyond even 28 days via our Sky+ data. This helps us understand how much we record and keep to watch back at a later date.
These figures represent a relatively small slice of overall viewing but they are utterly fascinating. Unsurprisingly, the sorts of programmes people tend to hold onto in perpetuity include cult epics like Game of Thrones, feature films generally and, most of all, timeless children's shows. In 2016, for instance, the most watched programme from timeshift's long tail was Stick Man, first broadcast on Christmas Day 2015.
This is much-loved deep-archive TV and as such, by and large, it's a shared experience: 56% of 29+ day timeshift is played back with more than one person watching.
We say by and large, because the oldest recorded programme watched last year was an edition of DIY SOS from July 2003. This, surely, is the most conclusive evidence we have ever produced in support of the proposition that it takes all sorts.