Online TV: What we know
In the late summer of 2015, BARB began publishing its weekly TV Player Report, which measures levels of viewing to on-demand and live-streamed content accessed via mobile and online TV player apps. This was the first, and remains the only, fully-audited, joint industry measure of online TV.
The evolution of this research and the ways in which it is being integrated with BARB measures of live and timeshifted viewing is covered more fully in our Development Roadmap FAQs; but it's worth looking here at some of the interesting findings to emerge from the TV Player Report in 2016.
And this is also a good opportunity to remind the industry of a new notion underpinning this research: average programme streams.
It's an industry-agreed metric calculated by taking the total time people spend viewing programmes on TV players (across all devices in the reported period) divided by the full length of the programmes.
As a duration-based metric, it's analogous to the well-established BARB notion of average audience.
The measurement of this activity will allow us to derive a new and more comprehensive measure of a programme's audience across all delivery channels.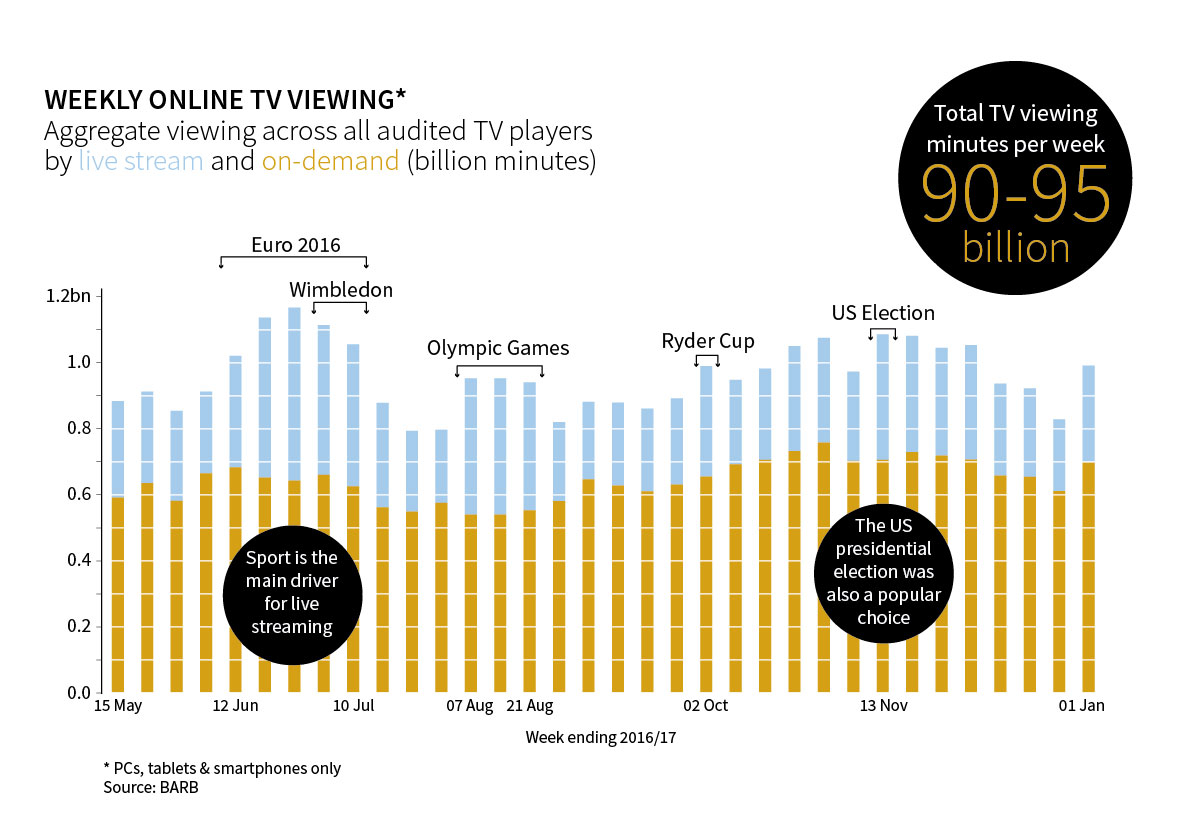 In some instances app viewing can add significantly to the total audience. Take, for instance, the England versus Wales game at Euro 2016: the event that notched up the largest amount of live stream viewing in 2016, with 523,661 average programme streams. The live TV audience was 7m. In other words, online and mobile viewing boosted the viewing figure by around 7%.
In general, sport is the main driver for live streaming but as our chart shows, the US Presidential election was another notable catalyst.
In contrast, on-demand viewing via apps is driven mainly by drama, but event TV phenomena like The Great British Bake Off and the return of Planet Earth (anticipated as one of the biggest must-see TV moments in recent years) actually took the top slots.
Again, these leading examples added around 6-7% to the viewing figures, though it has to be remembered that these are standout performances. The average audience addition will be smaller than that.
And the device-in-use figures are fascinating too. While it's early days, the trend data would tend to indicate that viewing on mobiles increased slightly last year but it still remains, in the wider scheme of things, relatively small.
Online TV viewing boosted the England v Wales audience by about 7% 
Intriguingly, the tablet continues to dominate. It will be interesting to see how this holds up. Many in the tech business believe that tablets are falling out of fashion. For instance, according to tracking data from IDC, across the last three months of 2016 global shipments of tablet computers were down for the ninth straight quarter.
So we'll see. There's a lot happening in this area, lots to explore. But, in terms of establishing viewing levels and patterns in online TV, we've already moved well beyond square one. The next challenge is to fuse these data with BARB gold standard data.
Meanwhile it's vitally important that we keep all of this in perspective. Each week in the UK we view between 90 and 95 billion minutes of television on our TV sets. We only view 1 to 1.5 billion minutes on other devices. This is, as yet, a very small part of the total television picture.