Here is the news
Those among us of a cynical disposition will feel chastened by a perusal of these genre figures. There is nothing, say some, more likely to put you off current affairs than a General Election.
Well, they're just plain wrong. We went to the polls on May 7th last year. Did this inspire the great British public to prove its indifference by watching more soaps and general entertainment programmes? No, it did not.
News as a genre was up 0.4 of a percentage point in the share figures. This may seem rather negligible on its own, but look also at this: documentaries up 0.7 of a point; current affairs up 0.3. And if you suspect this reflects a dumbing down process at the major broadcasters then think again.
Because we also watched stuff cobbled together by the dullest and most incompetent broadcasters on the planet: the politicians themselves. From the official start of the election period until Polling Day, over 25 million people watched a Party Election Broadcast. And of the top 2,500 programmes last year, 599 (24%) were news bulletins.
In 2015, over 40 million people each week watched at least some TV news: that's 70% of people in TV households. If anything is going to make you proud to be British, then this is it.
To cap it all, look at the share commanded by entertainment programming. Though we hesitate to posit any simplistic mechanism of cause and effect here, it's worth noting that this genre was down half a point last year.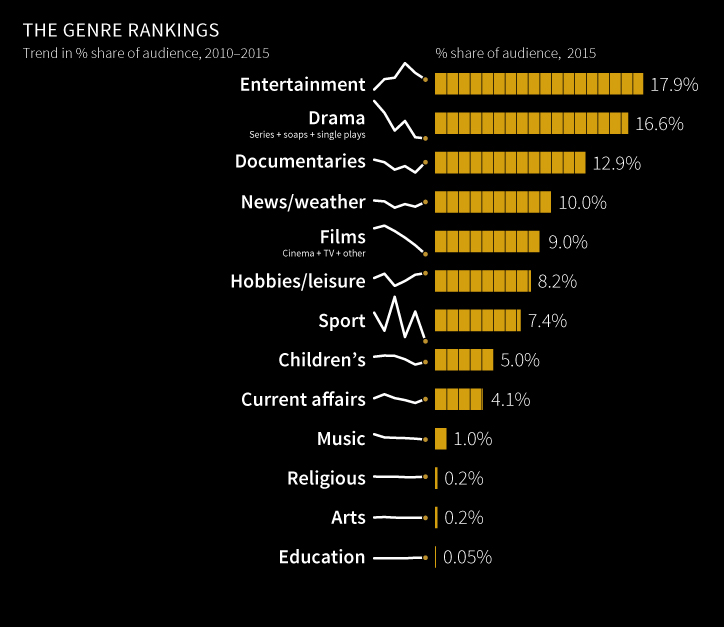 This is the programming department most at the mercy of waxing and waning fashions. It's also the one most subject to scrutiny along the top-floor corridors of broadcasting power. The reckoning being that if you win here you win big, especially on a Saturday night.
But entertainment's share of viewing is yet to replicate the high point of 19% it achieved in 2013. Suffice to say, we've reached a point in the cycle when viewers seem to be tiring of one or two formats.
Also feeling the pinch last year was sport, down two points. This will cause only a moderate outbreak of fingernail chewing. Like entertainment, sport on TV is subject to cyclical effects, but they're more regular and predictable: in short, even-numbered years are always best, offering, as they do, either a summer Olympics or a football World Cup.
News bulletins accounted for nearly one quarter of the top 2,500 programmes in 2015. 
Last year, our keynote sporting event was England's embarrassingly early departure as host nation in the rugby union World Cup. 2016, with its carnival Olympics in Rio and European football championships should be better.
It's also worth noting the continuing ratings demise of cinema films as a television genre. Blockbusters are still terrifically important to television as a business, but they're subscription and pay-per-view revenue drivers rather than a ratings bellwether. These days, all the good stuff airs first on dedicated film channels that, by definition, draw small but perfectly-formed audiences.
And finally, in last year's report we bemoaned the seemingly inexorable decline of children's programming. We attempted to argue that this genre was the industry's coal mine canary: its health tends to be indicative of the medium's faith in its own future.
Treat your youngest audiences with contempt, so the argument runs, and they'll repay the compliment somewhere down the line. So it is with pleasure that we can report this genre's performance in climbing, albeit by 0.1 of a percentage point.