Make cake not war
2016 was a year we'll never forget. Where were you when you heard the Referendum result? Who told you Trump had actually won? And if you weren't already watching TV, wasn't it your first instinct to get yourself in front of one?
So, all in all, you'd quite naturally assume 2016 was likely to be a good year for factual programming: news, documentaries, current affairs. And yes, they all increased their share of viewing year-on-year. But not by much: a tenth of a point in each case.
But then that's probably because news and related genres were already on a high in the previous year's genre share figures, thanks to a (not entirely unexpected) boost around the time of the 2015 General Election. Factual TV represented 25.6% of viewing in 2014, 27.0% in 2015, 27.4% last year.
And there are those who argue there's a continuing opportunity to consolidate these recent gains. 2016 was, famously, the year of fake internet news, which might just deliver a hugely welcome competitive advantage to TV.
The Great British Bake Off helped entertainment categories to prevail over factual programming 
Thanks to the antics of a handful of maverick online news outfits, TV's stock as an honest news broker has never been higher. It will be fascinating to see if this translates into even higher viewing figures.
Meanwhile, TV's primary role is as it ever was: to keep us delighted, amused and imaginatively stimulated. In other words, we continue to watch a large amount of drama, films and light entertainment, with these categories adding up to 42.3% of viewing.
Intriguingly, though, all these categories seem to be in long term decline.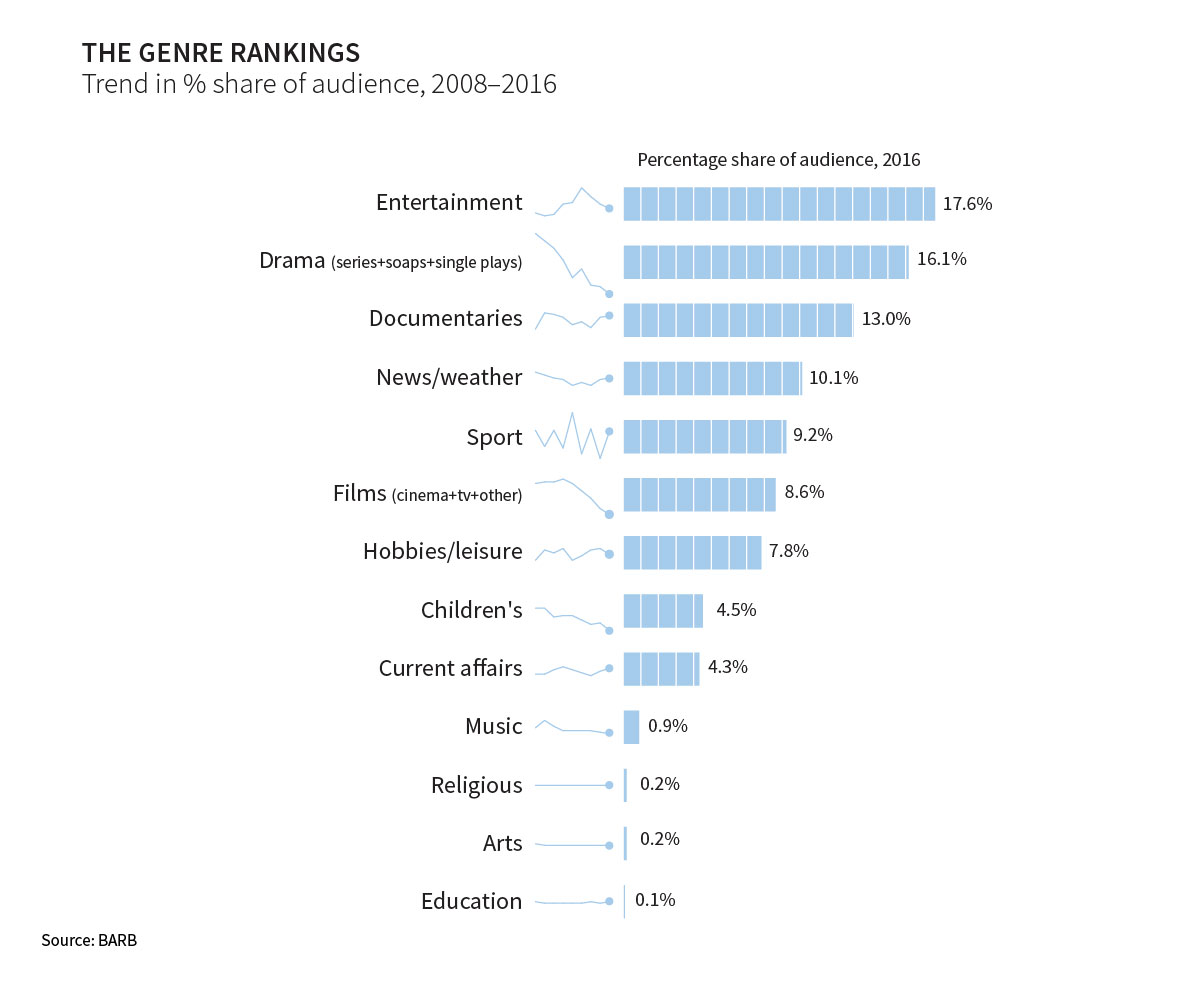 Drama, for instance, including series, soaps and single plays, notched up a share of 20.2% back in 2008; but it has lost ground in every year since. Perhaps this is because it's the part of the genre spectrum under most pressure from new delivery options. Thanks to increased competition from SVOD platforms like Netflix and Amazon, plus the growth in popularity of box sets, viewers have a far greater range of ways to access big-budget narrative TV these days.
The films category, as we have noted in past reports, has declined as a mass audience proposition over the years. So many of the big premieres are on pay-TV, where the audiences tend to be smaller than on free-to-air.
Meanwhile, entertainment has been on something of a roller coaster ride over the last decade or so; and potential volatility in this genre is perhaps encapsulated by the story of The Great British Bake Off. An unlikely flagship proposition when it launched in 2010, it was one of British TV's biggest shows last year. Now, with its move to a new home, it may have to prove (pun only half-intended) itself all over again.
In contrast, sport exhibits a far more predictable volatility. In audience terms, it's television's yo-yo genre. It took a 9.2% share in 2016. We can confidently predict that it will be back down to around 7.5% in 2017. That's because odd-numbered years are relatively quiet compared to even-numbered years, which offer up either a FIFA World Cup or an Olympics coupled with a Euro football tournament.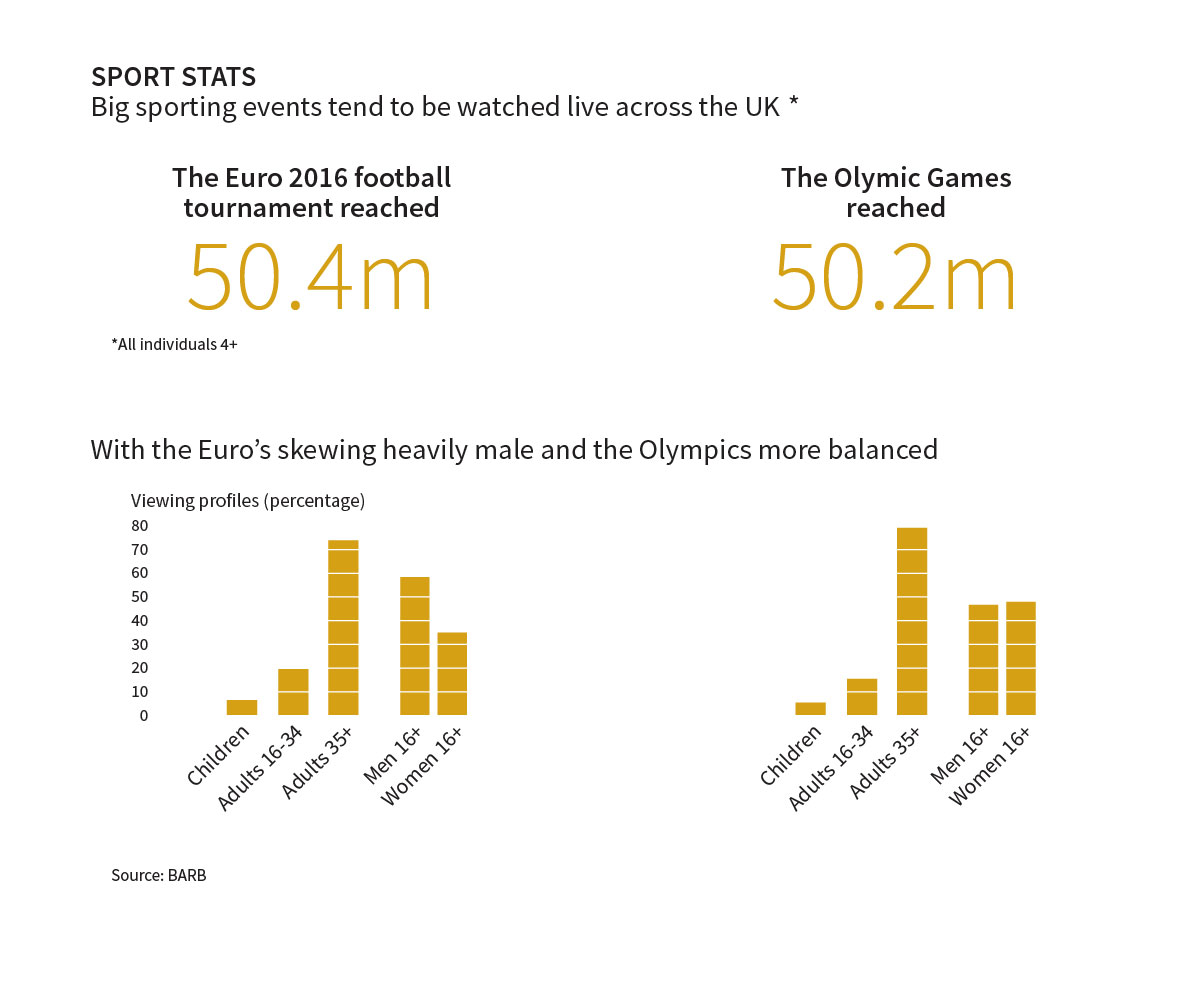 So, forget Trump. Where were you when that first Iceland goal went in against England? Or when Sam Vokes glanced that glorious header beyond Courtois?