Hello,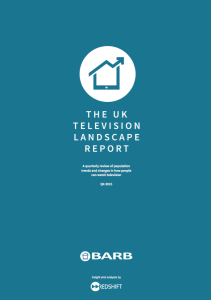 Welcome to the first edition of The UK Television Landscape Report, a new quarterly report from BARB that reviews population trends and changes in how people can watch television.
Each year, BARB interviews over 53,000 people for our Establishment Survey. The results are vital to our understanding of the shifting landscape that we have to monitor. The survey also provides a source of new panel homes and details for our weighting scheme.
Household demographics are naturally an important part of what we ask, although we also focus on the ways in which people can watch television.
We ask about ownership of TV screens and a range of other devices that can be used to watch television programmes. We explore which distribution platforms are available in homes across the country. The questionnaire also covers the take-up of subscription VOD services that are delivered by new entrants in the television ecosystem.
The UK Television Landscape Report features the tremendous insight that is available from the Establishment Survey, both in snapshot analysis and through longer-term trendspotting.
In this first edition we focus on the following topics.
Is Netflix taking over? SVOD services are growing in popularity but are most likely to be found in homes that also have multi-channel subscription packages.
What's in a platform? Households increasingly have more than one platform, while penetration of the major platforms remains constant.
Who doesn't own a TV? Pre-family homes are the most likely to go without a TV, while non-TV households are also less likely to own computer devices.
The report will also feature a growing number of tracker articles.
Device access: The number of devices in each home that can be used for watching television is on the increase.
Number of TV sets per household: It's a stable picture, albeit with a slight, long-term decline in the number of homes with three or more TVs.
BARB customers will find additional interactive features after you've logged in.
What this report doesn't do is explore changes in viewing behaviour. That remains the principal focus for our annual publication, The Viewing Report.
Side by side, these two complementary reports will provide insight on the changing ways in which people can watch television and the ways in which they do.
I hope that you enjoy the UK Television Landscape Report and welcome your feedback.


Justin Sampson
Chief Executive



Feature articles
Trackers
The UK TV Landscape Report will track key metrics which define the TV landscape over time. The trackers will feature in each edition of the report, and we will add to the number of tracker charts as we go.

Tracking key metrics offers insight into the changing nature of the UK TV landscape. In many cases, the pace is slow; the question is, how steady?