The swinging sixties
So, it's official. Adults over 65 are becoming increasingly promiscuous – in terms of channel-hopping at least.
And they're bucking the market trend. This is the only age group to have increased the number of television channels it views each week, compared to 2012.
Across the rest of the age spectrum, the trend is downward.
Is this significant? Should broadcasters be worried? And what conclusions can we draw, if any, from the over-65s anomaly?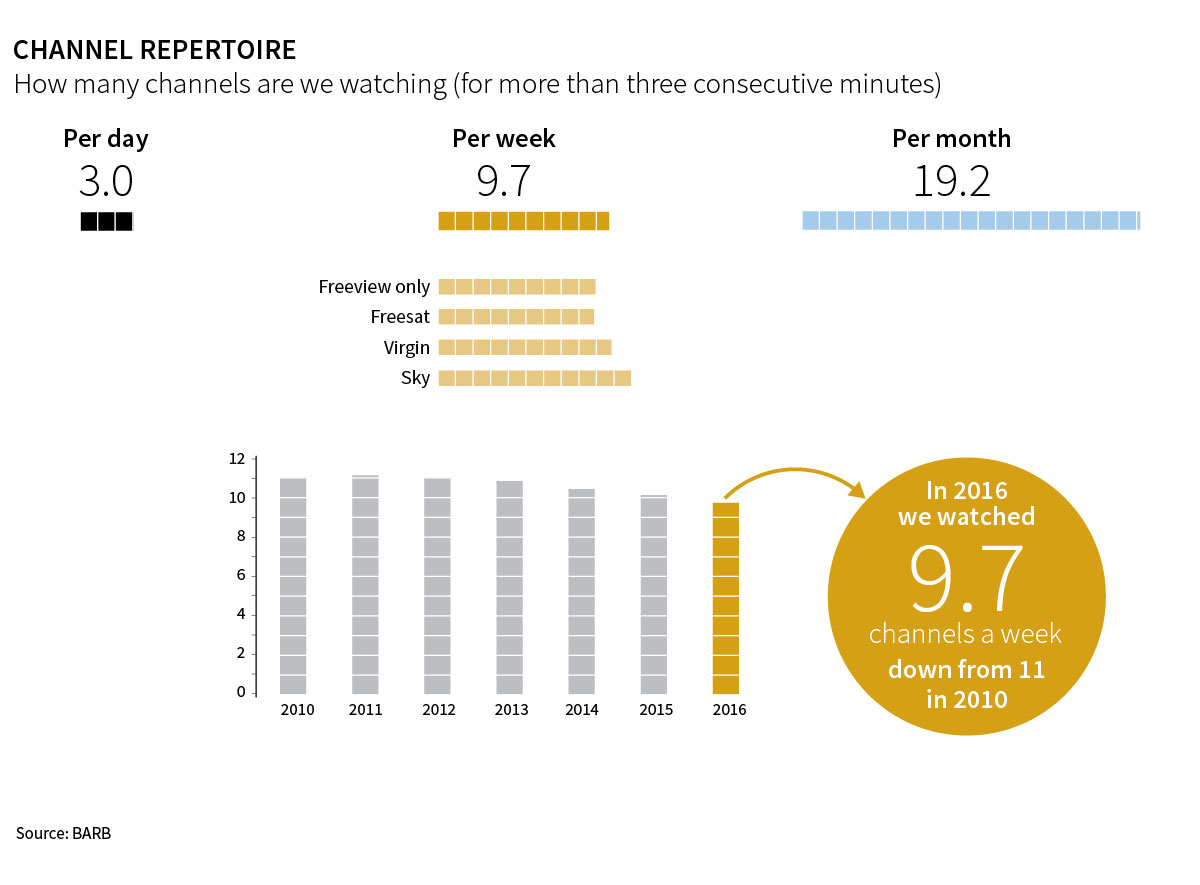 You could argue it proves there are more channels these days offering attractive diets of heritage programming. ITV Encore, for instance, launched in 2014. But this is to assume that the TV consumption behaviour of the over-65s is significantly driven by heritage programming.
And that might be deemed glibly prejudicial.
But putting aside the trend data for one second, one broad principle seems to hold: the older you are, the more channels you're likely to have in your weekly or monthly repertoire. At some level, this is probably a function of how much time you have on your hands.
But clearly it's the trend situation that will intrigue and perhaps alarm programme planners; and pessimists will probably focus on the age group recording the biggest decline from 2012 to 2016, children aged 4-15.
The older you are the more channels you're likely to have in your weekly or monthly repertoire 
For many years, children's TV has not been a high priority for the largest commercial broadcasters; and some critics have been bemoaning the possibility that TV's business strategists have forgotten the old adage about catching 'em young and keeping 'em for life. Our figures certainly indicate that children now have the least expansive TV habits.
And yet, though there may be at least a grain of truth in this analysis, it may prove to be less than half the story. It could turn out, for instance, that children aged 4-15 are watching fewer broadcast channels because their attention is focused increasingly on other parts of the TV universe.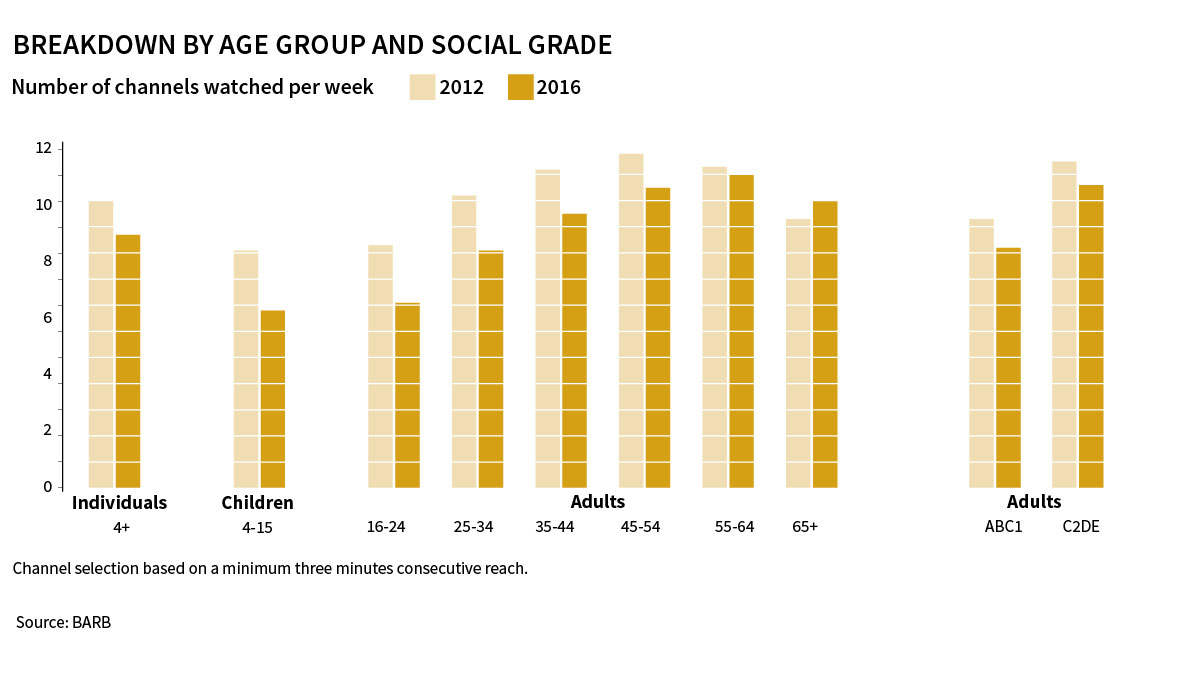 After all, we know that homes with children are more likely to buy box sets and to subscribe to subscription video on demand services like Netflix and Amazon. These services aren't (as yet) part of the channel promiscuity picture; so, if you're a big SVOD fan using, say, Netflix as your primary go-to platform, then this will almost inevitably impact on your total channel repertoire.
And in fact, more broadly, right across the demographic spectrum, it's probably true to say that a declining emphasis on live TV will have implications for our range of channel choices. If we're recording ever-greater amounts of programming on our PVRs, there's less motivation (or opportunity) for us to roam around the EPG so much these days.
But let's continue to keep this in perspective: as a nation, on average, we're engaging with just over 19 channels a month. That's hardly blinkered behaviour.
One thing's for sure, these numbers are fascinating; and this is something we'll continue to monitor.