TV or not TV?
BARB launched a number of innovations last year, including the production of new figures that explore the different ways in which people use their TV screens.
Since Atari launched the home version of a computer game called Pong in 1975, we've all been fairly comfortable with the idea that your TV is not just for watching television programmes. To prove the point, we've continued to plug all sorts of gizmos into our TV sets.
By the millennium, with the digital revolution in full flow and our furniture firmly pointed
in one direction, it seemed that this steady accretion of kit would eventually do for TV as a live, or near-live, communal experience. Of course that's still the assumption in some quarters of the digisphere, the latest theory being that the likes of Netflix and Amazon Video will soon govern an internet-connected TV world.
Until now, though, no one has had a detailed fix on what we actually use our TVs for when we're not watching conventional telly. So to plug this gap, we've been able to apply new analytic techniques to BARB panel data since December 2015.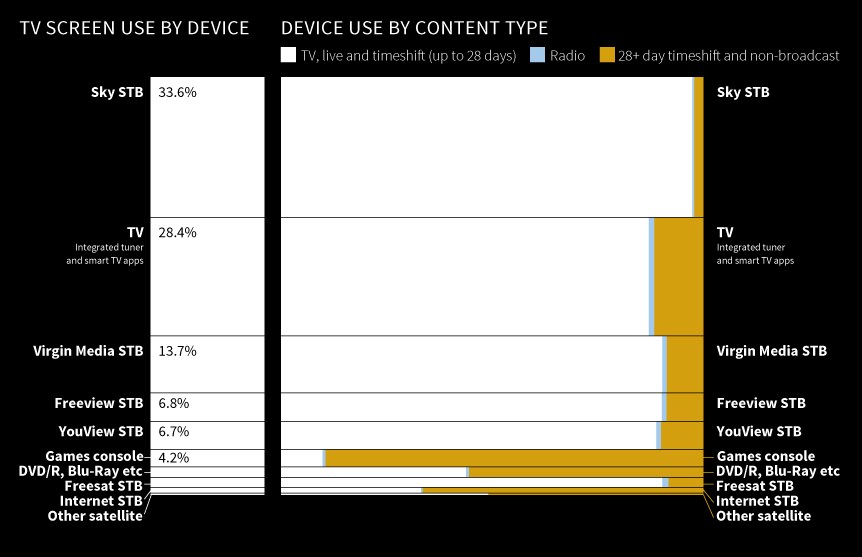 Linear and timeshift TV continues to dominate use of the TV screen but there are a myriad of other uses, some you'd expect and some slightly less predictable. During the period of our analysis, people were watching live or catch-up for just under seven out of every eight hours when using their TV sets: that's 86.4% of TV screen time being devoted to watching TV programmes within four weeks of their appearance in a broadcast schedule.
This leaves an average of just over 40 minutes a day when the TV screen is being used for other activities. Break this out into a new bar chart and we find games and Blu-Ray/DVDplayers dominating, with a combined 42% of the action. As you might expect, this picture is even more pronounced for 16-24 year olds who spent an average of 60 minutes a day on other activities on the TV screen; 57% of this was using a games console or a Blu-Ray/DVD player.
But it's the other slices of this subsidiary chart that will attract the most interest from those who believe we're on the verge of a new phase of television. There's quite a chunk of miscellaneous viewing related to the various mainstream distribution platforms. Some will be archived PVR programming, things we've recorded more than 28 days previously; some of it will be box-set viewing and pay-per-view movies.
Equally, some of this will be people accessing TV apps that are distributed by the platform operators. In other words, we're getting into Netflix and Amazon Video territory.
This is even more the case when we look at the 25% chunk designated as TV on our lower graphic. We don't yet have the sort of granular detail we'd like here, but this activity includes (and may indeed be dominated by) people accessing TV apps via smart TVs.
TV screens were used on average for 40 minutes a day for activities other than watching live or catch-up TV programmes.  
2016 is another important year for SVOD services, with Netflix investing in the creation of 600 hours of original content and Amazon Video investing in Jeremy Clarkson et al. To justify all that investment, both companies have to make major headway in living rooms. Dethroning the market's established players would be a mammoth task, but the data show where one of their most important routes to market may lie.
This snapshot analysis may not be completely representative and trends will emerge over the course of this year. Naturally this is something to keep an eye on.