Insight and analysis by

For many years, it was widely assumed that pretty much every home in the UK had a TV. This can no longer be taken for granted. The number of non-TV households is growing: BARB's figures for Q4 2015 show 1.3m or 4.7% of UK households now make do without a TV. The growth in the number of households without a TV has picked up over the last two years: in both 2013 and 2014 the number increased by over 200,000 homes. There was a reduction in the final quarter of 2015, but this is the result of change in BARB's definition of a working set.
The exhibit below shows the steady increase in the number of non-TV households over the past six years. There is a reduction in the number of non-TV households in the final quarter of 2015, but this is the result of a change in the way the Establishment Survey defines a household without a TV rather than a real change in behaviour. BARB used to define households which claimed to have a TV but not to have used it to watch TV programmes in the past six months as non-TV households; as from Q4 2015, these households are now counted as TV households. BARB also used to exclude households who had a TV but could not specify the means of reception (cable, satellite, terrestrial, etc.); these are now counted in.
BARB's detailed statement about the change in the definition of a TV household can be found here.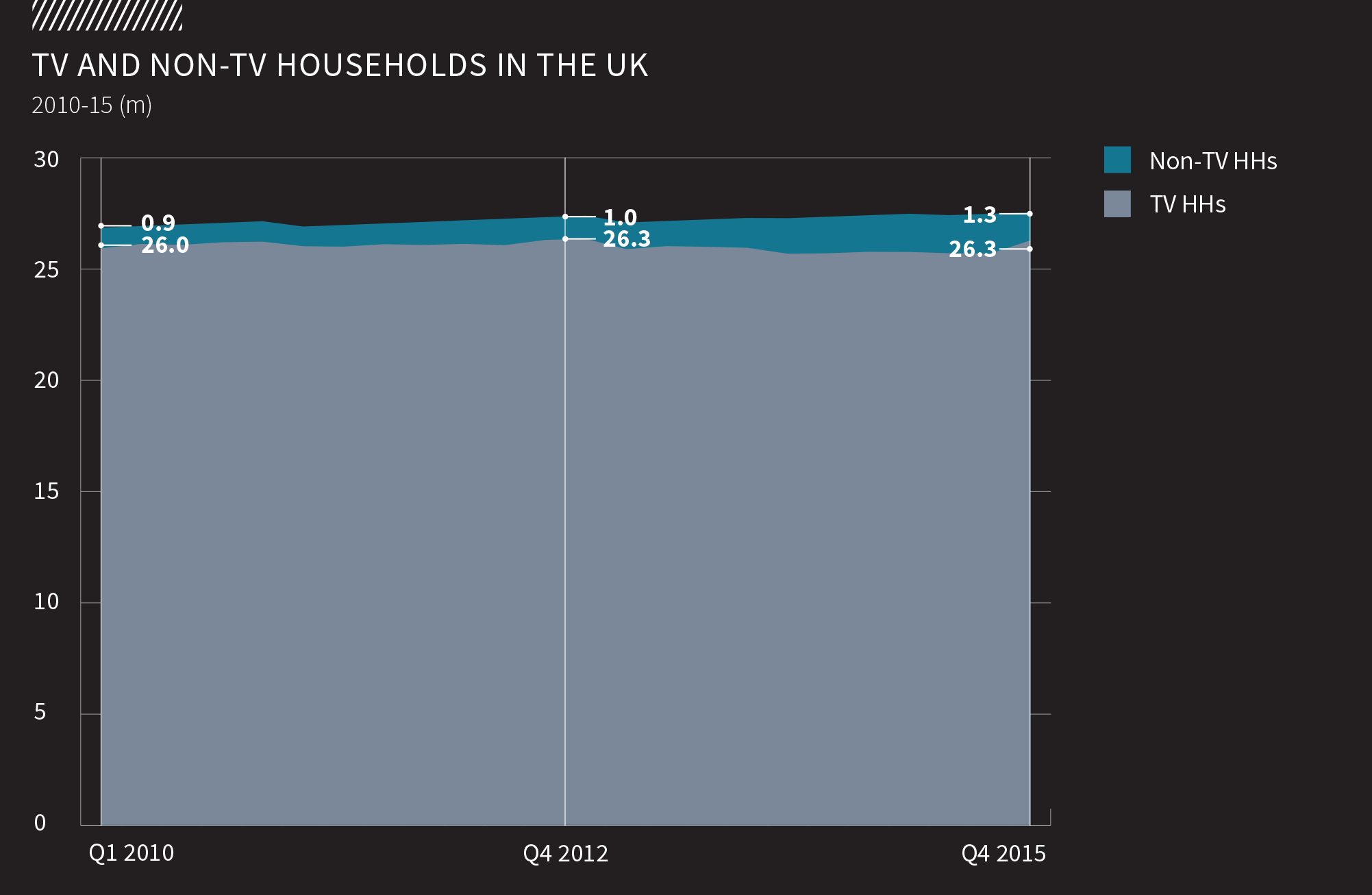 Why does it matter?
If viewers' lack of a TV set means they no longer watch live TV, under current legislation they no longer need to pay for a TV licence, so the growth of non-TV households has implications for the BBC's funding base. This may change as a result of the current debate about whether access to BBC iPlayer will be restricted to licence-fee payers.
Households without a TV still have access to video content, but are likely to watch it using a computer device, which means that what they watch and how they watch it is likely to be significantly different.
Comparing TV and non-TV households
One theory is that non-TV households are online pioneers who are keen on TV but prefer to use computer devices to access it. However, the figures suggest that those without TV sets are generally less interested in the TV experience: they have a lower level of broadband take-up, and they are significantly less likely to have a VOD subscription or own a tablet or a PC.
Drilling down to look at equipment ownership by social class (ABC1 or C2DE), it seems as though non-TV households right across the social spectrum are less likely to use broadband or SVOD, or to have computers and tablets.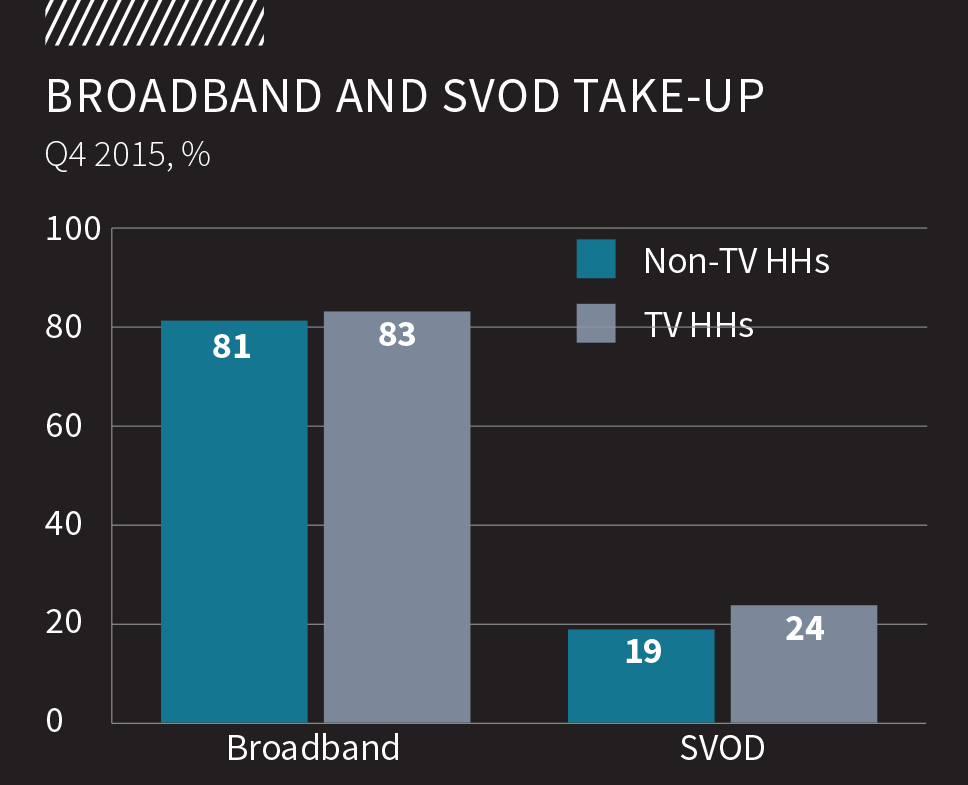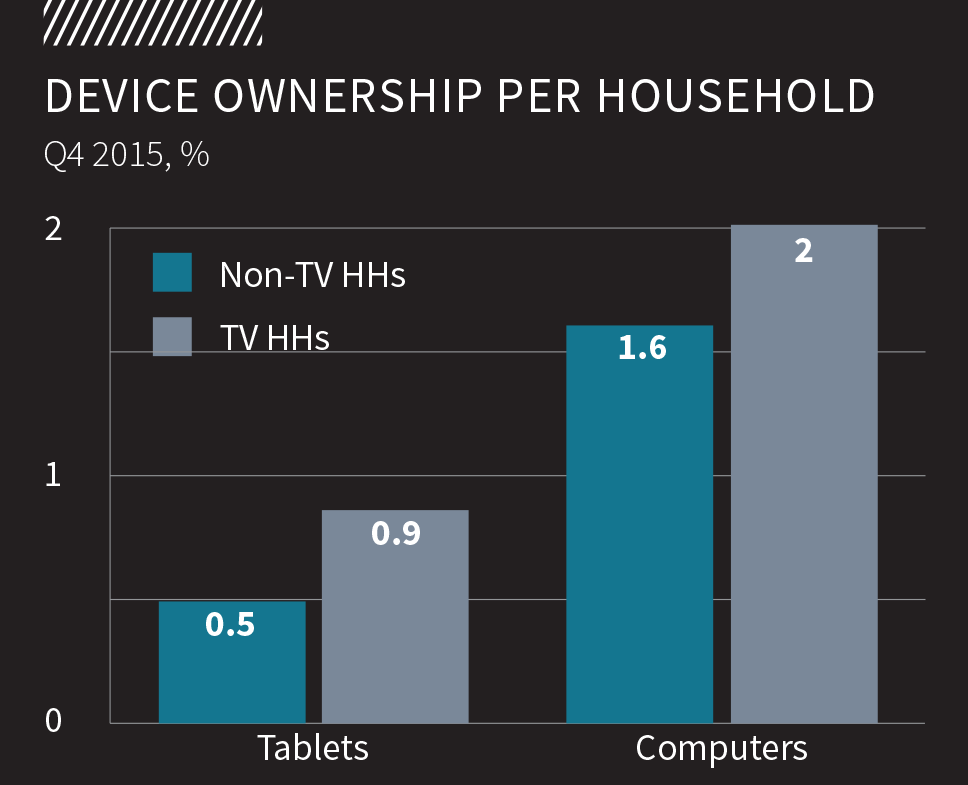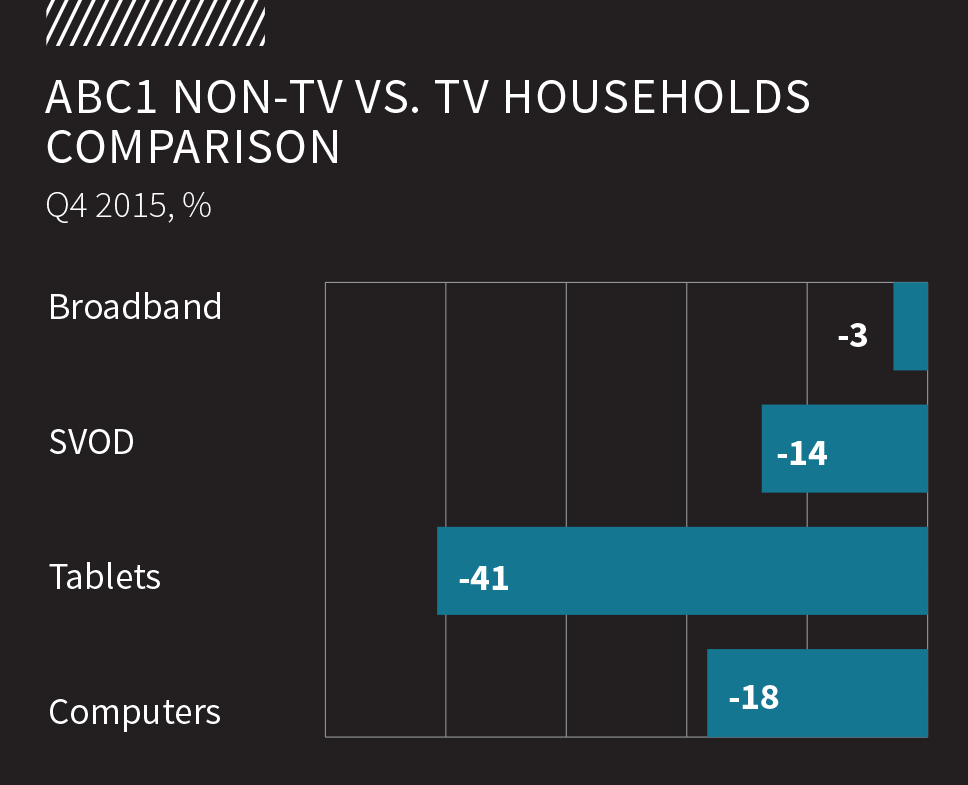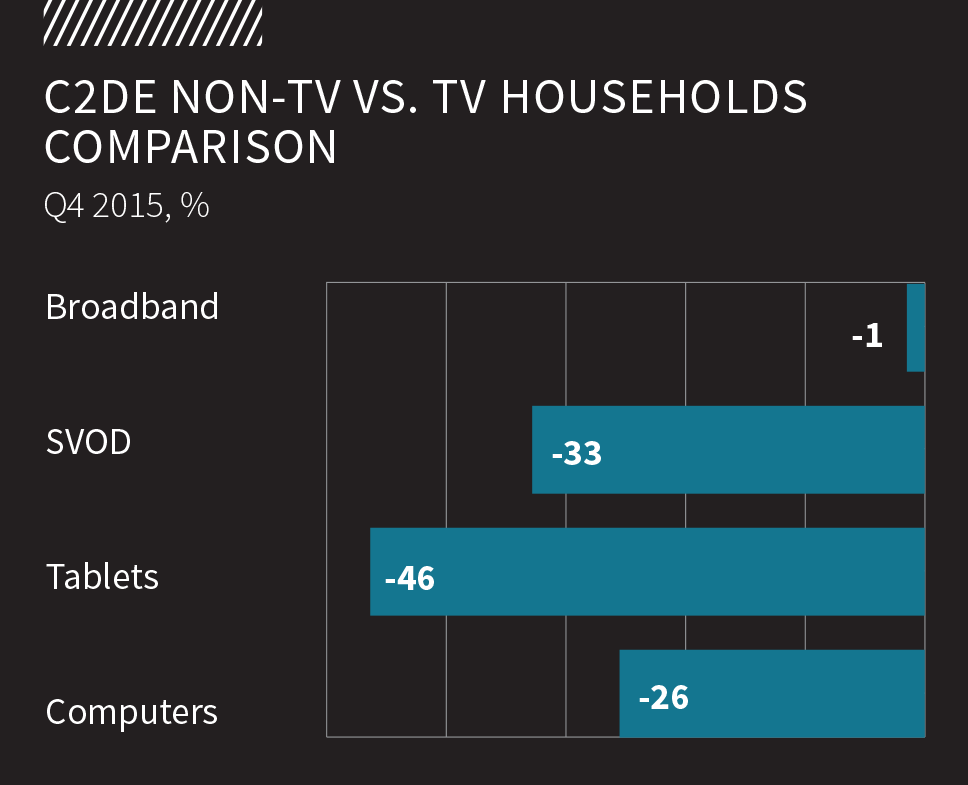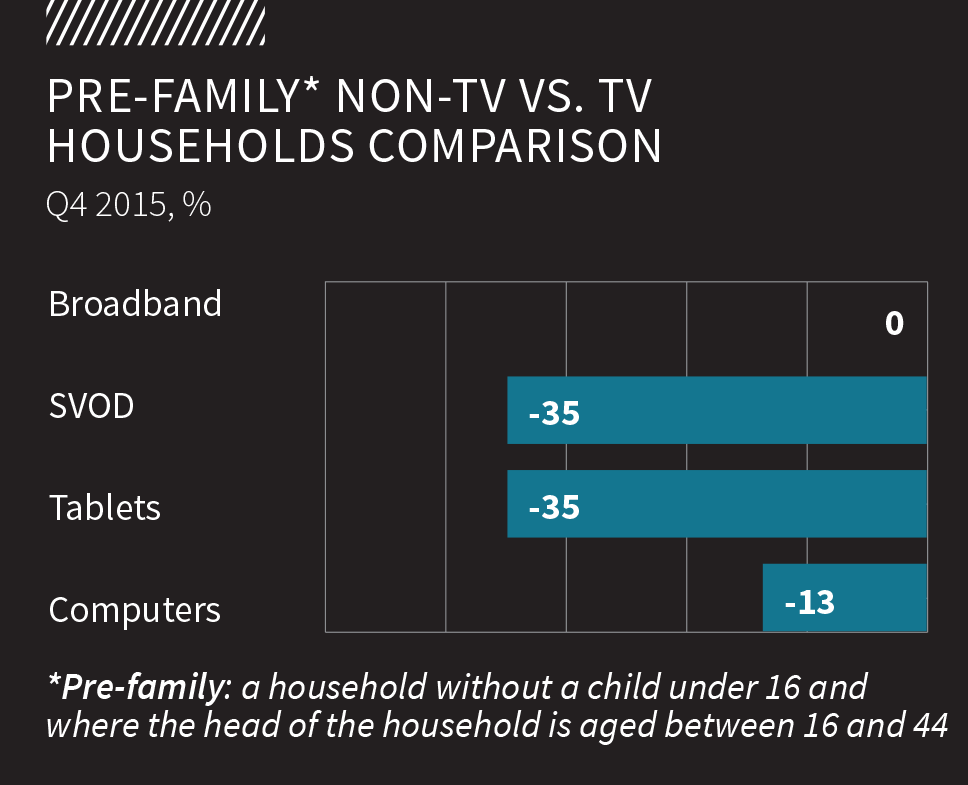 (An interactive version of these charts is available here.)
What characterises non-TV households?
Non-TV households are heavily skewed towards the 16-34 age group: 47% of the occupants of non-TV households fit into this age bracket, compared to only 23% of occupants in households with TV sets. Non-TV households are much younger. Comparing the lifestage of non-TV households with those that do have a TV reinforces this idea: 49% of non-TV households are defined as pre-family, i.e. with the head of household between 16 and 44 and no children. Only 14% of TV households are in this lifestage, a huge disparity. The big question this leaves open is whether today's pre-family homes will be able to survive without a television once they have children and move to the next cohort. This is clearly a trend to keep our eye on.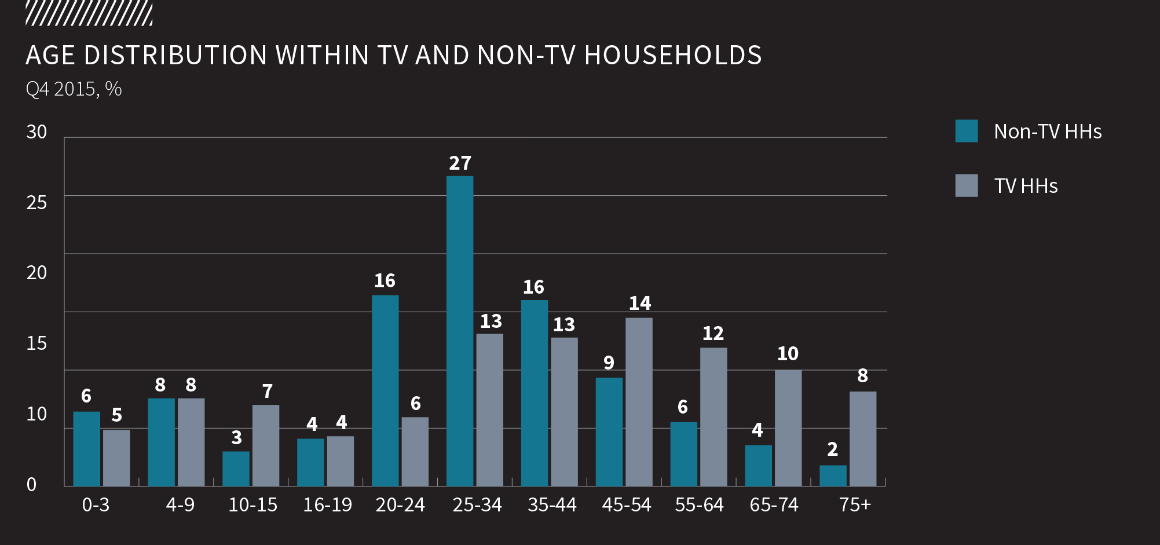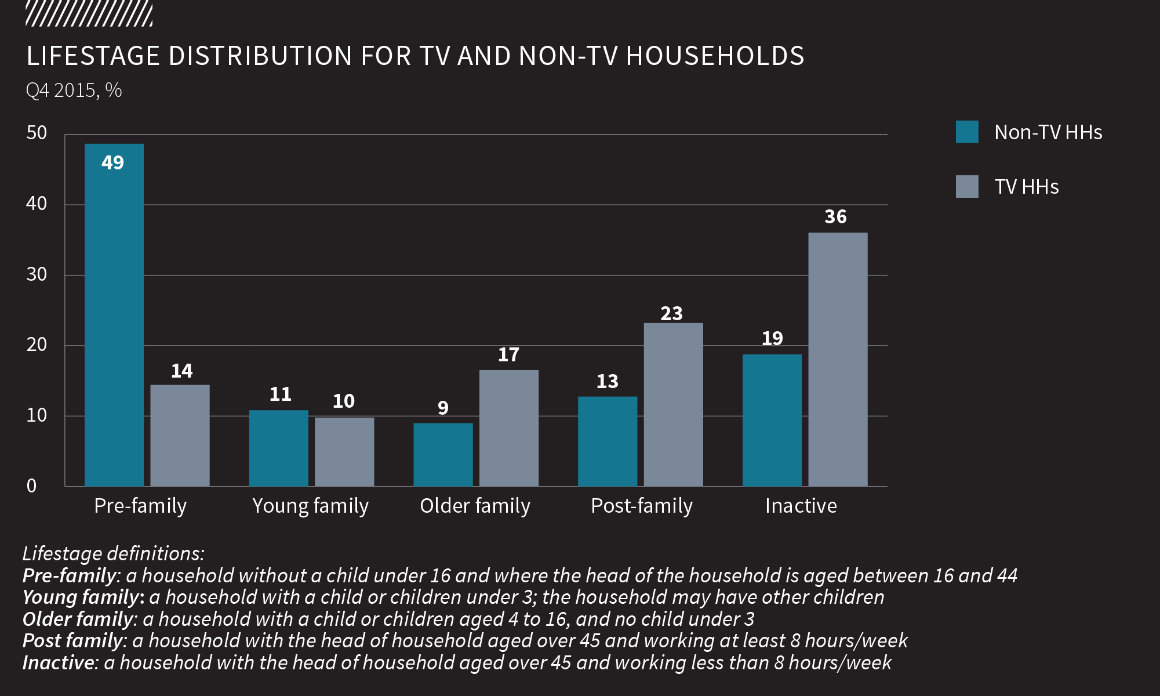 Non-TV households are likely to be smaller: the average household size is 1.96 compared to 2.35 for households with TV sets. 44% of non-TV households are single person households compared to 31% of TV households, a 13% difference. Unsurprisingly, non-TV households are half as likely to have children: only 19% of households without TV sets contain children compared to 26% of households which have TV sets.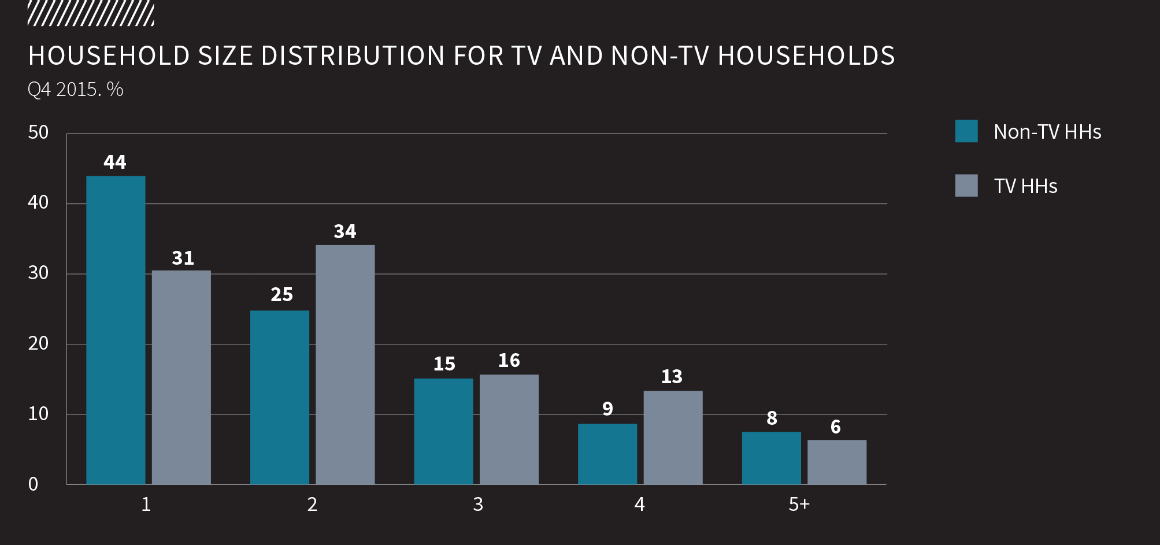 The data on the social grade of non-TV households completes the picture: non-TV households are skewed towards DE and away from AB social grades; the proportion of C1C2 is slightly lower.
So the picture that is emerging clearly is that non-TV households are most likely to be younger singles or couples who are just setting up home, and who have either not got round to buying a TV, or perhaps don't find it easy to afford one. That said, it is worth noting that the number of people who do not feel it is essential to have a TV seems to be growing; is this the harbinger of a gradual lessening of TV's hold on our attention? When the number of households without a TV hovers down around 5% it is far too early to draw such a conclusion, but this is an area we will continue to monitor and report on.