Insight and analysis by

The games console market appears to have peaked: the growing popularity of mobile devices as games platforms has dramatically undermined the popularity of the Nintendo platform, which was once the most popular in the UK. Ownership of Xbox and PlayStation, which appeal to the core gaming audience, is broadly stable. Xbox has a slight overall lead, although in the battle between the latest generations of device, PS4 has a lead over Xbox One. Console households skew younger and are much more likely to have broadband. Nearly half the owners of the latest generation of consoles claim to use them for television viewing, but overall PCs are still much more significant as a platform for television viewing.
The growth era for games consoles appears to be over. It seems as though we will look back on 2012-13 as the high point of games console ownership; since then console ownership has been gently declining to its current level of approximately 8.2 million households. The Establishment Survey defines games consoles as dedicated gaming devices, which do not include handheld devices such as tablets and smartphones.
The chart below shows the main cause of the downturn: the decline in the Nintendo platform, which has more than halved in ownership since its high point at around 5m households in Q1 2011. The launch of Nintendo's Wii platform at the end of 2006 heralded a growth in the popularity of consoles beyond the original core constituency of gamers, providing a less expensive platform aimed at casual rather than hard core players. However, the introduction of the iPad in 2010 created a powerful competitor for the casual gaming audience, providing a huge range of choice in games in a portable package no longer tethered to a TV set.
Ownership of the two major higher performance console platforms, Sony's PlayStation and Microsoft's Xbox, is relatively stable, as rapid growth for the latest device generation is offset by steady declines in older generations. The two platforms have been neck and neck for years; Xbox overtook PlayStation in 2012 and has maintained a small lead ever since, although on current trends PlayStation is on course to take over the lead again soon.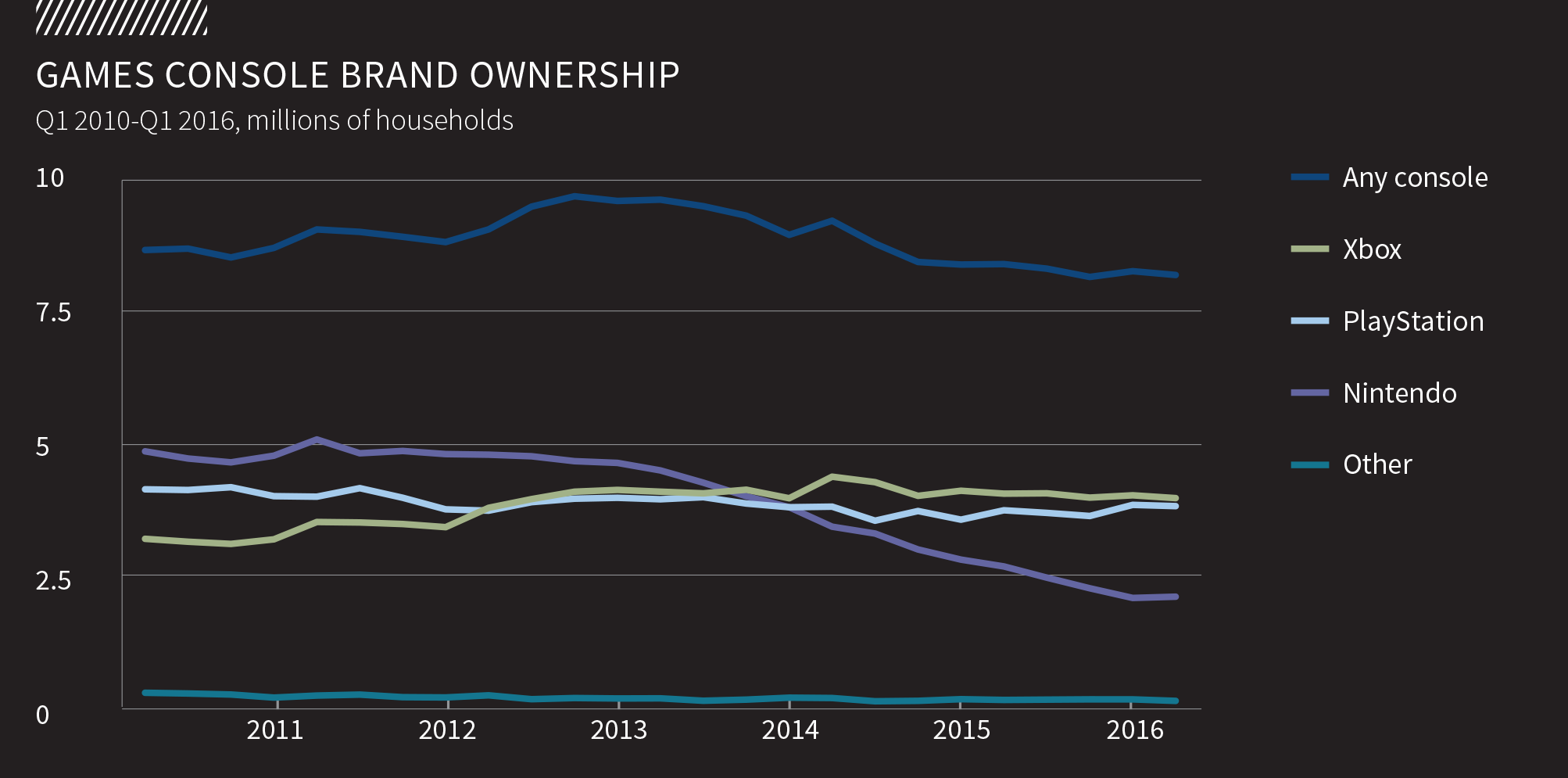 If we break down the main platforms by device generation (see the charts below), we see that Sony's latest generation device, PS4, has established a significant lead over Xbox One, the latest generation for Microsoft: PS4 is in around 2m homes at the beginning of 2016, while Xbox One is in slightly less than 1.4m. The problem for Sony has been the rapid decline in older generations of their console: PS2 and PS3 are declining more rapidly than previous generations of the Xbox platform. In particular, PS2 is declining much more rapidly than the original Xbox.
Xbox will be concerned about the recent decline in their lead over Sony. Despite a substantial increase in Xbox One ownership in the most recent quarter, Sony's PS4 did even better and Sony looks set to overtake Xbox during 2016.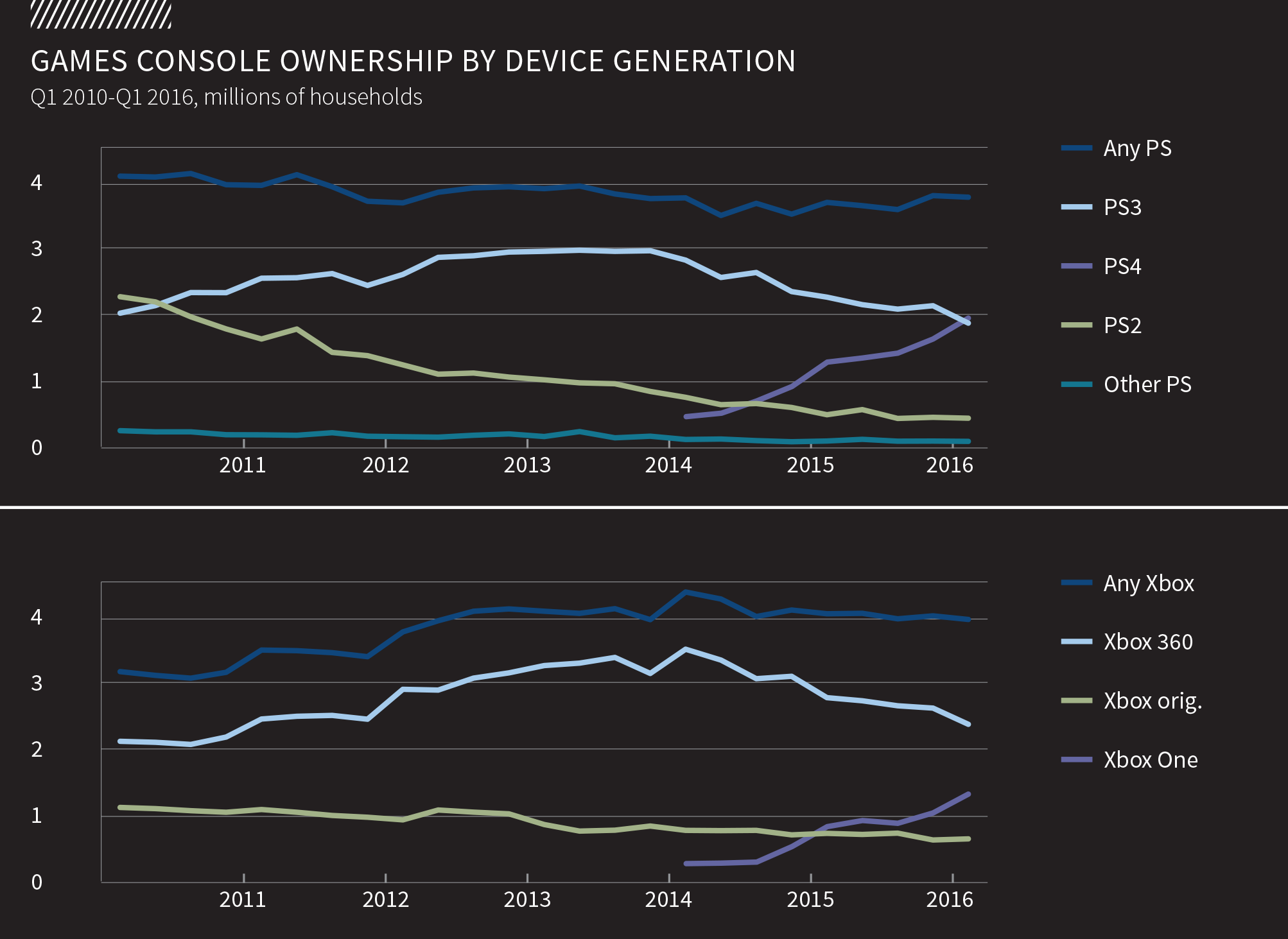 (An interactive version of this chart is available here.)
Characteristics of console homes
Unsurprisingly, access to games consoles is higher among the younger age groups: over half of people under 25 have access to a games console. The chart below shows the penetration by age group for all those who have access to each type of device (i.e. it counts every member of each household which owns an active device). PlayStation has a slight edge over Xbox in the 20-34 age group, where Nintendo lags far behind: this confirms the image of the grown-up gamer often associated with the two console heavyweights. The similarity in age distribution for Xbox and PlayStation emphasises the extent to which the two platforms are competing for the same market, going some way to explain the prominent marketing campaigns that we are accustomed to seeing gracing screens and billboards across the UK. Nintendo, by contrast, has a much higher proportion of its potential audience among the over 35s.
When we look at console ownership by TV platform, since pay TV households tend be younger, more affluent and are more likely to include children, it is no great surprise that Sky and cable households are about twice as likely as terrestrial-only households to own a games console.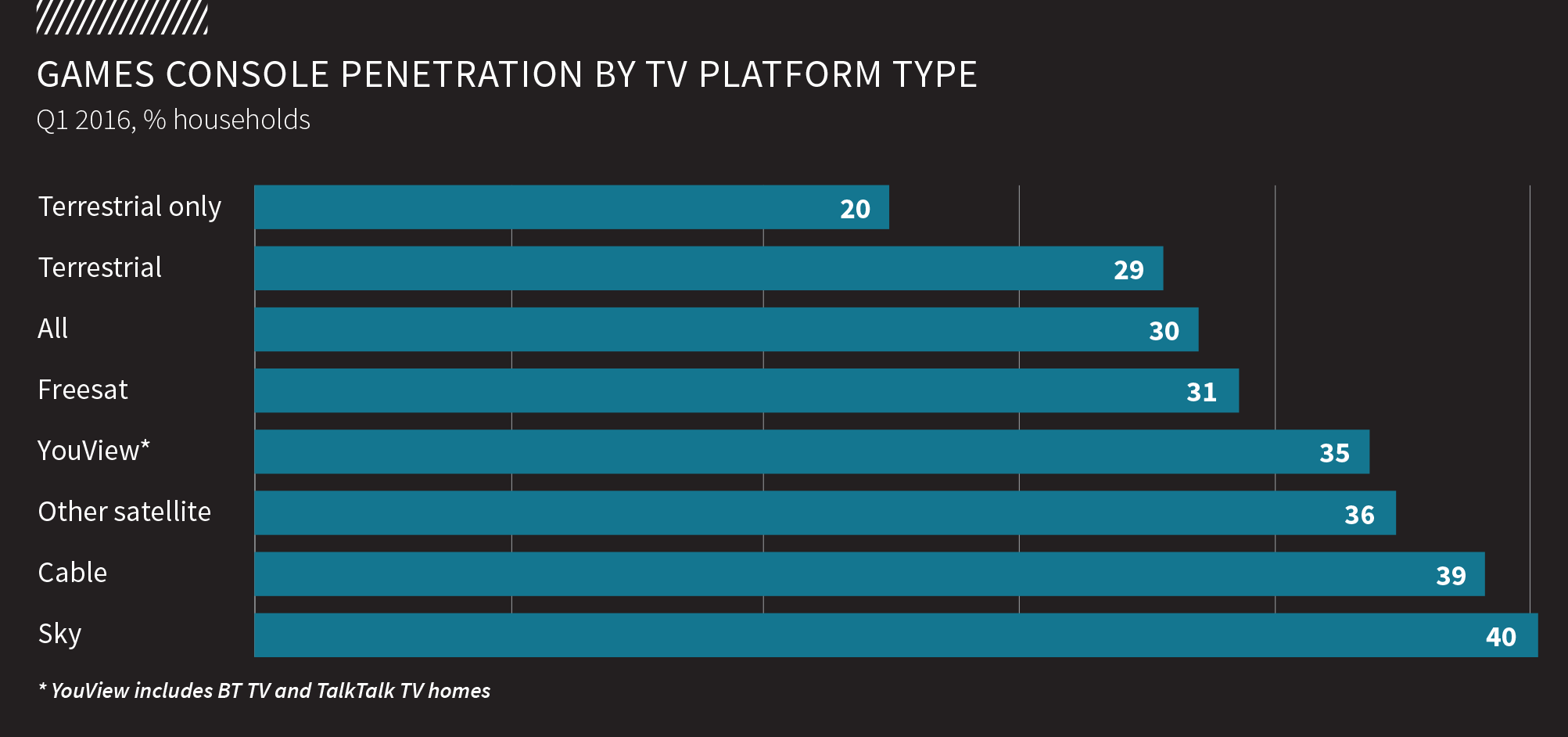 Almost all households with consoles have access to a broadband connection – a significantly higher proportion than for households overall. The rationale for an internet connection in console households is a compelling one: many gaming experiences are enhanced by online functionality, either through the ability to download additional content (maps, vehicles or other accessories for in-play avatars) or through allowing gamers to play remotely in a multi-player environment.
An internet connection can also contribute to the console experience beyond gaming. Users are presented with a means to stream or download other types of media, including video and music.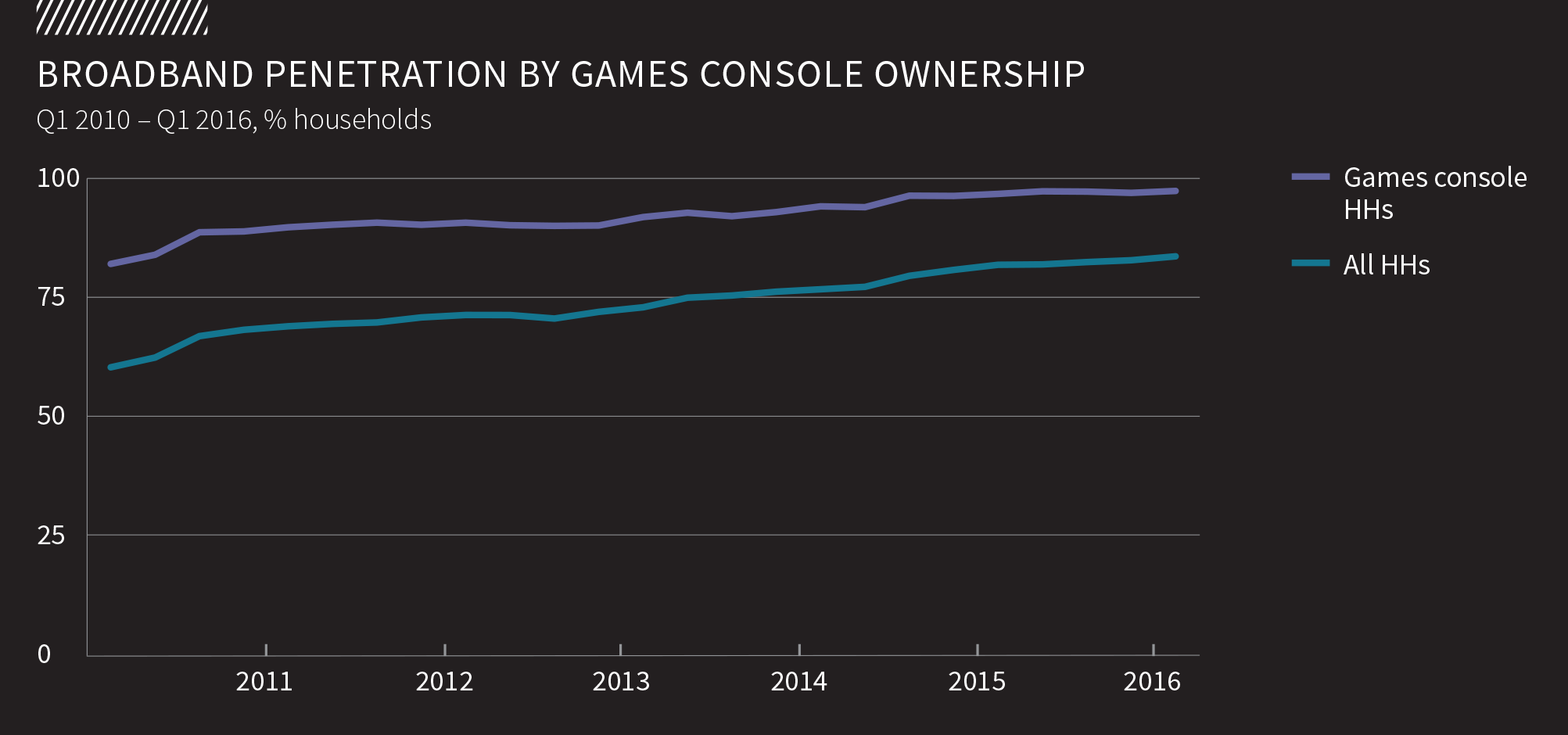 Consoles and television viewing
When Microsoft launched Xbox One in 2013, it was explicitly designed to evolve from being a platform for gamers to becoming a hub for all the household's entertainment activity: hence the name. Microsoft has subsequently retreated from this strategy, but Xbox One has remained the most successful console in terms of usage for television viewing, as the chart below shows: around 42% of Xbox One homes claim to use their console to watch television. In general, the most recent generation of consoles have significantly higher claimed usage for television viewing than their predecessors: in Q1 2016 the overall average for households claiming to watch television with any console is 25% within console households, while in PS4 households and Wii U households it is 35% and 30% respectively.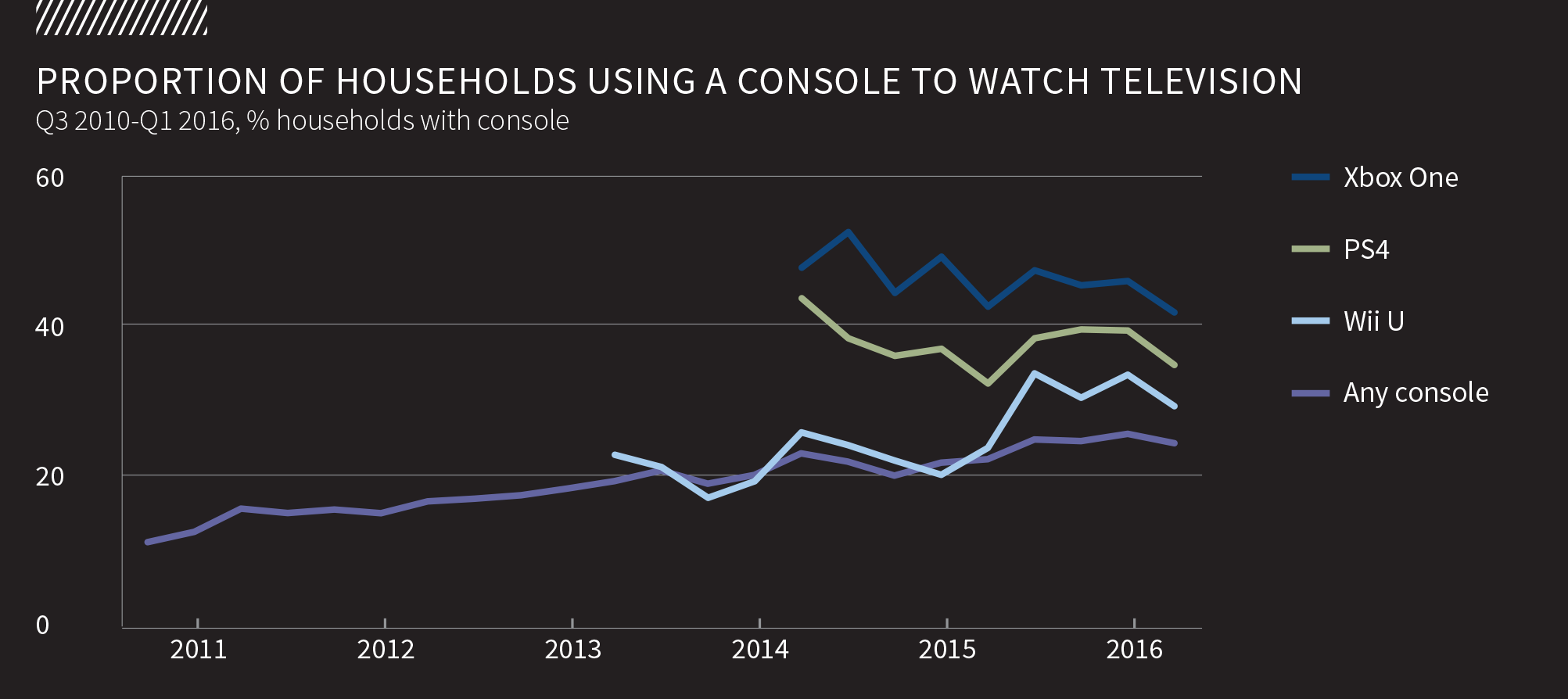 Netflix and Amazon are available through all the console platforms, while Now TV can be watched through Xbox and PlayStation. It is not surprising to see that console owners are more likely to subscribe to one of these SVOD services. In particular, Xbox and PlayStation households are twice as likely to have an SVOD subscription.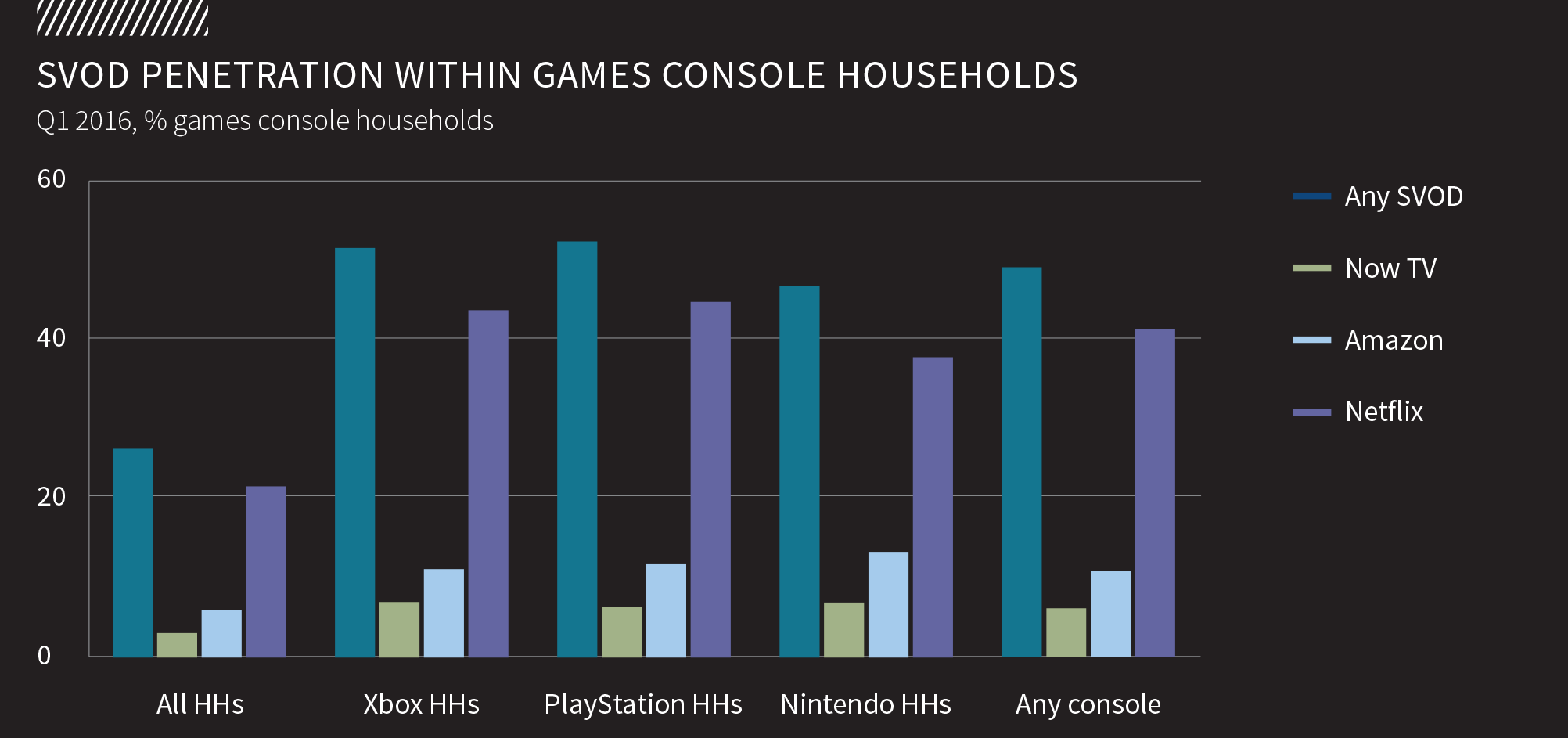 However, the influence of the console manufacturers over television viewing is likely to be lower than we might once have thought. There was a time when we wondered if console designers might use the unique capabilities of their devices (facial recognition, voice and gesture control, high resolution graphics) to develop user interfaces which would compete head on with the traditional TV platforms; now it seems more likely that consoles will remain devices limited to their generously-proportioned, but nonetheless finite, gaming niche. The fact that the proportion of households using their console to watch television is declining rather than increasing suggests that console manufacturers have given up the battle to be the primary viewing interface.
While the total number of households claiming to use a console to watch television has doubled between 2010 and 2016 from 1m to 2m, this is still only a fifth of the number of households that claim to use PCs to watch television.