It was another eventful summer of sport last year. Wales set the pace with a fruitful Euro 2016 campaign in France, which was watched by over 50m of us across BBC, ITV and S4C coverage. However the Welsh Dragons eventually succumbed to triumphant Portugal in the semi-final. England were there too.
Of course, that was just the start. In August, it was the turn of the British Olympians to set the standard down in Rio. Following on from the success of London 2012, Team GB brought back 27 Golds to finish second in the medal table. Even with the time difference, 50m of us also tuned into coverage via the BBC during the two-week period.
What is clear is that sporting events show no sign of losing their appeal to mass audiences on television and it is sporting rights that often dominate the most competitive of content rights deals. No less so than in Premiership football.
This summer saw the start of the latest bout of Premiership football deals. So important are football rights to platform operators that over £5bn has been paid out by both Sky and BT for a three year deal.
Of course, it is not only sports rights that are highly prized by platform operators and broadcasters. For some time, movies have played a central role in the appeal of a broadcaster's repertoire. As with sports, Sky dominates the movies landscape with first broadcast window rights across the majority of the major US film houses. It is little wonder then that both their sports and movies subscription packages are an essential part of the Sky platform offer.
Since Q1 2014, BARB has tracked the subscribers to both the Sky Sports and Sky Cinema packages from both the Sky and Virgin platforms as well as the number of subscribers to the Sky IPTV platform Now TV. In 2017, BARB will also begin publishing data for Sky Sports and Cinema subscribers to YouView.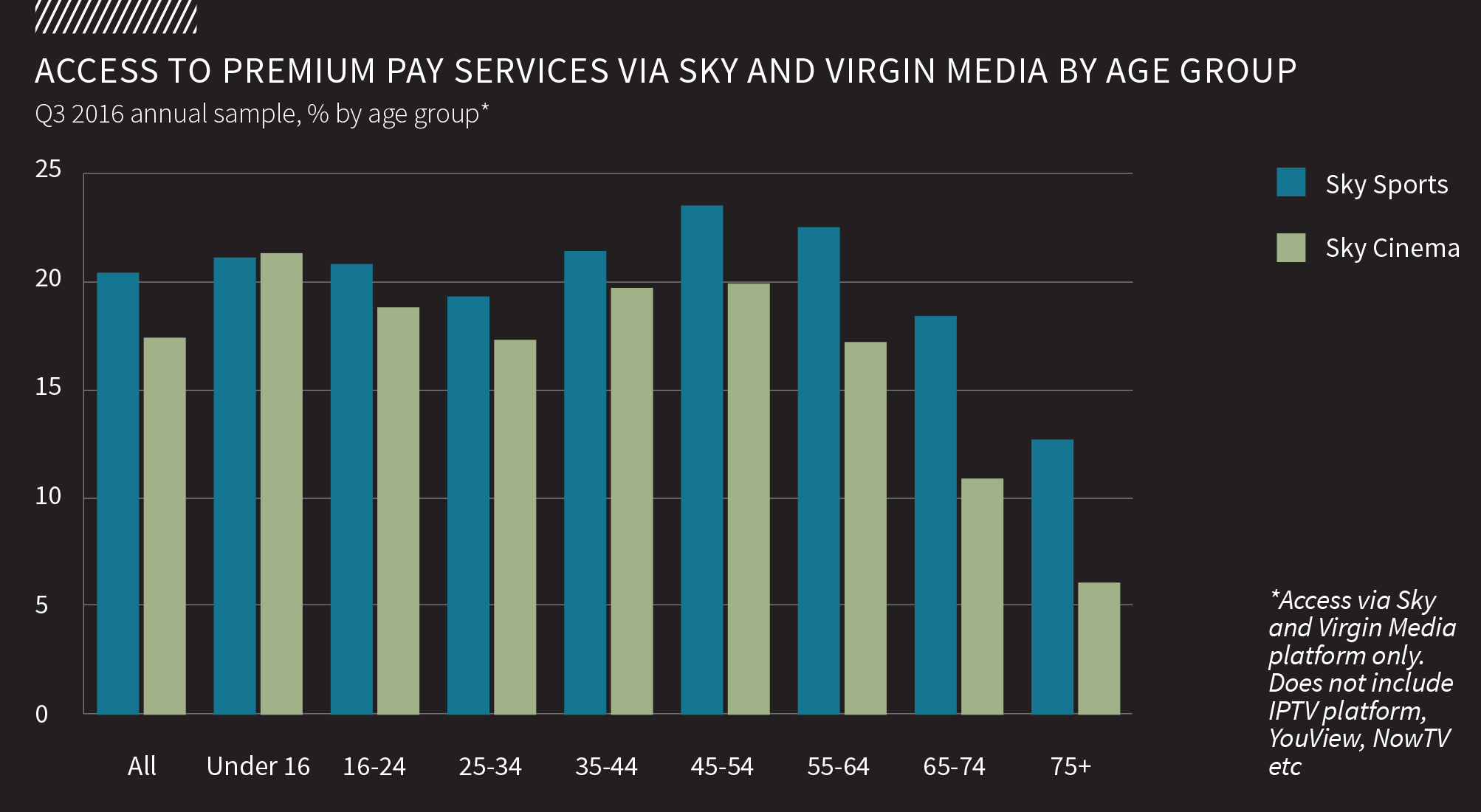 Access to premium pay channels follows a defined lifestage pattern. While over 21% of children in the UK have access to Sky Sports and Sky Cinema, this falls as individuals leave the parental home before rising as incomes increase and habitual transiency reduces.
Sports are most popular amongst the 45-54 category, with nearly 24% of all adults in this age group subscribing to Sky Sports. For Sky Cinema, the most popular age group is that of children. While access will be via parental subscription, this does highlight the attraction and importance of movie content for the younger generation.
Sporting Success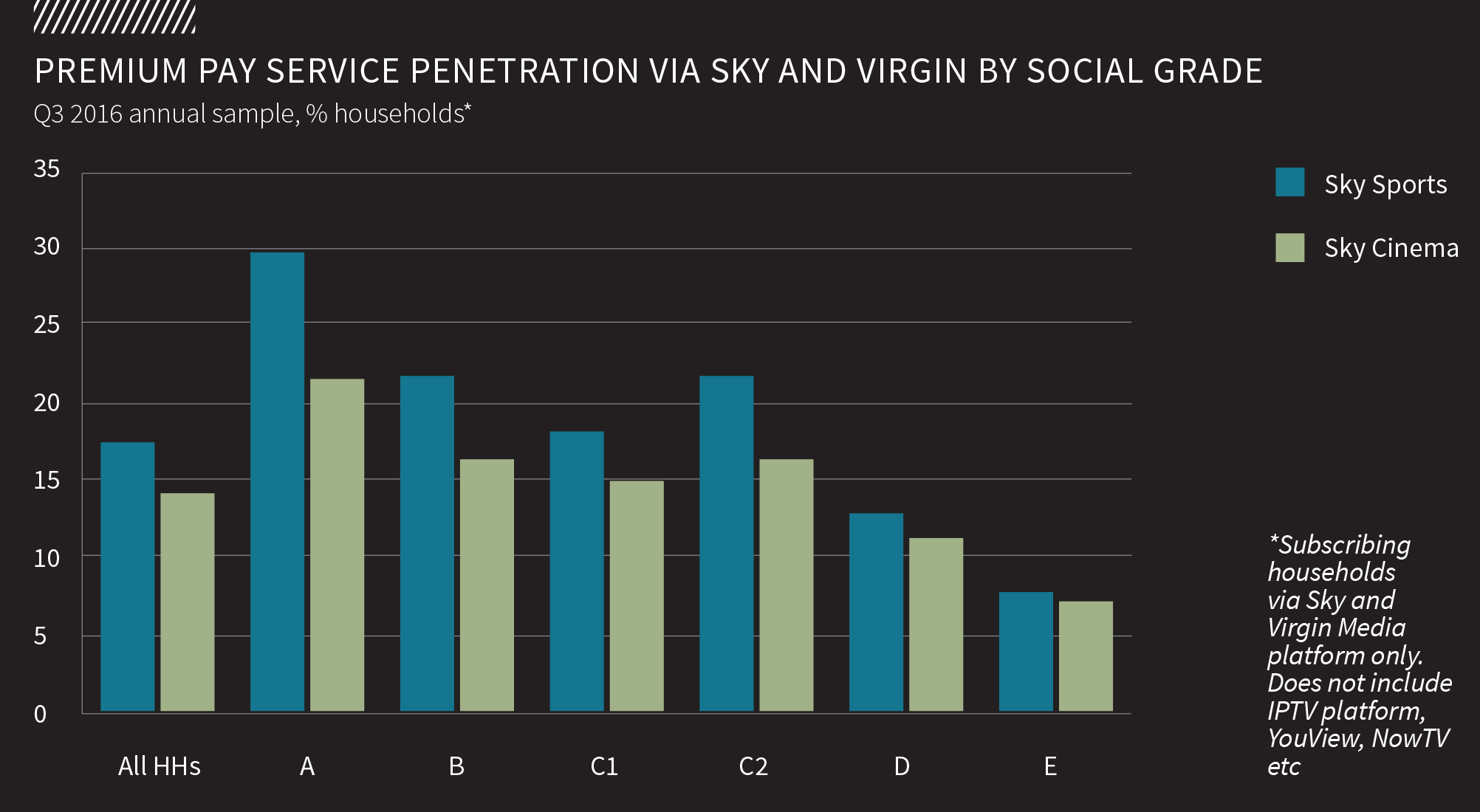 As mentioned, premiership football rights are one of the main attractions for sports subscribers. However, it is when we profile subscribers by social grade that we can start to understand how other sports are also a key determinant. The above chart identifies that sports subscribers are more likely to be in higher social economic grades than lower, particularly towards A and B.
This can partly be explained as a price point effect but it also should be noted that Sky has a wide portfolio of sport genres catering across the audience spectrum.
BARB viewing data identifies, that although smaller in overall audiences, both cricket and Formula 1 in particular drive much higher social grade viewing profiles than domestic football audiences. So, perhaps without the suite of sports it invests in, the impact on overall subscriptions may be different.
In a market of increasing competition, not only from traditional platform providers but also new players, understanding the importance of different sports to subscribers from viewing data will become even more important in making procurement decisions.
Three's not a crowd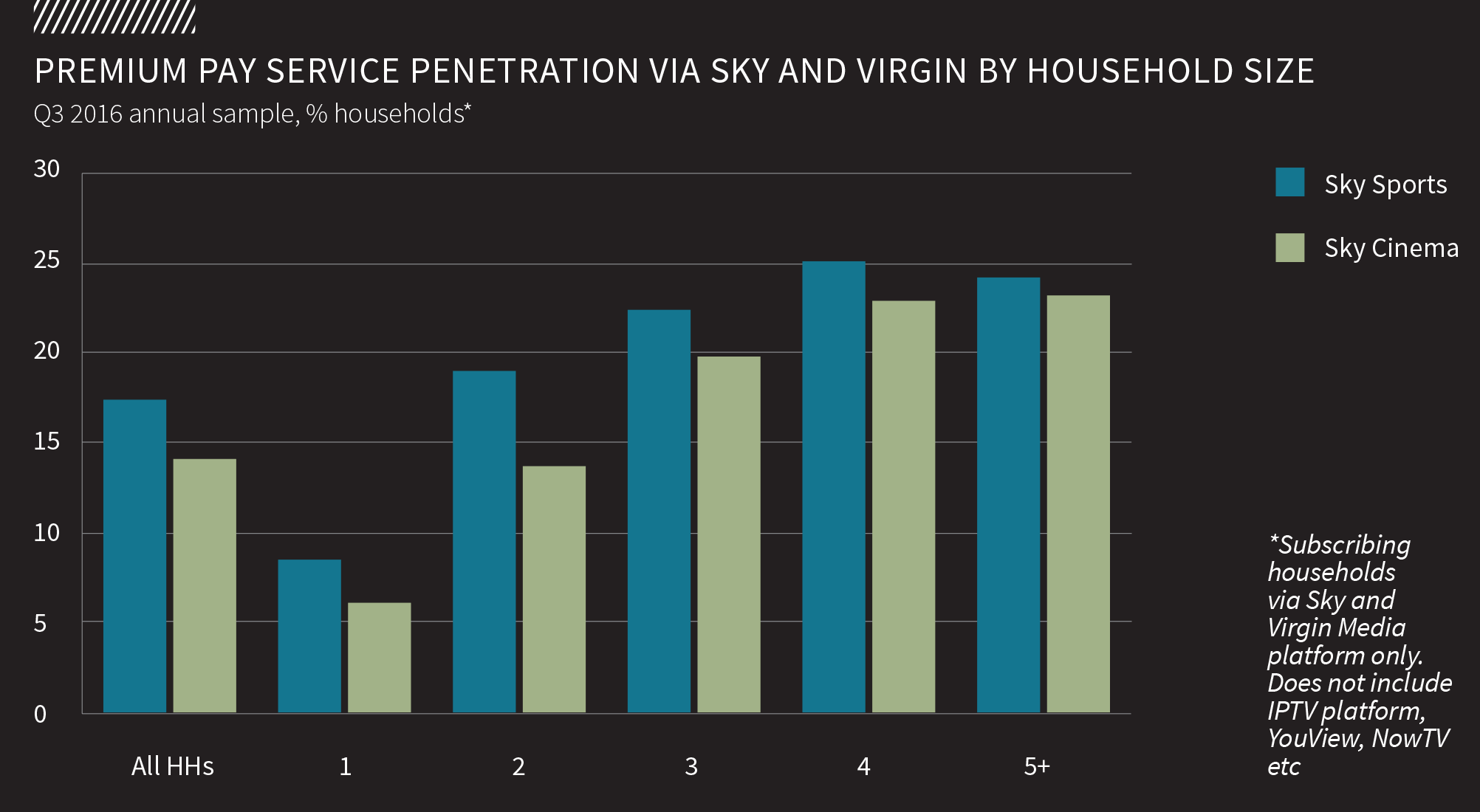 UK cinema has been undergoing a renaissance of late. With record box office sales and new production frontiers being crossed, we are falling in love with the big-screen, and the overall cinema experience, once more. Our living rooms continue to adopt bigger screens (see the report on screen sizes here) and more immersive surround sound technologies offer UK households a cinema-like feel in the comfort of their own home.
The above chart identifies that for Sky Cinema and Sky Sports, as household sizes increase, so does the likelihood of households to subscribe to these services. Compared to all households in the UK where around 14% subscribe to Sky Cinema (via Sky or Virgin), in households containing at least four people, this rises to 23%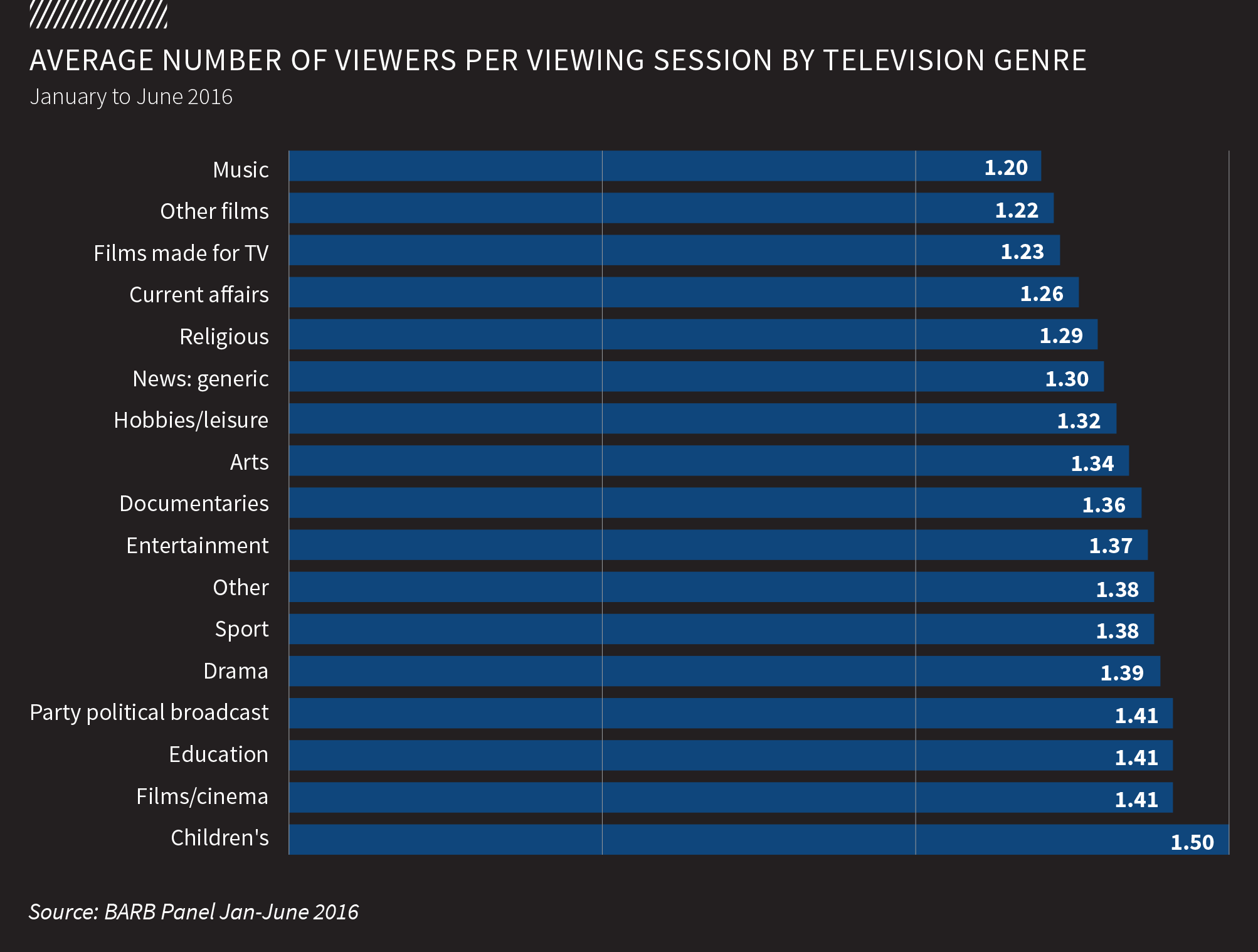 This isn't surprising. No one likes going to the cinema on their own; it's a group experience, to share with your friends or loved ones, and this, it seems, is reflected at home. Across the first six months of 2016, together with Children's programming, Cinema Films had the highest shared viewing levels of all programming on TV.
So, whether you're watching the latest instalment of Star Wars, or hiding behind the sofa during the new Blair Witch, chances are, you're not alone.