In 1985 an iconic animatronic skeleton came on our screens and entered our lives, eulogising about the quality of Scotch videocassettes. With Scotch, it was said, you could record and re-record and the picture will not fade away, alongside a rather catchy jingle that certainly didn't fade away anytime soon.
These video cassettes of course were for use in a Video Cassette Recorder, the prized possession of many a household in the UK. No longer would you have to suffer missing your favourite television programme, the VCR was here to the rescue.
So embedded did the VCR become that in the summer of 2002, around 83% of UK households had a VCR in their home.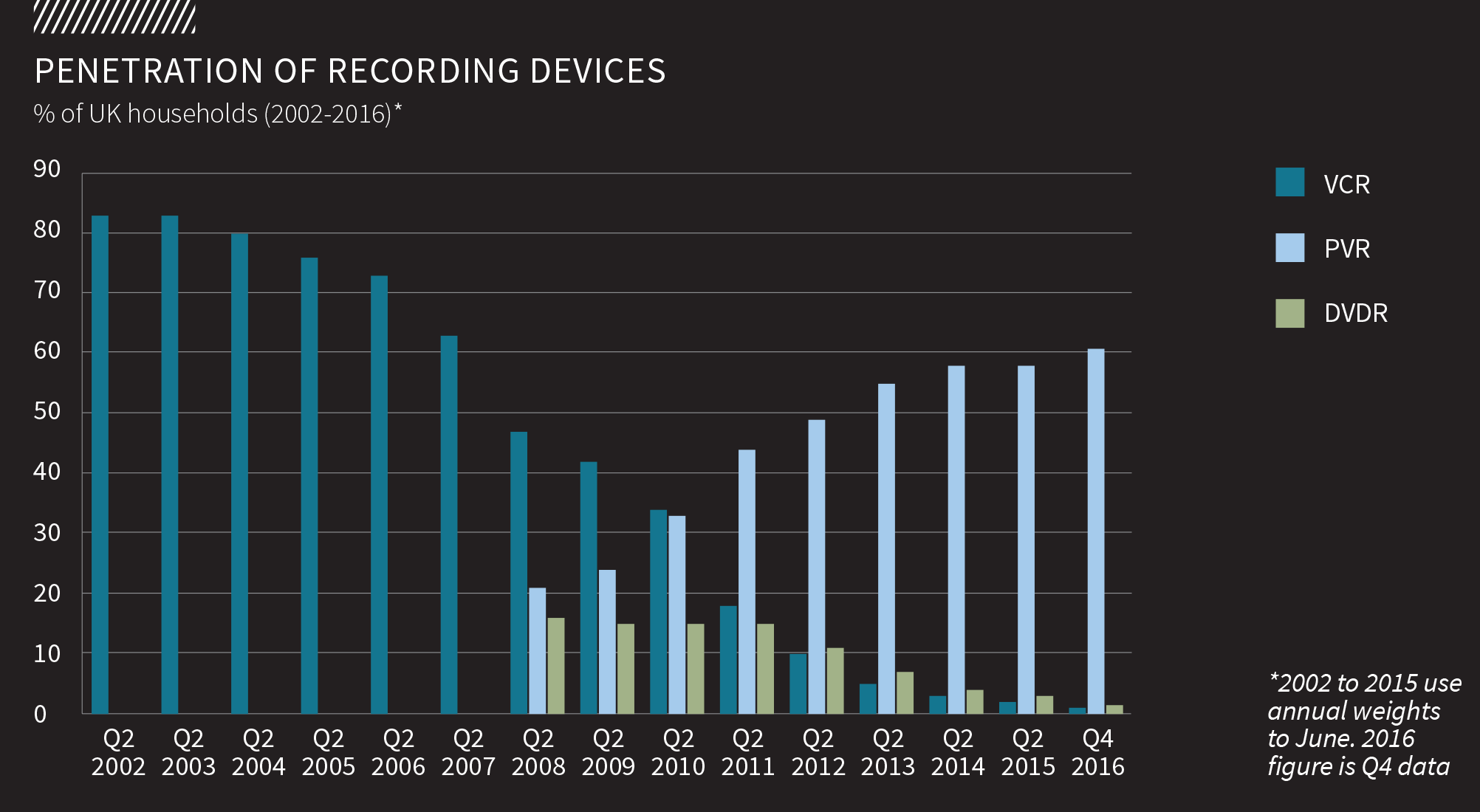 However, one year prior to this, a new product entered the UK retail market. Sky customers were offered a new Sky+ box. This box allowed the viewer to pause live television and record their favourite shows onto a hard-drive embedded within the box itself. There were no tapes, there were no disks. This was a new age, the age of the Personal Video Recorder (PVR).
Since the introduction from Sky, other platform operators have followed suit with their own version of a PVR, including the re-introduction of TiVO in the UK, through Virgin Media.
The impact on the humble VCR has been stark. From being in 83% of TV households in 2002, by the end of 2016 this figure was only 1%.
The introduction of the PVR was seen as a game changer for commercial television. In a world where the viewer can record what they like without the need for tapes and, even more, pause live-TV and skip the adverts, this was a potentially serious issue.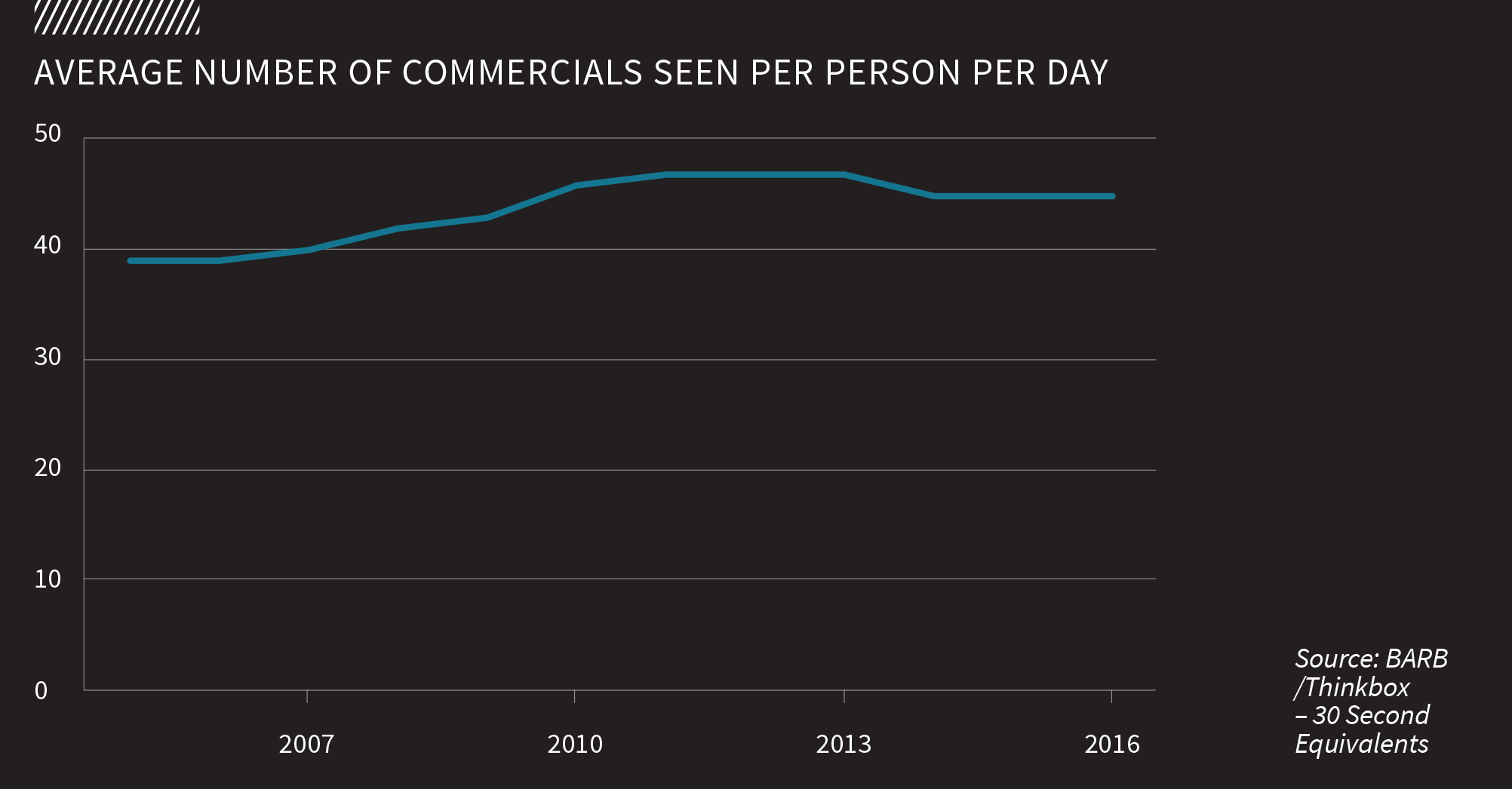 However, the demise of the television commercial spot has not happened and, in fact, it has since gone from strength to strength. In a non-zero sum game, the PVR, with the help of an expanding multi-channel market and smart media planning, has contributed to an increase in the average number of television commercials people see each day.
So, what can the Establishment Survey tell us about PVR ownership; what kind of people and what kind of households have these, and where next for recording devices?
The battle for the remote
A common source of household discord over the years has been the decision of what to watch on TV. Of course, these discussions are not always necessarily democratic and in many families there is a status that holds prestige above most: the person in charge of the remote control.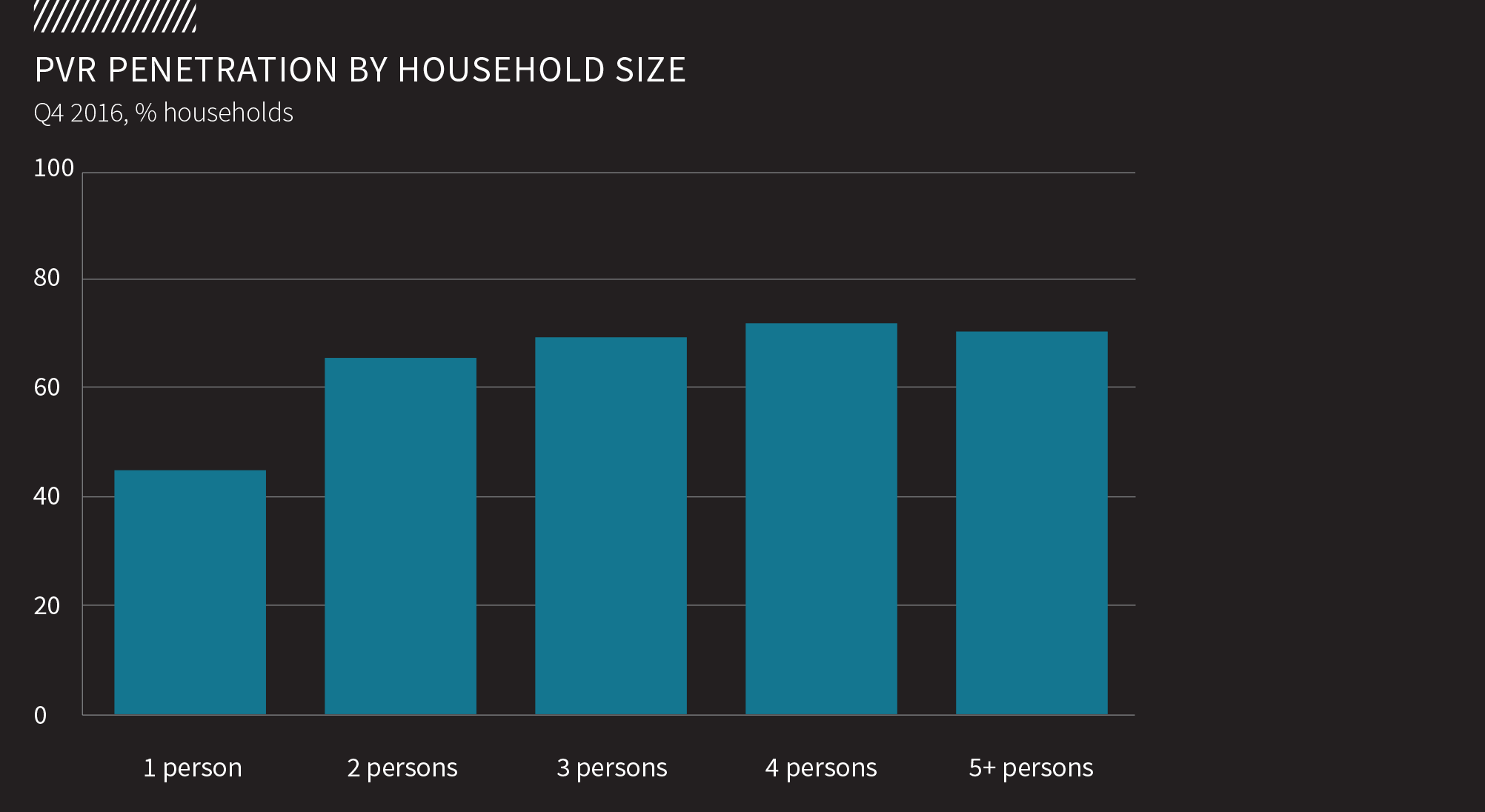 (An interactive version of the chart is available here.)
With the plethora of channels and rich content covering many different genres, it's fair to say that it's not always possible to please everyone in the household at the same time. The ability for the family to sit and watch one programme together, whilst also recording another, means that no person should miss their favourite show – regardless of whether they are in charge of the remote.
This bears true with the data we find from the Establishment Survey. The more people in a household, the more likely that household is to have need and use of a PVR. Across Q4 2016, only 45% of single person households had a PVR, but for households with 4 or more, this rises to 71%.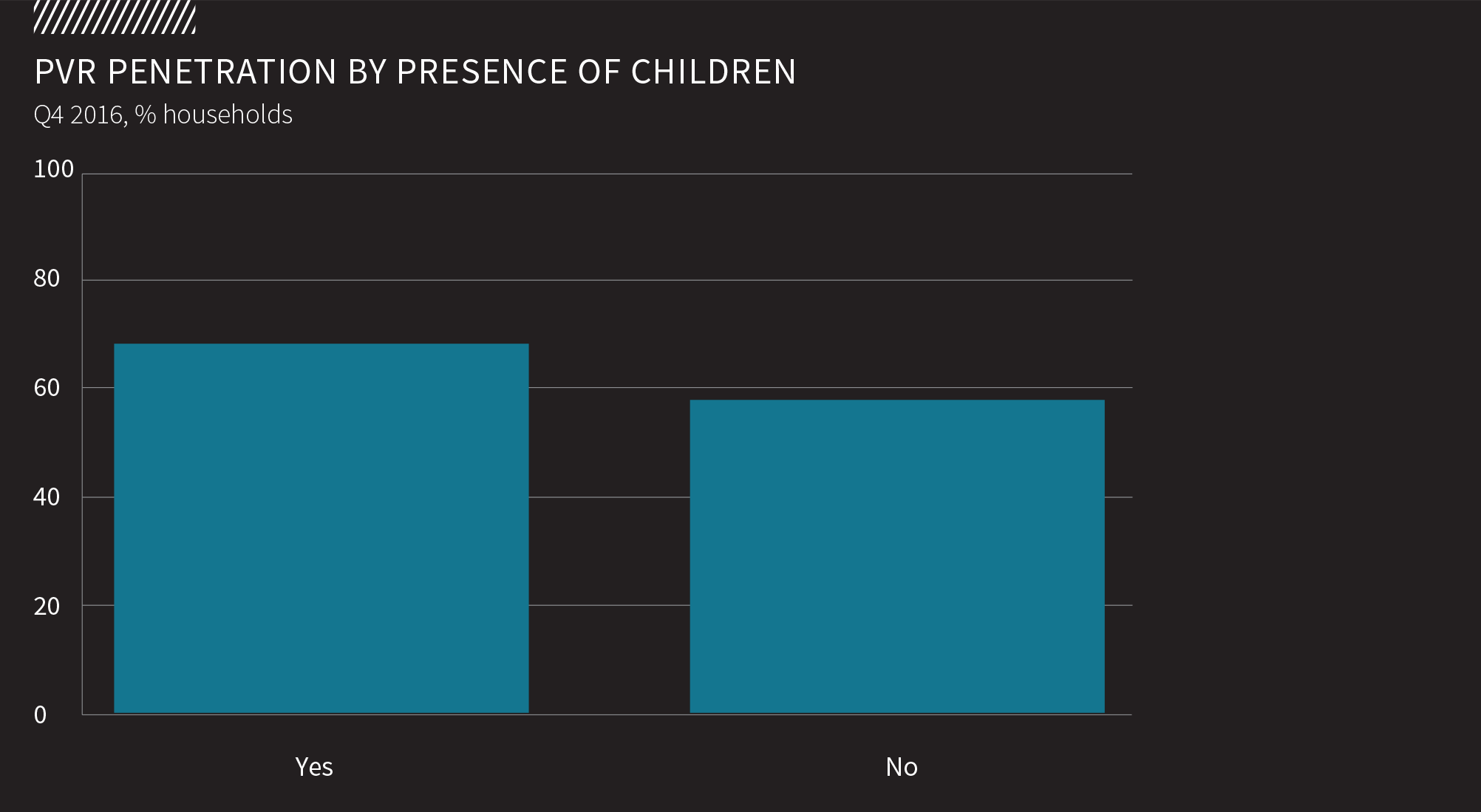 It's therefore not surprising that households with children are also far more likely to have the need for a PVR. In fact, 69% of households with children have a PVR, compared to 58% for households that don't.
Social climbers
Society is used to identifying those who are well-off by the clothes they wear or cars they drive and of course, where they live. But rather than asking whether someone drove the latest BMW or Audi, a better indicator may be whether the person has a PVR.
From Establishment Survey data, we can see that high social grade households are far more likely to have a PVR than those of lower social grade. 58% of all households with PVRs are in the ABC1 social grade grouping, compared to 45% of households without PVRs.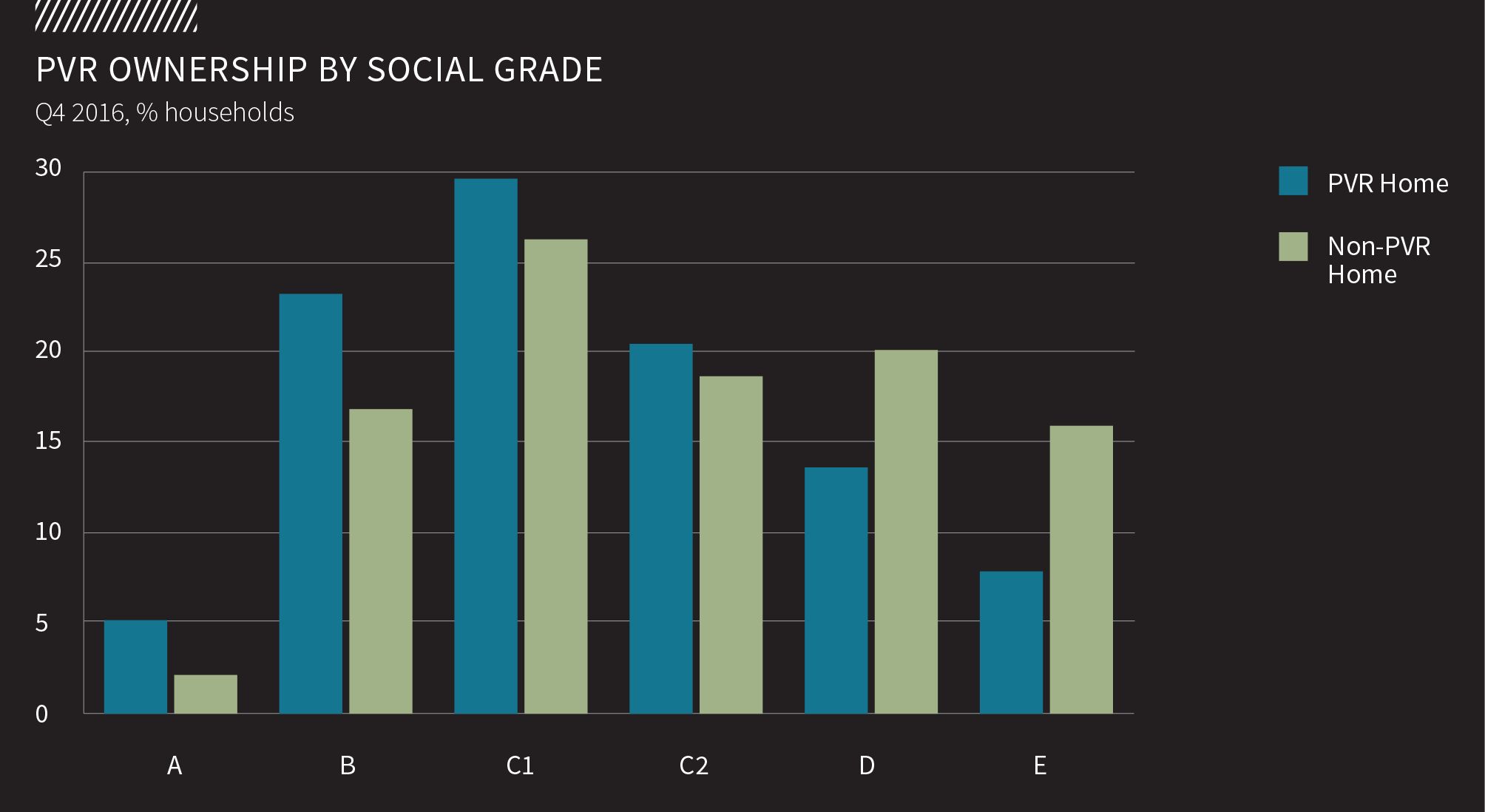 There are of course multiple factors affecting these skews. Price points for a start, but also that PVR technology tends to be pushed by pay-tv platform operators whose customers are already likely to be of a higher social grade.
Off the record
We know that a PVR offers the ability to record more of our favourite TV programmes than ever before but with the latest technologies offering even more tuners, we must ask, is there a limit to how much people want to watch? Apparently there isn't. Even with these facilities, PVR owners want more.
As Gordon Gekko would say, "greed is good". And that's certainly the case with PVR owners as they are also more likely to sign-up for premium subscription VOD services.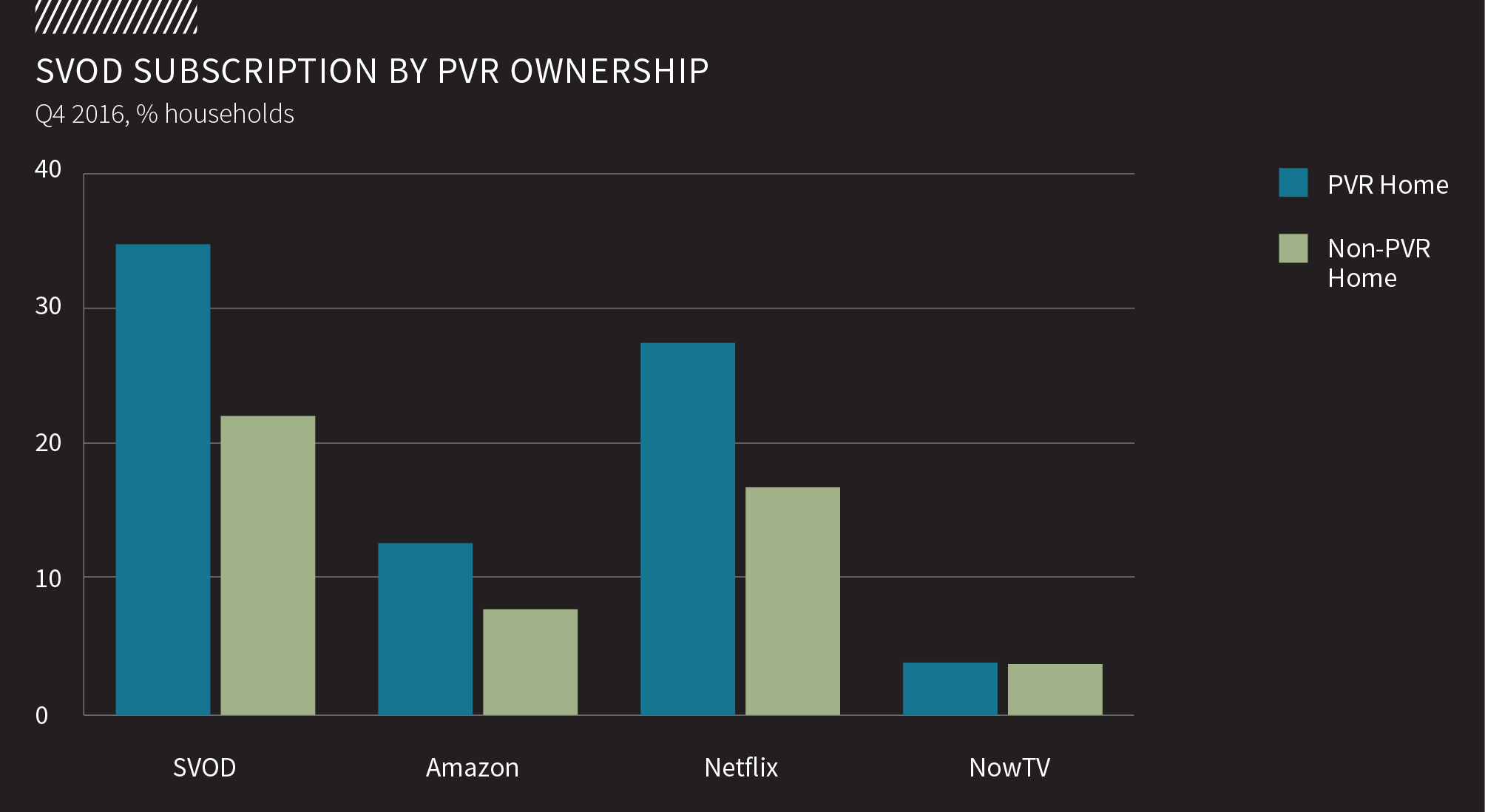 If they can't find what they want on the planner, then they will find it via streaming services. If you're a Netflix subscriber you are 25% more likely to have a PVR than a non-subscriber.
Of PVR owners, 35% subscribe to at least one SVOD service. This compares to only 22% of non-PVR owners.
It's therefore not surprising that the latest in set-top box technology is now integrating both streaming and recording facilities within the same offering. Not only does this cater to the viewers' needs and habits, it acknowledges the changing ways in which television content is delivered to our big screens.
Shaken not stirred
When you think of the latest gadgets and technology, you may think of James Bond. In every film, Q would equip Bond with gadgets that felt like a sneak peek into the future.
Now PVRs have a new gadget courtesy of Q, Sky Q. (Although it doesn't include an exploding pen.)
Following on from the evolutionary offering by EE which offers five tuners, the Sky Q box has 12 tuners. Only four are specifically assigned for recording while the others are used to stream to a variety of devices on the home network.
As with EE, Sky Q offers a much larger hard-drive on which to store and, more importantly, organise your own content registry.
In addition, Sky Q offers the ability to stream or download certain recordings to your devices. This means that if you record and watch programmes on the move, you can then pick back up from where you left off on your TV set.
Following EE and Sky, Virgin Media have launched their own V6 TiVo box that also offers multi-tuner and hybrid functionalities.
We are in a new age of the PVR and this is just the beginning.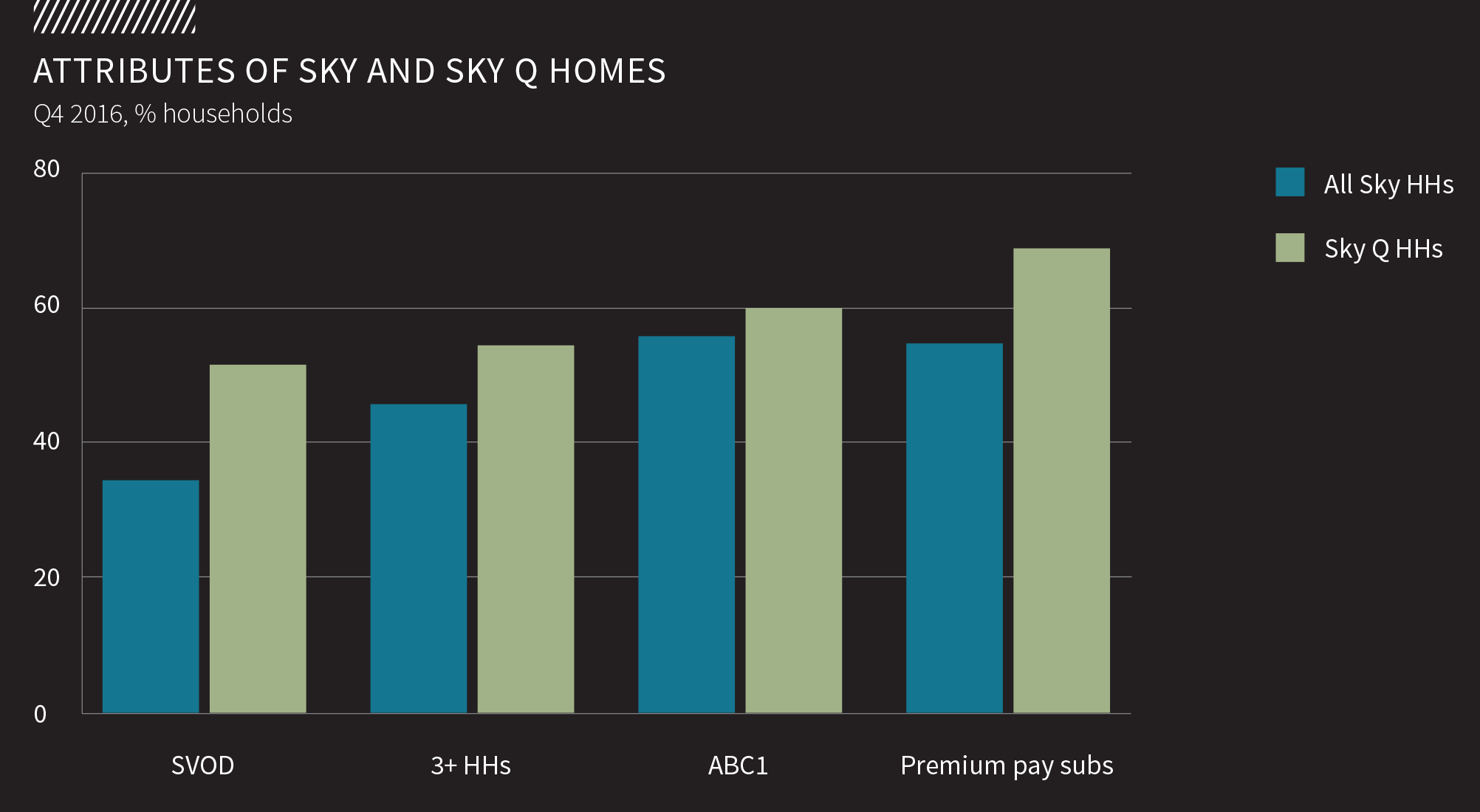 We can already see from the Establishment Survey a skew towards high-end customers for the new Sky technology. They are more likely to be of a higher social grade and to subscribe to SVOD services, premium sports and movies services. It appears there is certainly an early adopter mentality to the new generation of PVRs.
Playing catchup
The Establishment Survey provides a rich understanding of how PVRs have established themselves in UK households and displaced the dominance of the VCR. However the PVR has not yet become as prevalent as the VCR once was.
Fewer households now have linear broadcast recording facilities than they did 15 years ago. This may seem counter-intuitive to the background of an expanding multi-channel broadcasting environment. However, alongside the development of PVR technology there has also been the rapid progress in connected or smart TV technology.
What need is there for a separate set-top box to record a programme when catch-up services are now available and integrated within the TV set itself?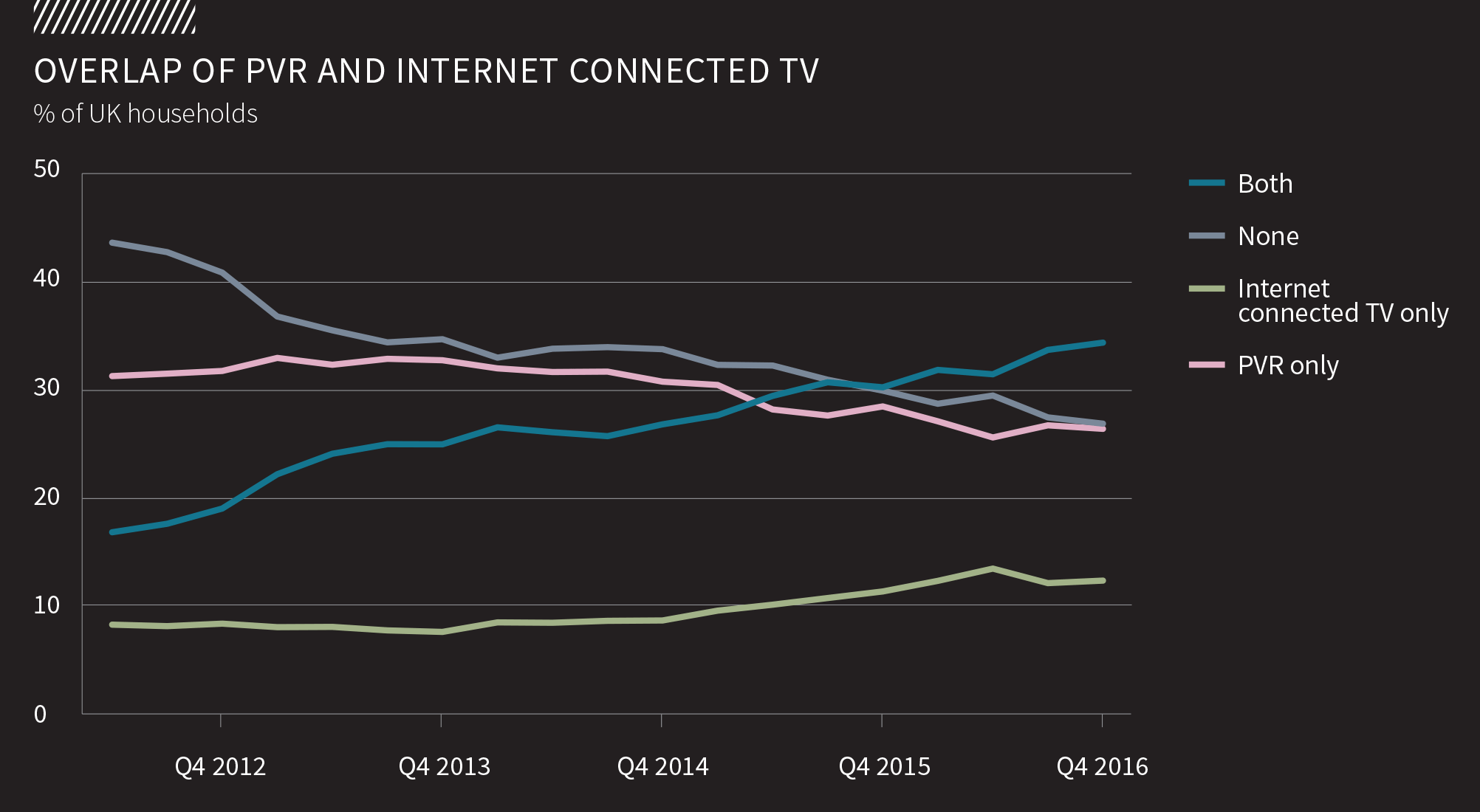 Establishment Survey data show that 32% of homes that don't have a PVR have an internet connected TV set in the home. This suggests that nearly 3.5m homes are choosing not to have a recording device and instead relying on catch-up player apps as their source of timeshift.
Only time will tell
The PVR continues to play an important role in how we watch television. But with hard-drives getting larger and with the cloud also offering potentially limitless storage for recordings, there is just one question that needs answering: where on earth will people find the time to watch it all?