Insight and analysis by

The pay TV market is changing, galvanised by new SVOD players delivering pay TV services through the internet. The conventional narrative focuses on how SVOD threatens traditional pay platforms by encouraging subscribers to trade down to slimmer, less expensive pay packages. This narrative may be appropriate in the US, where pay TV penetration is much higher, but the figures suggest this is not happening in the UK. New services seem to be expanding the pay TV market rather than slicing it more thinly, and there appears to be plenty of further room for growth in the pay market.
How has the pay TV market evolved?
When we talk about pay TV, we typically mean television services for which consumers pay an ongoing subscription. For many years, the market comprised two major pay platforms: Sky and Virgin Media. Over the past three to four years, however, the pay market has become much more diverse, and new players have come in to challenge the traditional model established by Sky and Virgin Media.
The UK SVOD market was pioneered by LoveFilm's streaming service in late 2010, but really sparked into life in 2012 with the launch of Netflix, followed by LoveFilm's integration into Amazon Video. BT and TalkTalk have added further choice, establishing YouView as the platform for their lower cost pay TV bouquets.
All of these new entrants have developed different propositions to Sky and Virgin Media, typically at lower price points. Bundling television, broadband and telephony services together has become commonplace, which in turn has made it harder to discern the price of the television element.
The pay market now looks much more varied. It now broadly divides between:
Platforms that set out to provide most if not all the staple items in the household's television diet, including a comprehensive set of linear channels and access to VOD services
SVOD services that do not set out to be comprehensive but seek to add extra elements that are not served up by the platforms, typically on an on-demand rather than live basis
Platforms which provide linear channels are still the central pillar of UK households' television experience: 98% of all UK TV homes use some form of platform which enables viewers to switch easily between a broad range of linear channels. It's possible that Tim Cook may be right when he tells us that "the future of TV is apps", but there is little sign the apps will be taking over any time soon.
Innovation in the packaging of pay TV services already threatens to render these neat distinctions obsolete. Sky's recently launched second generation Now TV set top box is arguably a platform rather than an SVOD service, because it integrates linear and on-demand services, and could in principle supply most if not all of a household's television requirements.
This market isn't going to stand still; waiting in the wings are a host of potential new entrants, like Vodafone, Apple or Facebook, all of whom are reported to be considering the launch of their own content services. They will each be seeking a new angle or configuration which will make them stand out from the competition. Whether they do so or not, the pace of change is unlikely to flag.
The pay platforms in the UK market now are Sky, Virgin Media and YouView, while the major SVOD services are Netflix, Amazon Video and Now TV. These are the major players we can track using the Establishment Survey.
By counting YouView as a pay platform, we are slightly overstating the number of pay TV households. The overwhelming majority of YouView set top boxes are sold through BT and TalkTalk to customers who take pay TV services, although there is a BT entry level package which makes it possible to get a YouView box from BT without subscribing to BT's pay TV channels. A small number of YouView boxes are also purchased directly through retail channels, and these may be used only for free channels. In any event, the proportion of YouView households which do not subscribe to pay TV is relatively small.
Taking both pay platforms and SVOD services into account, the overall pay TV market has seen substantial growth since 2012. Over 60% of UK homes take some form of pay TV service, up from 47% in Q1 2010. This growth has been driven by the success of the SVOD services, particularly Netflix which has grown by 110% since BARB started to track access to the service in Q1 2014. It is now in over 20% of UK homes.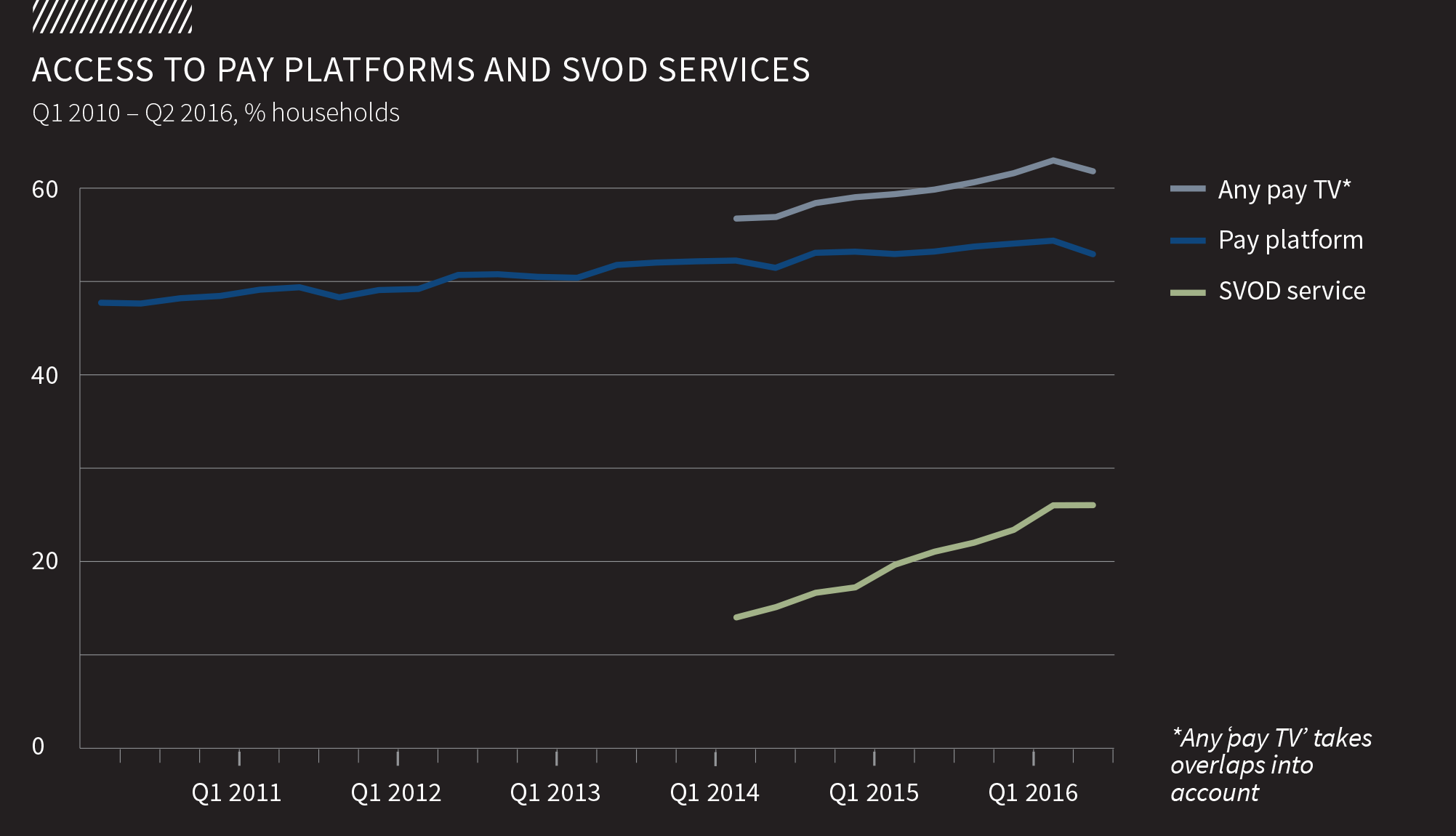 However, growth is not confined to SVOD: there has been growth in all categories, including pay homes which only take an SVOD service (and therefore do not have a pay platform) and pay platforms.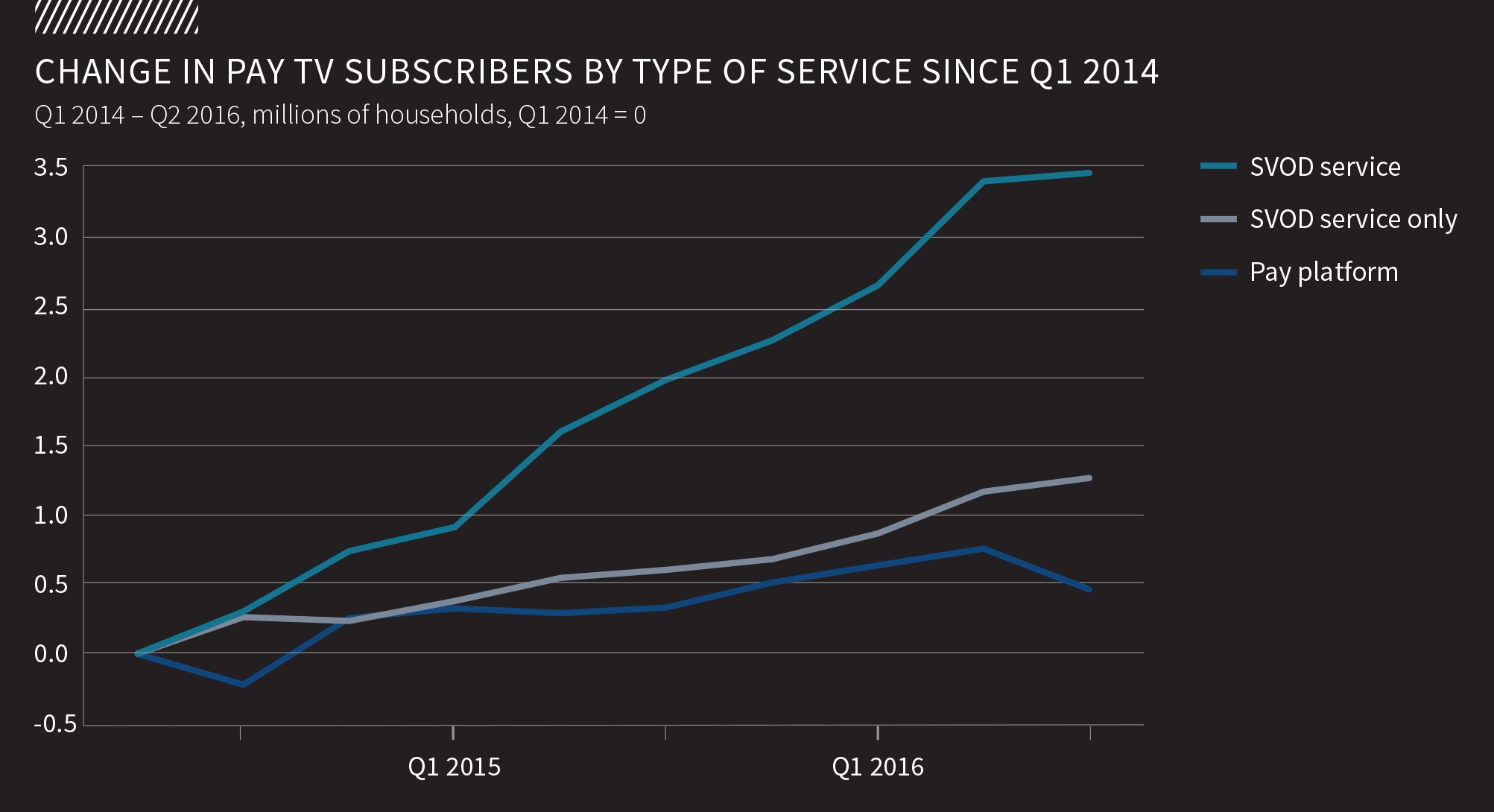 There are two schools of thought about the types of homes that SVOD attracts. Those who already value pay and those who would like it but can't afford it. The evidence is that it's twice as likely to be the former. On one hand, SVOD services appeal to existing pay platform homes which value television and want access to the additional content SVOD services can provide. On the other, it can be argued that SVOD services appear to be attracting homes which may be interested in pay TV services but are perhaps deterred by the cost of a full pay platform.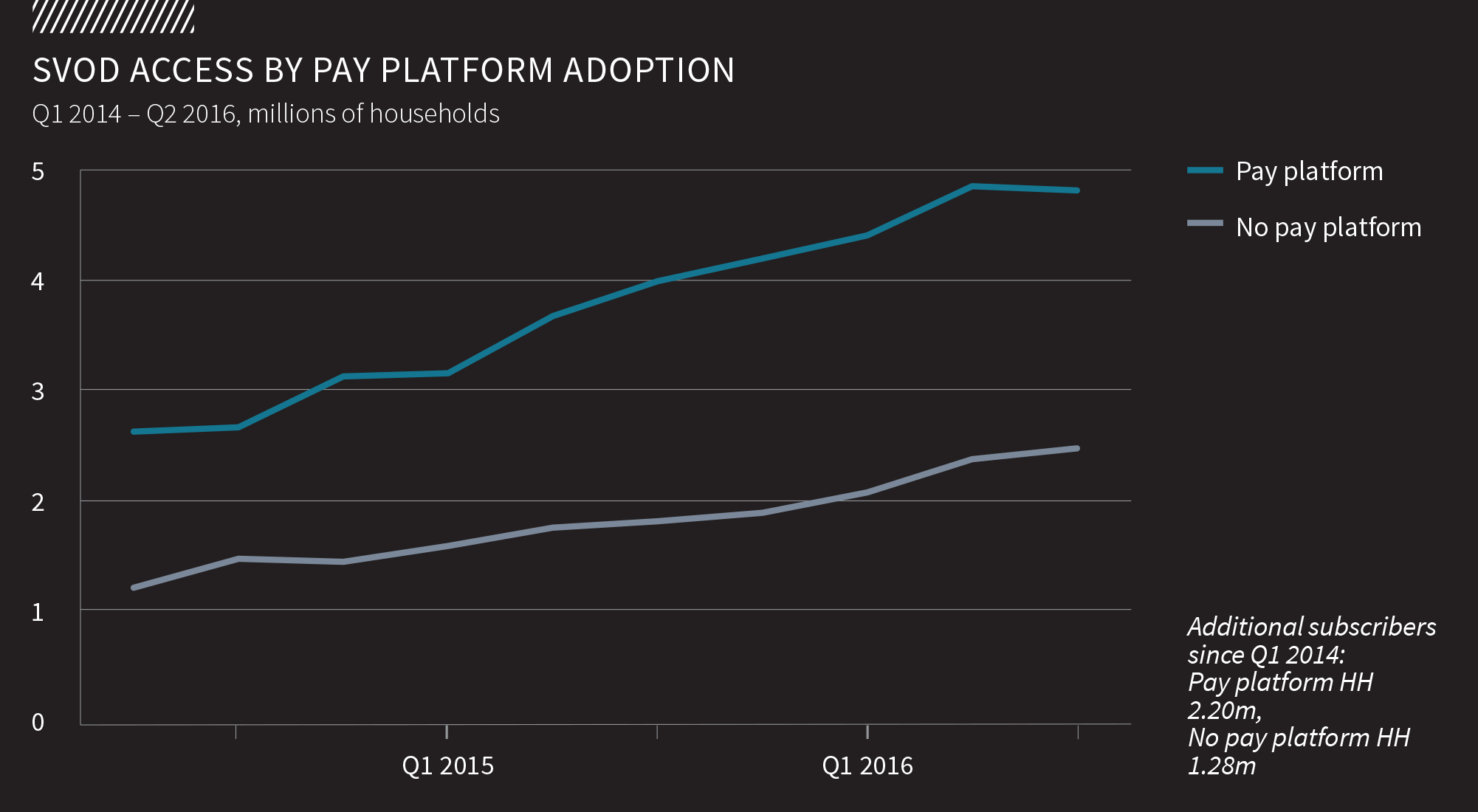 SVOD services have a complementary rather than primary role: 75-80% of SVOD households also take at least one other pay TV service, either another SVOD service or a pay platform. The proportion of pay platform households which take another pay TV service is steadily rising too: now between a third and a half of pay platform households do so. It is perhaps not surprising that a greater proportion of YouView homes take additional pay TV services: the BT and TalkTalk pay TV bouquets are not as comprehensive as the other pay platforms.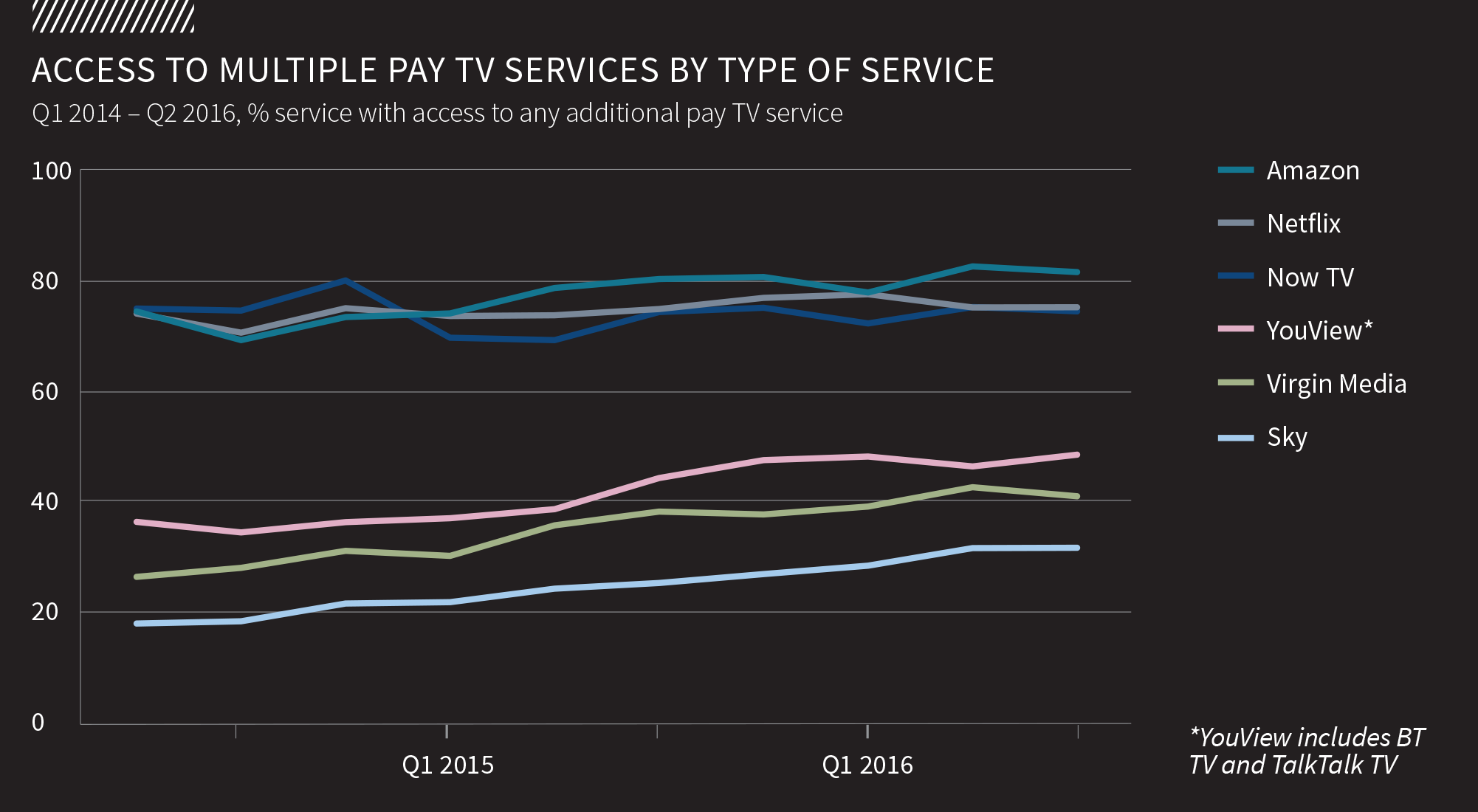 We are slowly but steadily becoming more willing to accept the idea that we need more than one pay TV service: in the two and a half years since Q1 2014, the proportion of pay TV homes with more than one service has increased from 19% to 32%. This means that 21% of all UK TV homes now have more than one form of pay TV.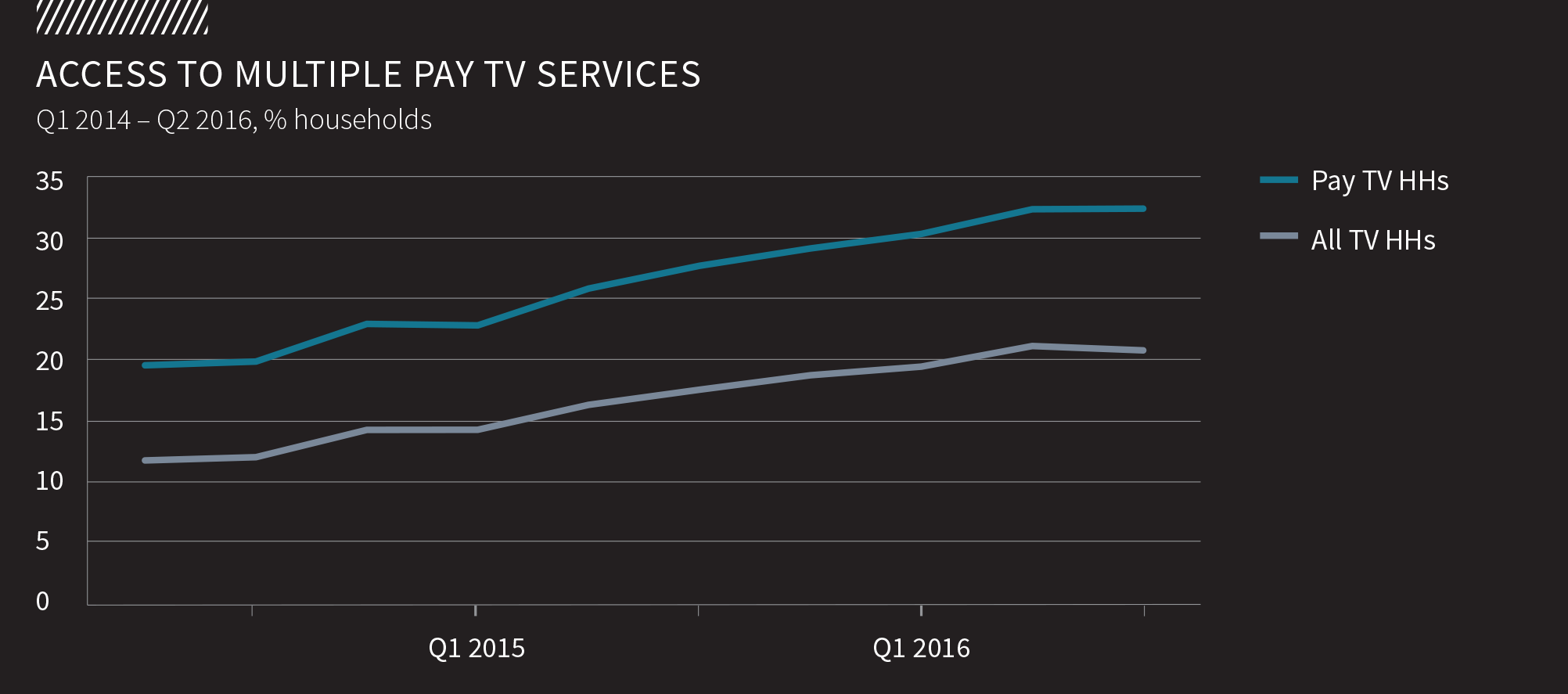 Composition of the pay-TV audience
SVOD services are changing the profile of the pay TV audience. The average age in pay platform households is already three years below the national average (37 vs. 40); the average age in SVOD homes is approximately five years younger still.
While Now TV is principally aimed at terrestrial homes, whose average age is older, it has a younger average age than Sky and Virgin Media. Amazon Video has the oldest average age among the SVOD services, possibly reflecting the fact that it is marketed in a different way as part of the Amazon Prime delivery service.
The average age of all pay TV households is slowly trending upwards, reflecting both the natural ageing of the subscriber base and the increasing penetration of pay TV services within older age groups.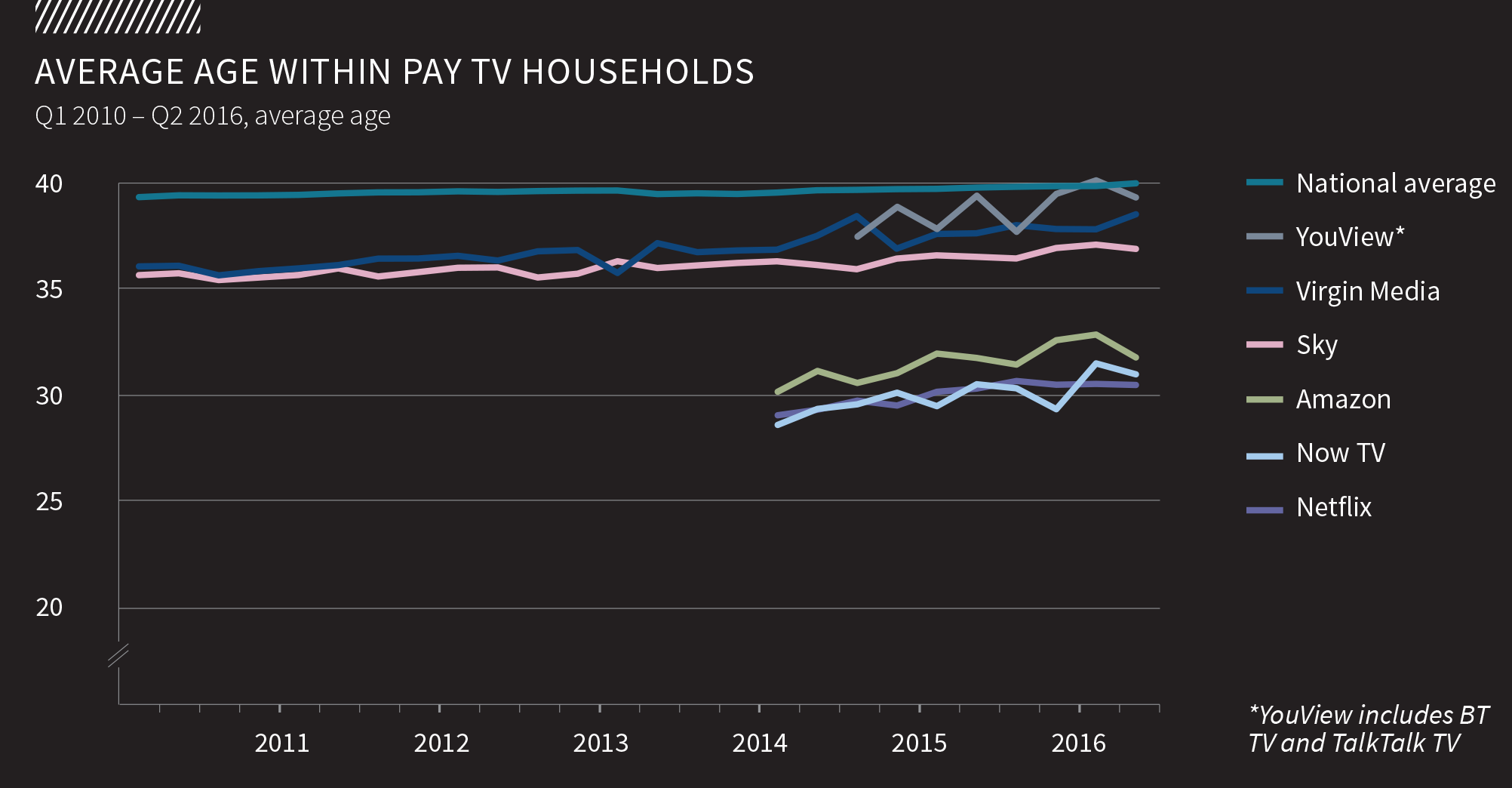 Pay TV households have a higher average social grade than the national average. Netflix has a slightly higher average social grade than all the platforms, but Amazon Video's average grade is highest of all, reflecting its positioning as part of Amazon Prime rather than as a standalone entertainment service.
They also have a higher average household size than the national average. All the SVOD services have a higher average household size than the pay platforms, reflecting the attractiveness of SVOD services to larger households with a higher demand for television entertainment.