As demographic cohorts go, there is one more than any other that has experienced the most profound and instrumental change across the last 20 years. Children today are exposed to new freedoms, technologies and pressures unknown to their counterparts throughout history. The connected world allows instant access to a world outside their own, instant messaging, and instant media.  Whereas as adults adapt to change and new habits at a slow and almost reluctant pace, children embrace and thrive on the utility that these changes offer.
In media, this is especially pertinent as we try to understand how audiences will be in the future and how people will want to consume and access their media. It's fair to say, when it comes to choice, children have more than they have ever had.  In a world of media planning, this means they are a more complex demographic than ever before.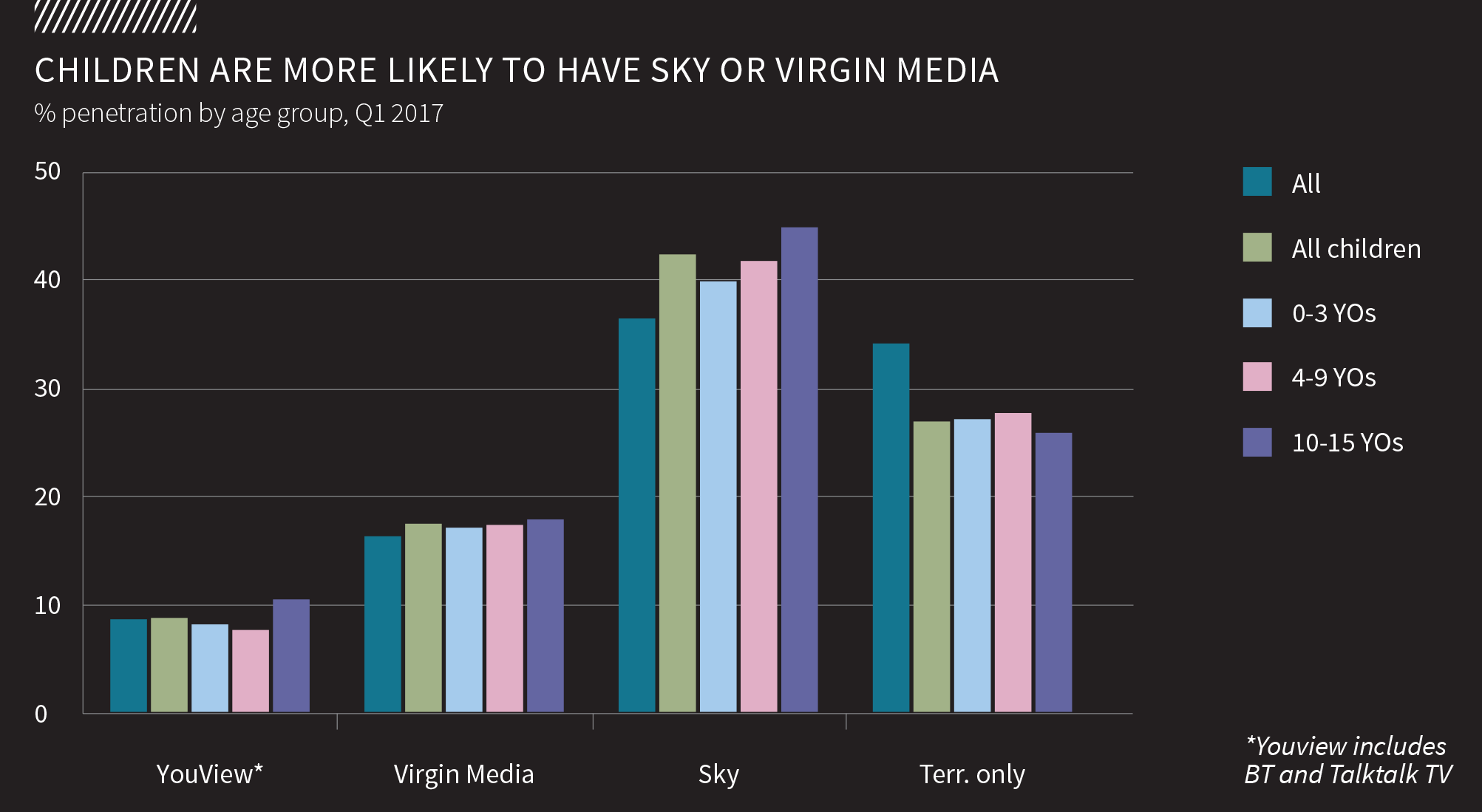 Despite the seemingly overwhelming number of options for children to consume media, television offers them a relatively small amount of personal choice. Their television channel portfolio is ultimately decided by the parent, the bill payer.  And as such, children today are constrained to the platform or television providers chosen by their parents or guardians. Although as with many household decisions, the child's influence may impact greatly.
The table above shows the extent to which this influence may manifest. As a proportion of their cohort, children are more likely to have Sky or Virgin Media subscriptions than the rest of the adult population, and far less likely to only have access to a digital terrestrial aerial reception.  This is potentially a reflection of the lifestage demands of the parent, but also the child's needs for a wider spectrum of programme and channel genres.
Netflix nippers
So, in terms of reaching children, on average they have more potential exposure to more broadcast channels than most other demographics. You may think this would result in them watching more channels. Well, in reality it doesn't work that way. Children by their nature have different tastes and genre requirements and also a much shorter viewing daypart window in which to watch their television, i.e. before bed-time. In BARB's recent annual Viewing Report we identified that on average a child watches 6.8 different broadcast channels each week, compared to 9.7 by the general population.
It should be noted that this covers just programming to broadcast channels watched within seven days, and so this doesn't include viewing to programming that exists outside of this definition. Not least from those offered by SVOD services.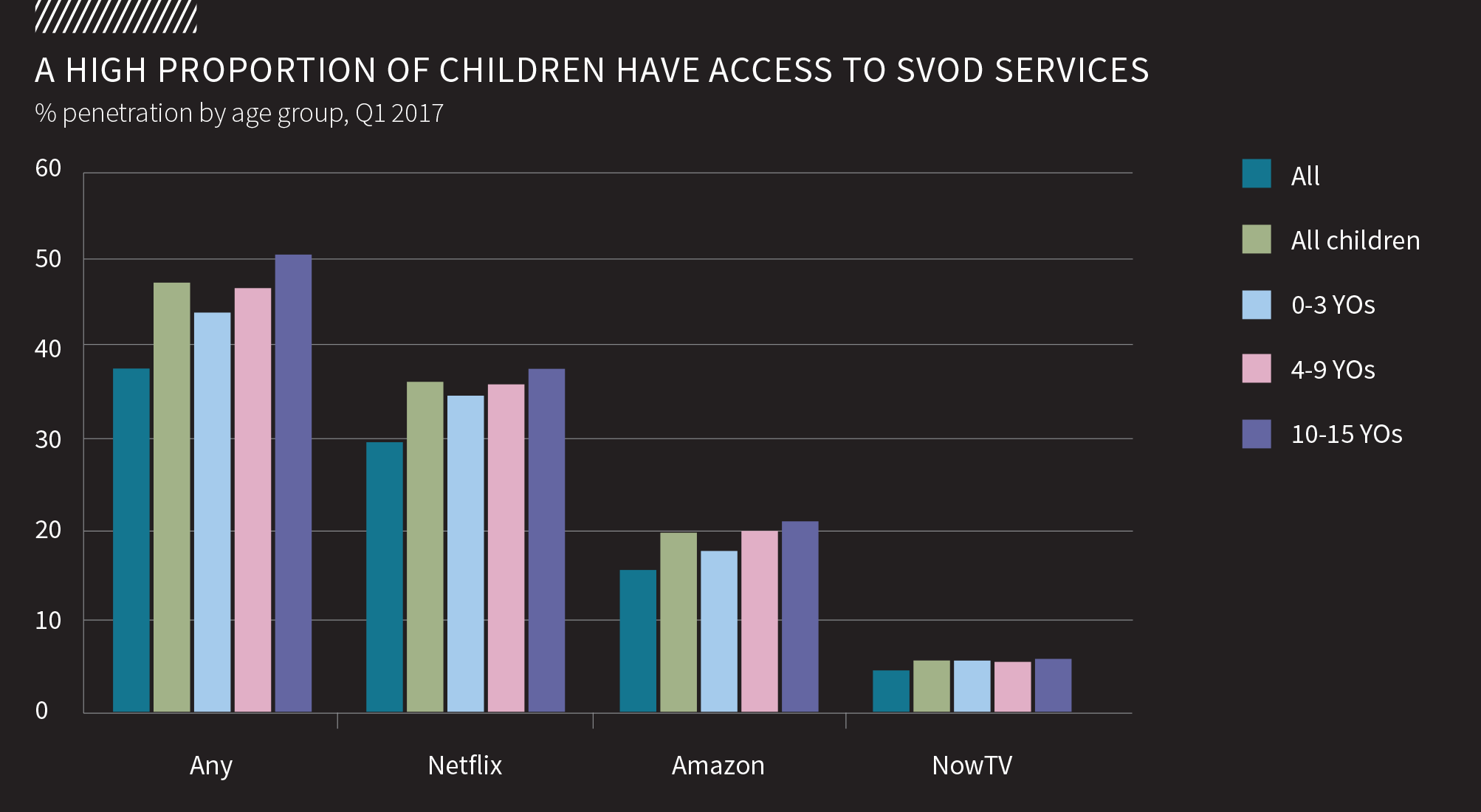 Latest data suggest that SVOD services are available in 32% of all households. As a proportion of all individuals, that amounts to 39% of the population in the UK with access to a premium SVOD service.  However, if we look specifically at children, the figure is even higher, with 48% of all children having access to SVOD.  In terms of Netflix, although 30% of the population have access to Netflix, for children this is 37%. Likewise, for Amazon, 20% of children have access compared to 16% of all individuals.
What we can see is a clear skew towards households with children, in terms of preference for SVOD subscriptions. For broadcasters, these services, available to nearly half of all children, offer another competitive channel for the TV screen.
Generation square-eyes
When it comes to the number of screens, children, certainly within the older segment, utilise them more than most. Social media, as well as short form video, play an important role in their use of smartphones and their media usage in general, providing a personal experience outside of family life.
But although it's fair to say the mobile is an important screen for children, it is also not the only screen. It is interesting how the traditional TV set is as dominant in a child's household as ever.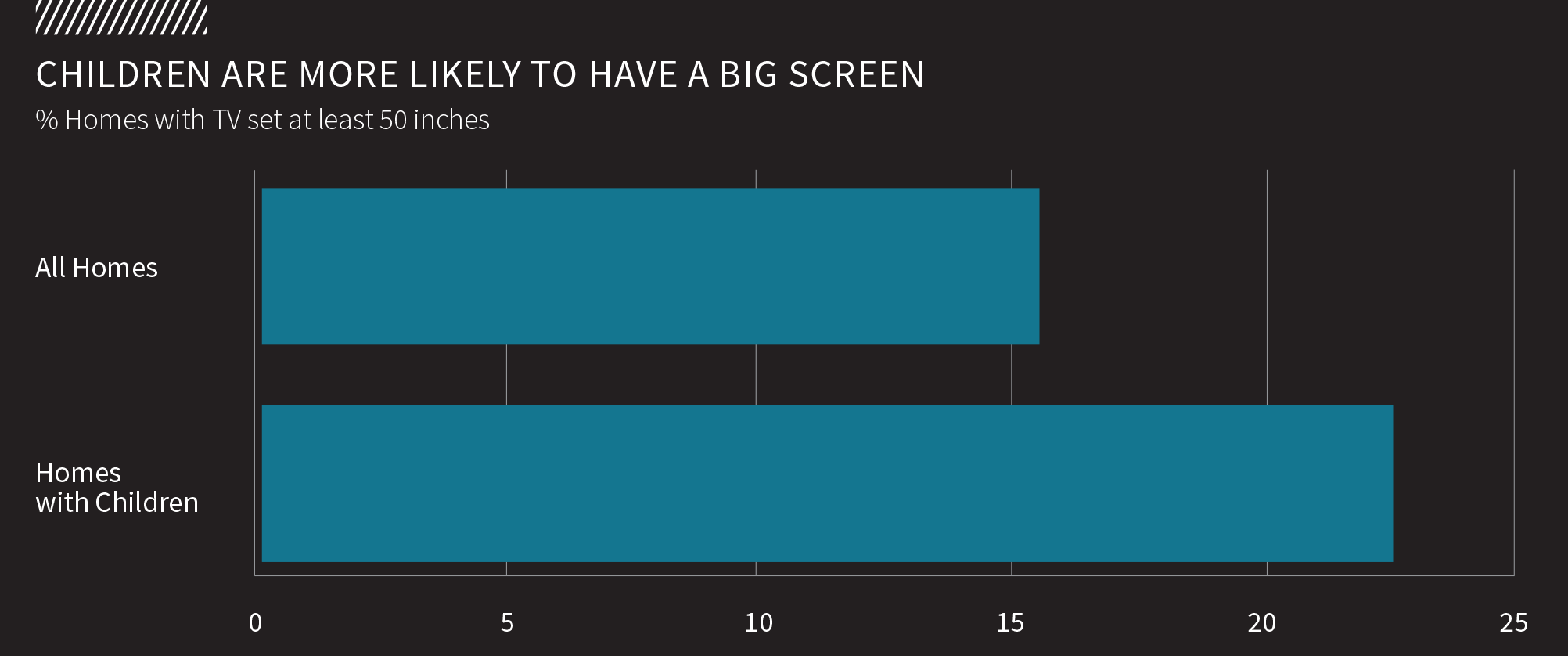 What we see is that children are more likely to have access to a large screen than anyone else. Whereas only 16% of all households have a big screen, more than one in five households with children have a screen of over 50 inches in size. This is a demographic that will subsequently grow up, understanding and appreciating the experience of viewing premium television content on a large and immersive TV set.
 No noobs here
From the Sinclair ZX81 and Commodore64 through to today, parents up and down the country have been faced with the same issue of their children monopolising the TV screen to play their favourite computer games. Today, there remain three primary gaming systems: the Playstation, Xbox and Nintendo.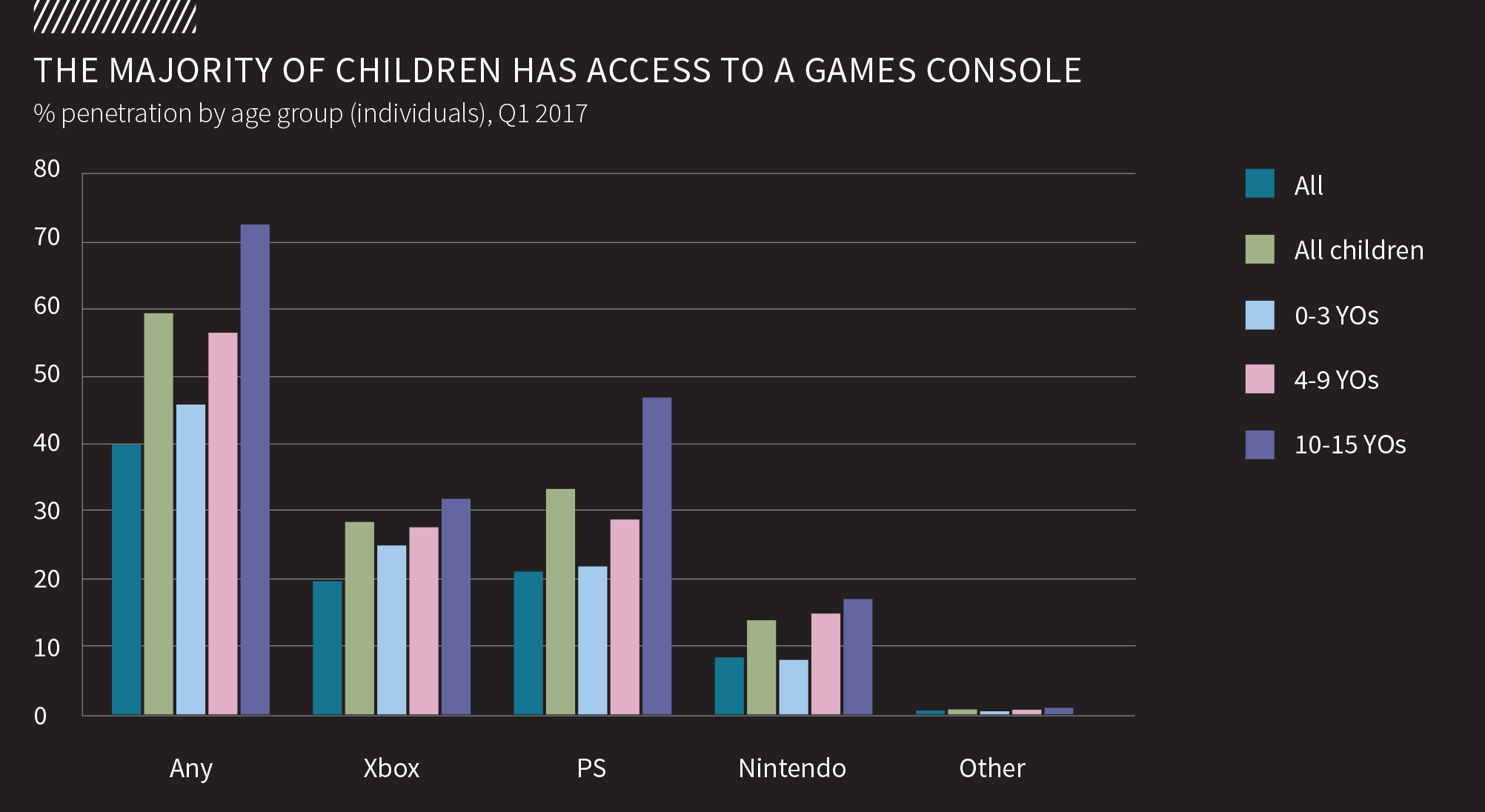 Of all individuals in the UK, nearly 40% of us have access to at least one of these in our homes. But for children, this rises to nearly 60%. The most popular system being the Xbox which is available to 33% of children, compared to 28% for the Playstation. Interestingly, of the two, the Xbox skews significantly towards older kids in the 10-15 bracket. As with SVOD, the games console and gaming in general is another format competing for TV Screen time alongside broadcast television.
Children are our future
As technology continues to develop and new devices and platforms enter the consumer market, it is sometimes difficult to understand how these will impact our own future media habits. By looking at how children today are interacting with media and devices alike, it might provide glimpses of what's to come for future adults.  So, to steal a few words from the late great Whitney Houston, remember, 'Children are our future'.