Insight and analysis by

The idea that we are ever more connected is one few would contest; we are increasingly reliant on services provided over the internet. The concept of connectedness is clearly useful, and describes a phenomenon we all recognise. But can we be more precise about what it means? The Establishment Survey allows us to explore the different ways we are connected, and to work out how connected the UK has become. We look at three increasingly focused definitions of what it means to be connected: having a broadband connection, having a connected device and having a connected TV.
Connected = have a broadband connection
The widest definition of a connected home is that it has a broadband connection. The Establishment Survey defines a broadband connection as including both fixed and mobile internet access (i.e. access via 3G, 4G or Wi-Fi as well as a fixed line). On this measure, 84% of homes claim to be connected in Q1 2016, up 24% over the six years since Q1 2010.
If we break this overall broadband figure down by lifestage, we can see the huge gap between households in which at least one of the adults is in employment and inactive households where the adults are not in work (i.e. they are either retired or unemployed). Broadband access for this second category remains below 65%, while over 92% of active households have access. Unsurprisingly it is households with older families (i.e. with a child or children aged 4 to 16, and no child under 3) which have the highest rate of access: teenage children need to be able to get online.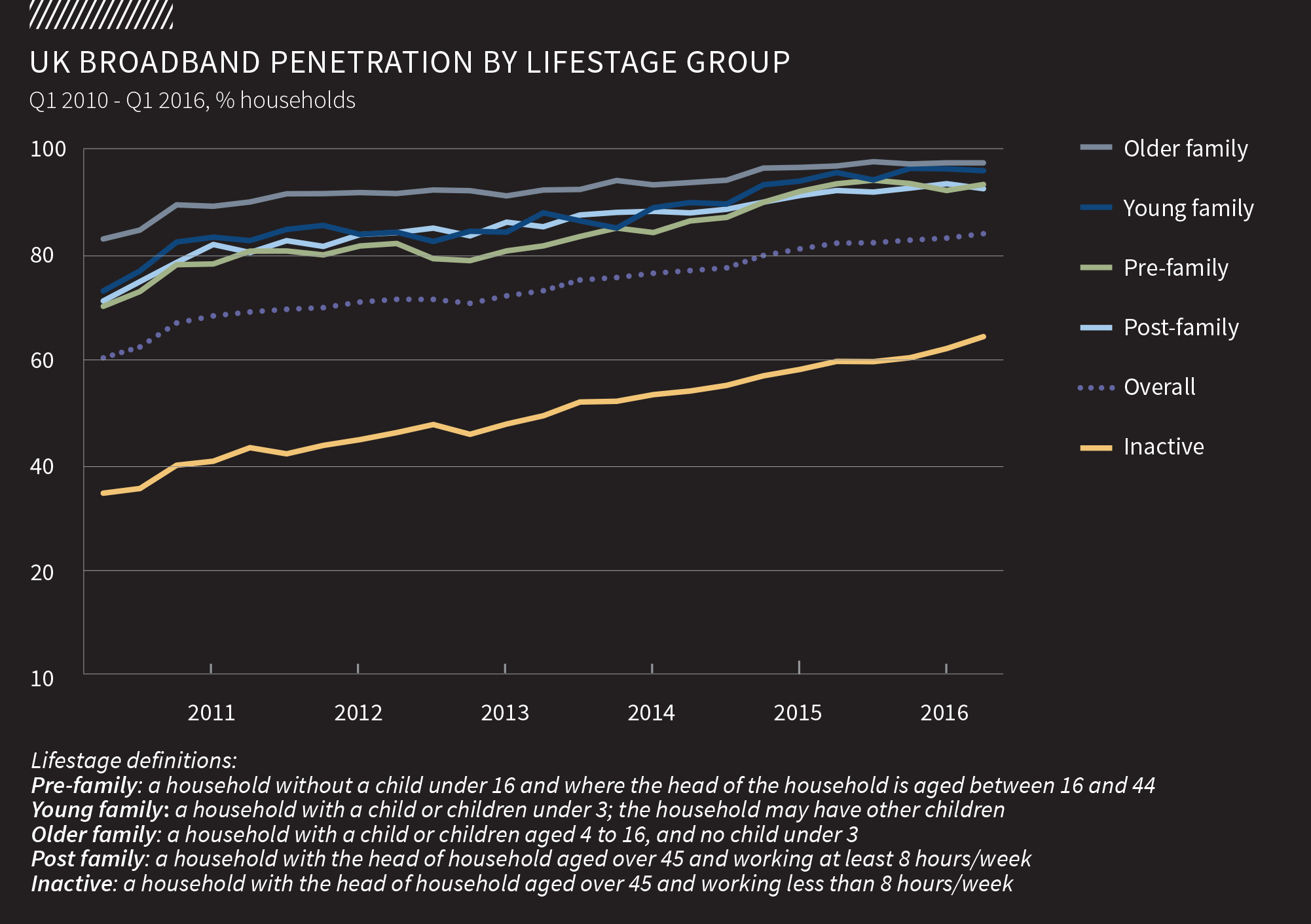 (An interactive version of this chart is available here.)

Connected = have a connected device
It is one thing to have a broadband connection; how many of these households have a device able to use the connection? We are focusing here on devices other than a TV set. The answer is almost 100%, as the chart below demonstrates. In Q1 2016, 99% of households with broadband access also had at least one non-TV device which could be used to connect to the internet, and therefore potentially to watch television.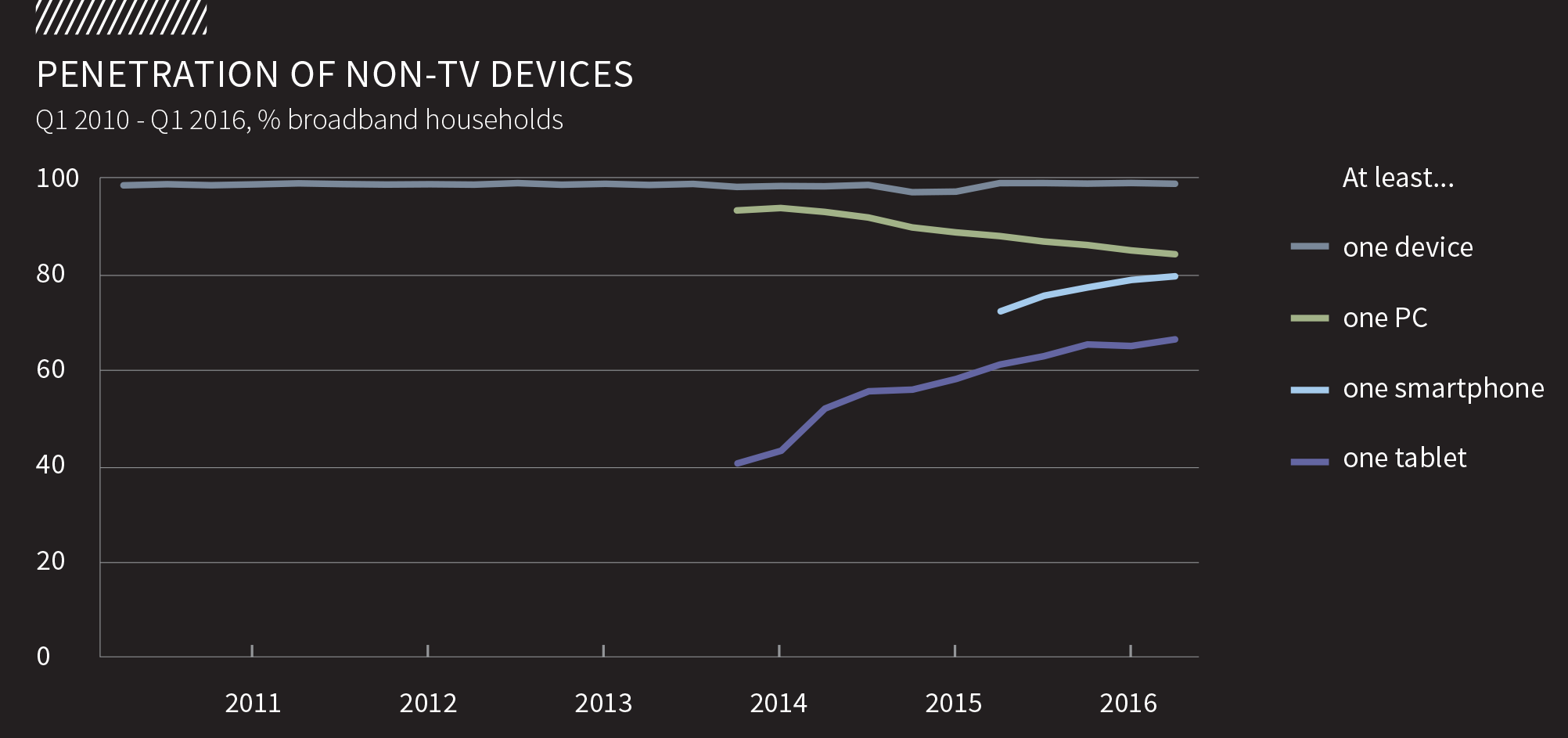 The most common connectable device is a PC; 84% of broadband households had a PC in Q1 2016, 80% had a smartphone, and 67% had a tablet.
We can see how mobile devices (i.e. smartphones and tablets) are gaining at the expense of PCs, which have been in steady decline for two years. However, when we look at how the ownership of different devices overlaps within the household, we can also see that for many people, these devices are complementary: 65% of households with a PC also have a tablet. Even more have both a PC and a smartphone.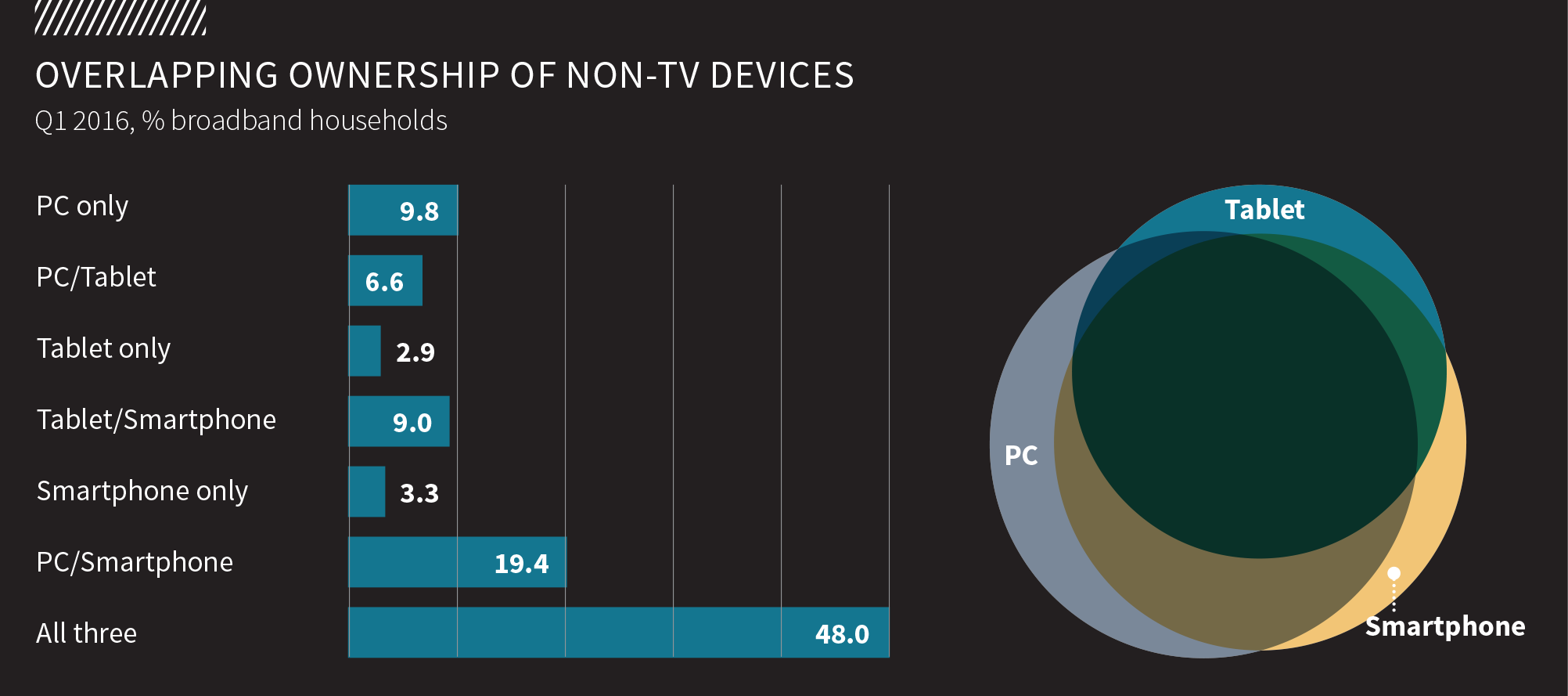 Non-TV device ownership is closely correlated with both social grade and size of household. The higher the social grade or the larger the household, the more likely it is to have more devices.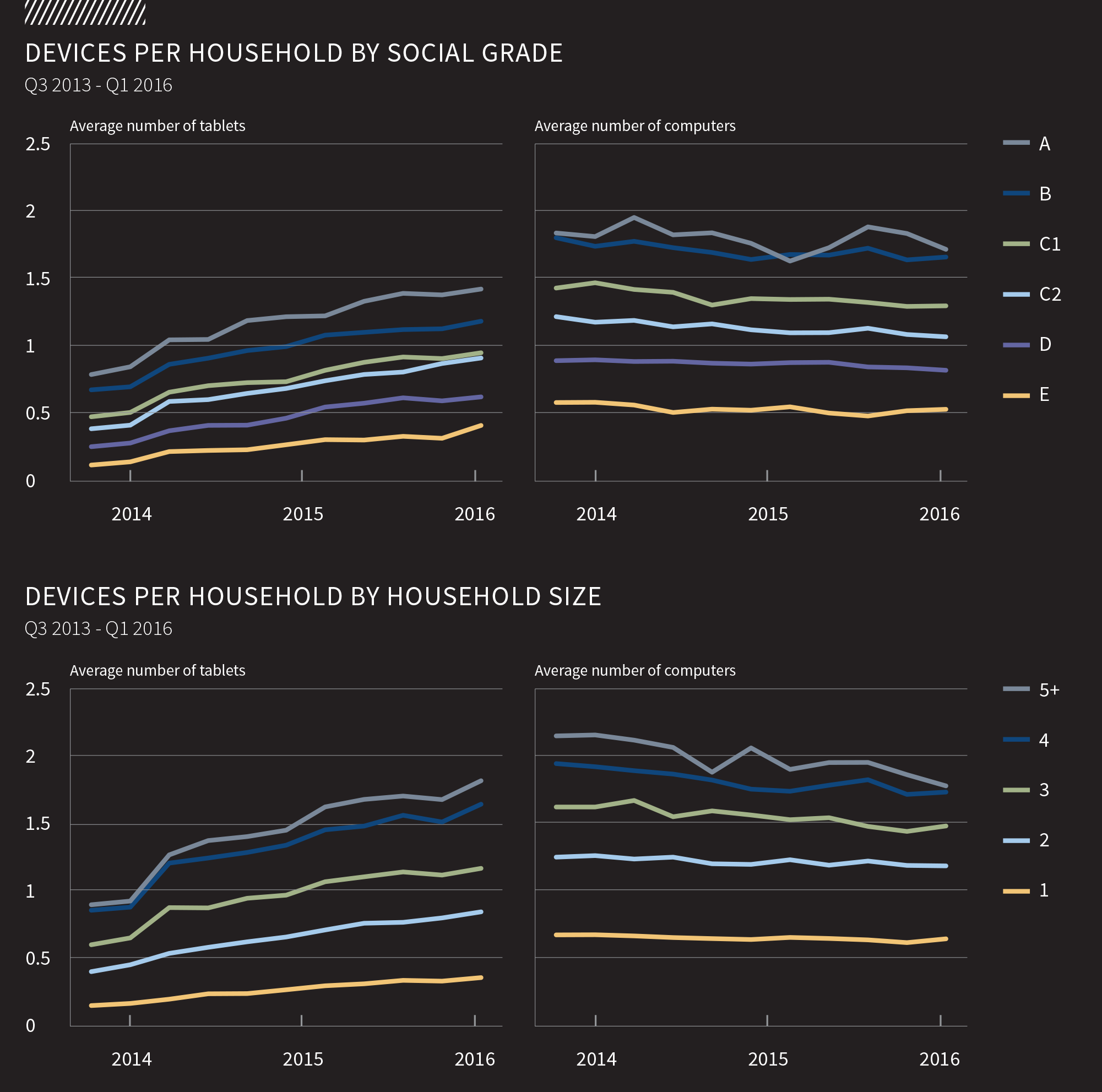 Connected = have a connected TV
Our final and most focused definition of connectedness is having a TV which is connected, i.e. it has access to the range of VOD services available from the major UK broadcasters or from other new entrants to the market. Quantifying this is challenging, because there are so many ways in which a TV can be connected to the internet.
Direct connection to the internet: For the past 5-6 years, all the major TV set manufacturers have built their own interactive platforms into their new TVs: Samsung's Smart Hub, LG's Smart TV, Sony's Entertainment Network, and so on. These allow viewers to access VOD services by connecting the TV directly to broadband, either via Wi-Fi or direct connection. These manufacturer platforms are also available on their DVD and Blu-ray players.

Connection to a dedicated internet TV device: There is a wide range of dedicated devices whose purpose is to deliver VOD services to the TV, such as Amazon Fire Stick, Apple TV, Chromecast, Now TV, Roku and many more.

Connection to a computer or tablet: TVs can access VOD services by being connected directly to a PC or tablet device.

Connection to a games console: The major games console brands all have apps which give access to many of the leading VOD services.
Collectively these different types of access are typically referred to as forms of OTT (over the top) delivery. The Establishment Survey asks explicitly about each of these different ways a TV can be connected to the internet.
There is, however, a very important fifth way in which a TV can be connected.
Access via linear TV platforms: All the linear TV platforms provide access to VOD services, with varying levels of penetration. All Virgin Media's TV customers have access to VOD services, as do nearly all YouView customers. All Sky customers with Sky+HD boxes (81% of Sky households) have access to VOD services, assuming they also have broadband access. Among the free platforms, Freeview and Freesat, penetration of the connected version of the platform is much lower: Freeview Play, the connected version of Freeview, only launched in October 2015, so numbers are still very small.
The last means of being connected is more challenging, because viewers tend not to think about the VOD services they access on their main linear platforms as being available because they are connected to the internet. This is despite the fact that the catch-up, short form and subscription services they receive on these platforms are in many cases exactly the same as can be accessed on dedicated devices like Roku and Chromecast.
We can see from the responses to the survey that many viewers do not see their linear platforms as internet-connected: when asked "Can any of your TV sets be connected to the internet?", only 54% of cable households and 57% of YouView households say yes. However, we know that all cable households have access to VOD services, as potentially do the 98% of YouView households which have access to a broadband connection.
This means that to estimate a figure for the number of connected TVs which potentially have access to VOD services, we need to take account of the fact that many viewers do not think of their linear platforms as providing connected access, even though they do. This is testimony to the success of platform operators in designing platforms that make the delivery technology immaterial to the viewer.
For the three platforms which are most connected, we can estimate the maximum number of households which could have access, i.e. they have both the device and broadband capability to do so.
Cable: 100% of cable households have access to VOD services as part of their TV service, even if they do not have access to broadband as well.

YouView: All YouView households with a broadband connection (98% of the total) potentially have access to VOD, both via YouView's backwards EPG and via dedicated VOD apps on the platform.

Sky: All households with a Sky+HD box and a broadband connection (77% of the total) potentially have access to VOD. In addition, some of the households which do not have a Sky+HD box will have access via one of the four other routes.
To estimate a figure for the total number of TVs which can be connected, we look at each platform separately. The percentages used for each platform to calculate the number of internet-connectable TVs are set out in the chart below. We use the figures above for households with cable, YouView and Sky. Freeview Play, the connected version of Freeview, only launched in October 2015, so numbers are still relatively small.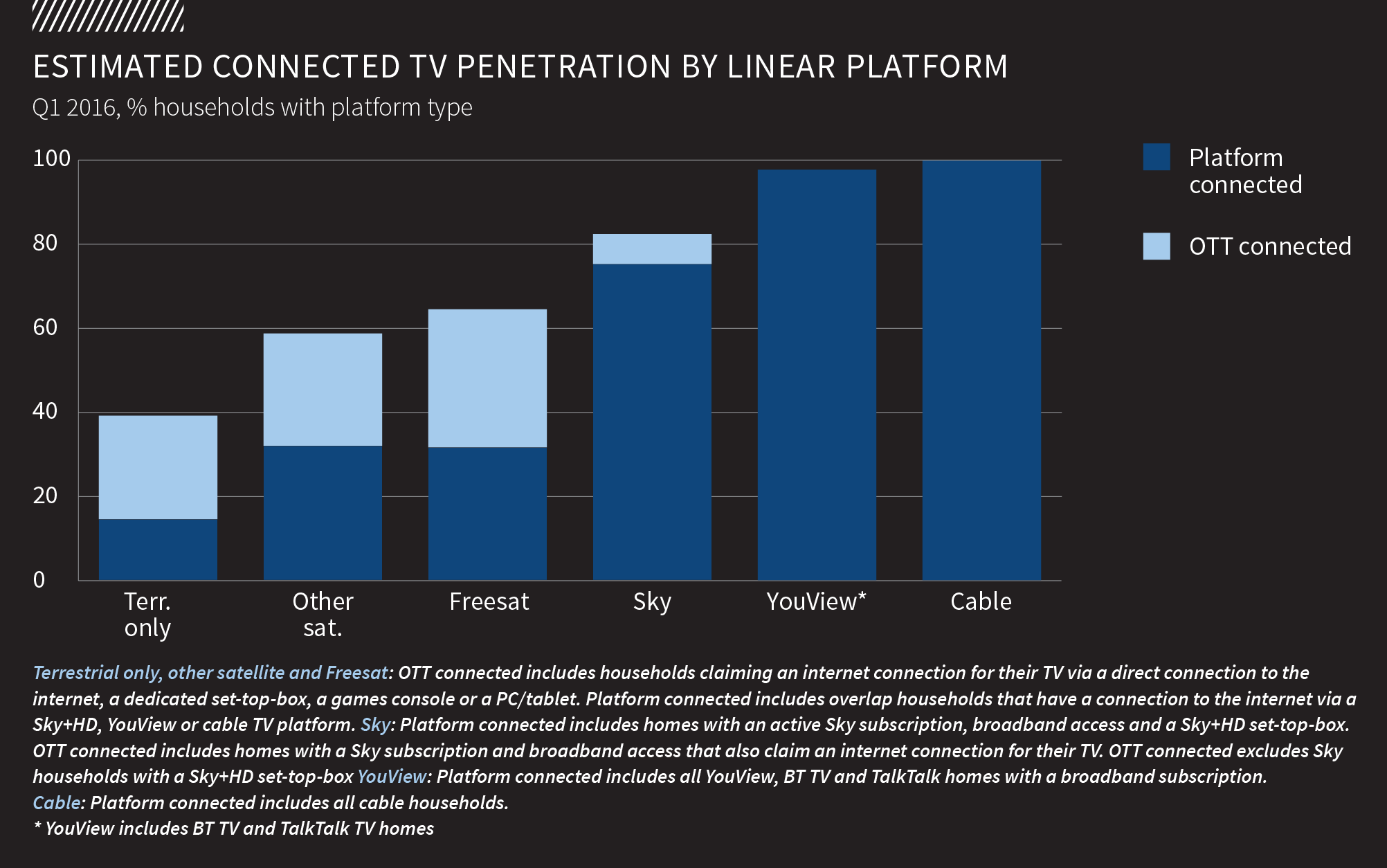 Using this approach, the chart below shows the total penetration of households with connected TVs over the past four years. The analysis suggests 63% of UK households currently have a TV set with connected access to broadband-delivered VOD services.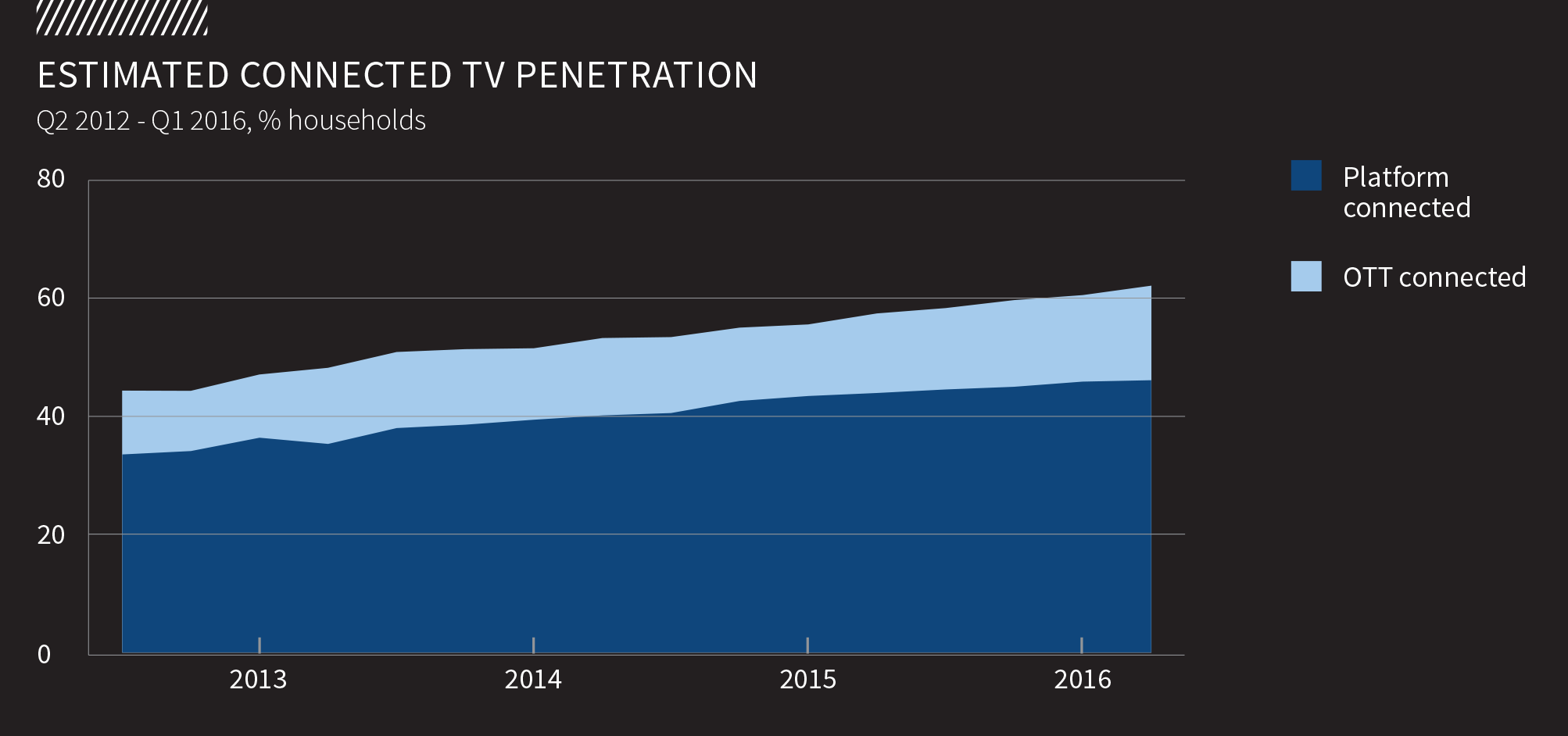 The chart demonstrates the imbalance in connectivity between the free and pay sides of the market: the platform connected households in the chart above are all on pay platforms, while the OTT connected households are using free-to-air platforms or a complementary device. Over the next few years, the growth in connected TVs is likely to come predominantly from households using free-to-air linear platforms.
From a content owner's point of view, it also shows what they stand to lose in terms of audience reach on TV sets by adopting an OTT-only distribution strategy which does not take advantage of platform-based connected access. In Q1 2016, 46% of UK households had connected access on their TVs via their pay platforms; only around 60% of these households, or 27% of total households, claimed to have access via OTT delivery methods.