Insight and analysis by

Defining the different platforms on which we watch TV has become more challenging, as television providers rush to make their programming available across multiple devices and delivery networks. The Establishment Survey gives us consistent insight into the number of households using different means to access television services. The picture it presents is one of remarkable stability: despite the rapid changes in the underlying technology, the numbers using the major platforms have remained surprisingly constant.
Defining the platforms
Ten years ago, defining the platforms on which the British public consumed television was a comparatively straightforward task: television came in three flavours, terrestrial, satellite and cable, and was consumed on a TV set. Today the picture is a lot more complicated. Not only is television viewed on multiple screens, but there are multiple variations of satellite and terrestrial TV as platforms are making increasing use of multiple delivery methods. How do we define BT TV or TalkTalk TV customers who watch the PSBs via the signal from their aerial and their pay channels via broadband? They can't simply be defined as terrestrial or IP viewers.
Satellite and terrestrial platforms like Sky and YouView are increasingly going to become hybrid, using the bandwidth of broadcast transmission to provide linear channels, complemented by IP delivery to provide access to content on demand and on mobile devices. In this more complex world, platforms will be defined by brands (BT, Freeview, Sky, Virgin Media, etc.) rather than by transmission method. However, in the period before we achieve this multi-device, multiple delivery technology future, we need our own hybrid approach to defining the platforms viewers use to watch TV which combines brands and delivery methods.
Our definition focuses on the platforms viewers use to watch linear TV. There are plenty of successful non-linear platforms (Apple TV, Netflix, Now TV, Roku, etc.), but while the majority of most people's viewing remains live to linear programming, these non-linear platforms will remain a complement to, rather than a replacement for, the main linear platform. To put this in context, in the final quarter of 2015 the Establishment Survey shows there are 0.44m homes (out of a total of 27.6m) that claim to have a TV but not to have access to a linear platform.
The platform categories we will use are as follows.
Cable: households that claim to receive cable; these households are almost entirely Virgin Media customers.
Freesat: homes which have access to Freesat, either through a set top box or integrated into the TV set. This does not include former Sky homes who no have a live subscription but continue to use their Sky set top box to watch free satellite channels.
Other satellite: this category includes former Sky subscribers as well as viewers watching smaller, typically international, satellite service providers like Polsat.
Sky subscription: homes who pay for a Sky subscription package (not including Now TV customers who don't pay for a Sky subscription package).
Terrestrial: all homes which have access to digital terrestrial TV via their aerials. This includes any homes across all categories which also have access to terrestrial.
Terrestrial only: the subset of terrestrial households that do not have access to cable and satellite reception as well (including most BT TV, TalkTalk TV and YouView homes).
YouView: all households who have the BT, TalkTalk or YouView platforms. The great majority of these homes will be using the YouView interface, but the figure will include a small number of homes using older versions of BT TV and TalkTalk TV.
We should highlight that the numbers we report for these platform categories are survey findings among private households. Platform operators have various means for determining the size of their customer base. In the case of pay platforms these will be derived from tracking the number of paying customers that they have.
These platform categories are not mutually exclusive, as there are significant overlaps. We will investigate these in a moment.
The following chart shows the number of households with access to these different linear platform types over the past five years. The figures for the Q4 2015 are affected by the change in the BARB definition of a TV household, which has increased the total number of TV households slightly (look here for a detailed description of the change in the definition).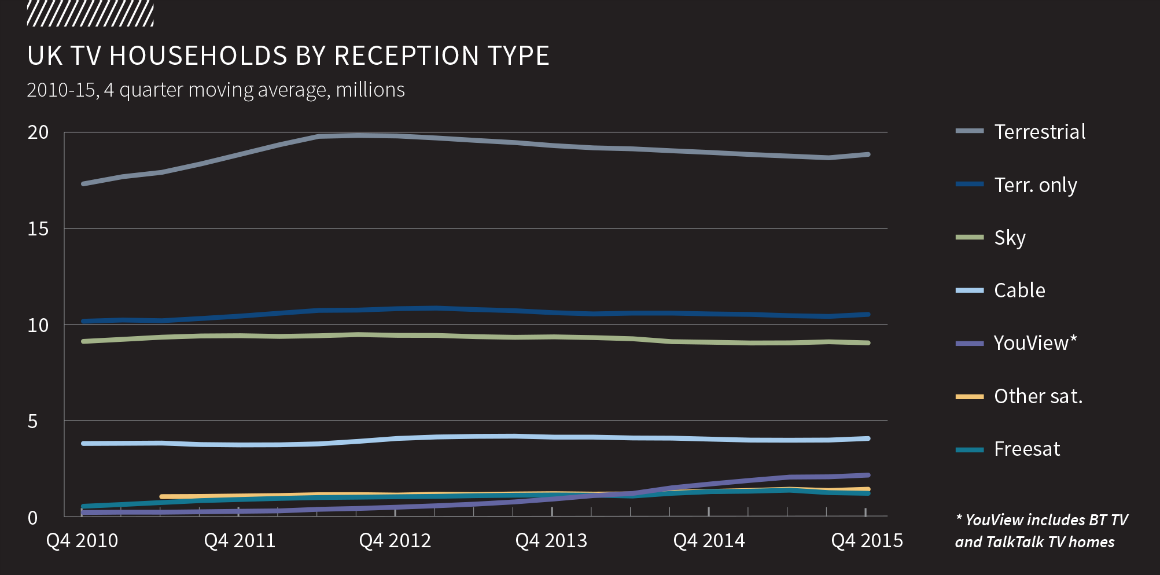 (An interactive version of this chart is available here.)
There has been remarkable stability for the main linear platforms: the number of cable and Sky subscription households has been extremely consistent across the past five years. Up to 2012 the terrestrial platform grew rapidly, but it has declined by 6% from its peak in mid-2012. The terrestrial figures are for digital terrestrial rather than analogue, so the increase is likely to be the result of homes acquiring new digital sets in advance of the switch-off of analogue signals in the digital switchover process. Analogue signals finally ceased in the fourth quarter of 2012, so there would have been a strong incentive for viewers to acquire new sets before then. The subset of terrestrial only households followed the same trajectory, but with lower initial growth.
The significant growth has been for newer platforms. Freesat and YouView, including BT TV and TalkTalk TV, have increased rapidly over the past five years from small initial bases. There are signs that Freesat's growth has plateaued over the last two years, but YouView seems to be continuing its growth as a platform.
Platform overlaps
There is overlap between the major platforms: the next chart shows the percentage of each platform that also has access to each other major platform type. The graph shows the extent to which terrestrial is used as a second platform by households who have other platform types. In comparison, the overlap between pay platforms is predictably low, and even Freesat has relatively low overlap with other platforms.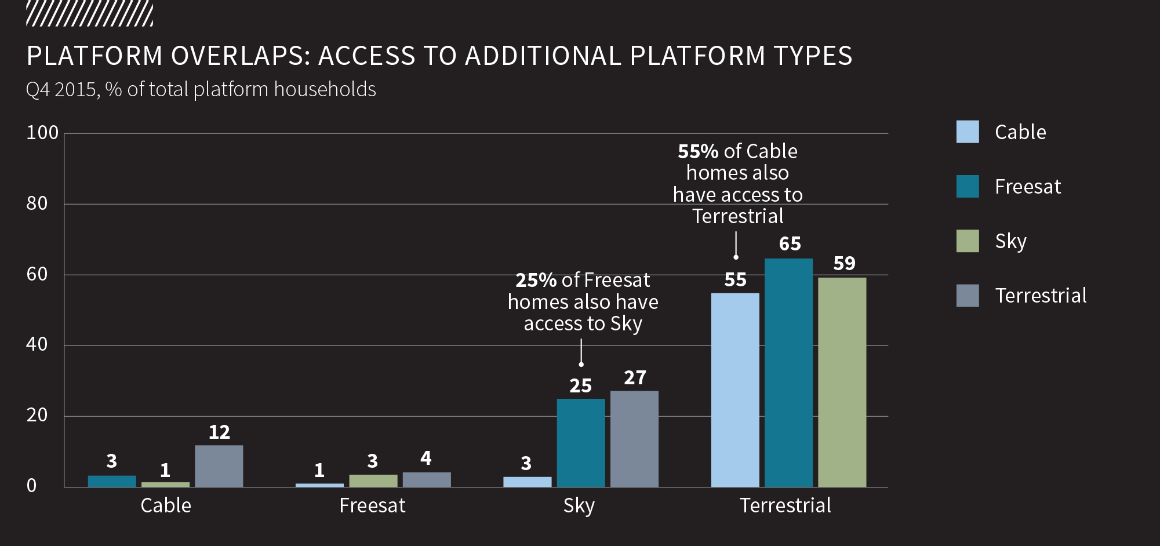 The overlaps show that terrestrial is overwhelmingly the main choice as secondary platform, with over 50% of all homes using other platforms also having access to a terrestrial signal. Unsurprisingly, the overlap between the major pay platforms is very small.
Platform demographics
The social composition of different platforms appears as might be expected, with the pay platforms (BT/TalkTalk/YouView, Sky and cable) all skewing slightly towards higher social grades. Freesat skews highest of all for AB households, which is unusual for a free-to-air platform. There is a remarkable difference comparing Freesat to the other satellite category, which includes households which have churned off Sky.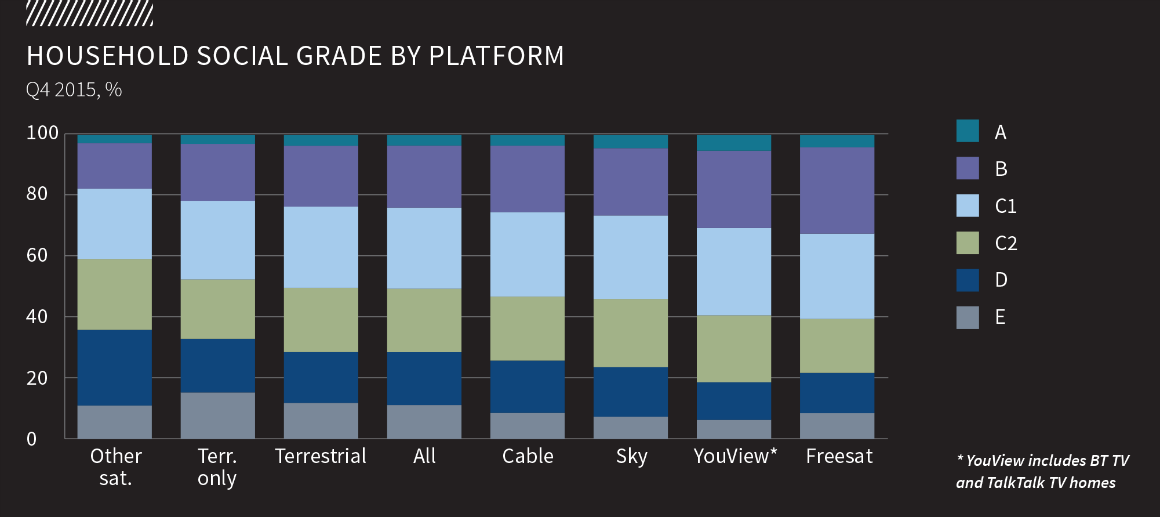 When we look at ownership of other devices, which is likely to be correlated with social grade, it confirms this picture. The chart below shows that Freesat households are nearly as likely to have PCs and tablets as Sky and cable homes, and significantly more likely than terrestrial and other satellite homes.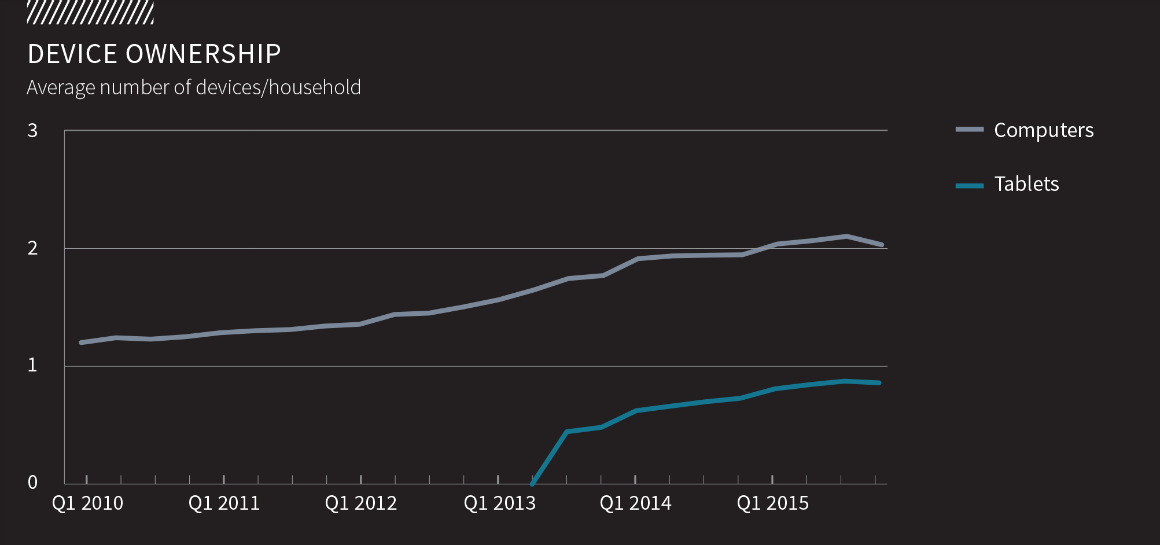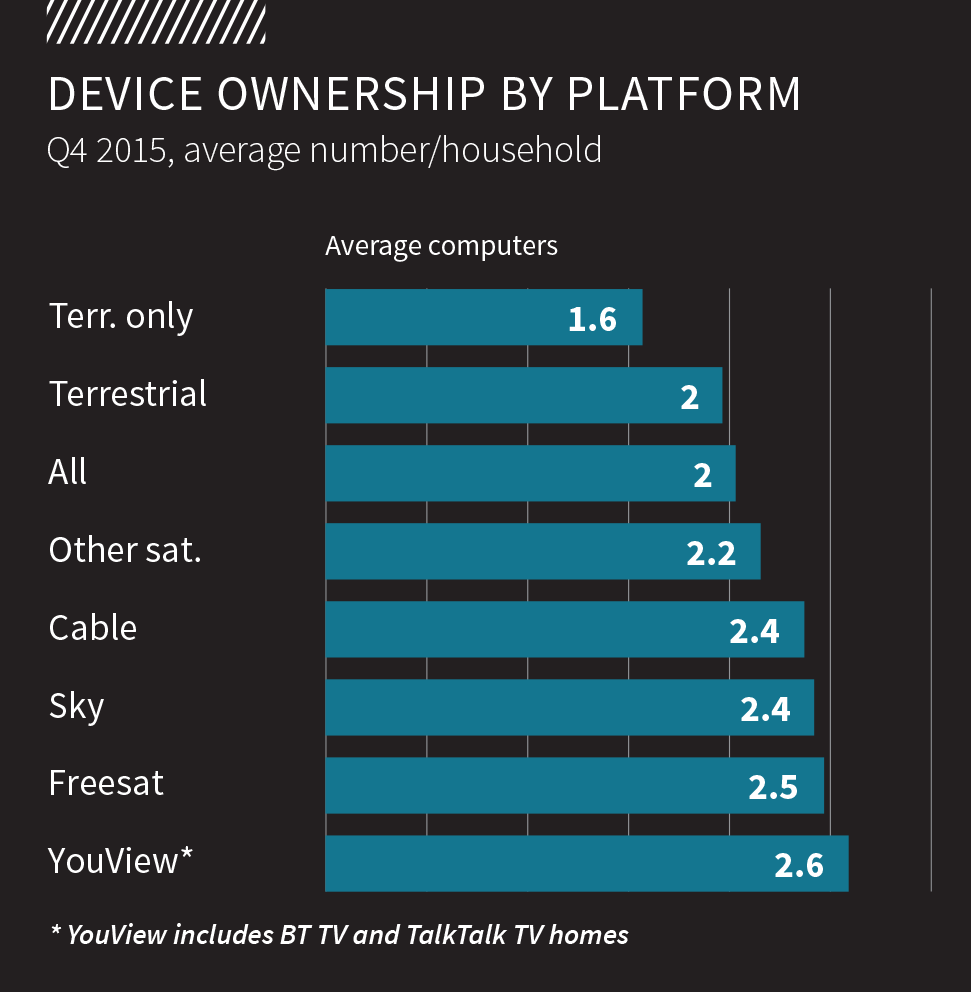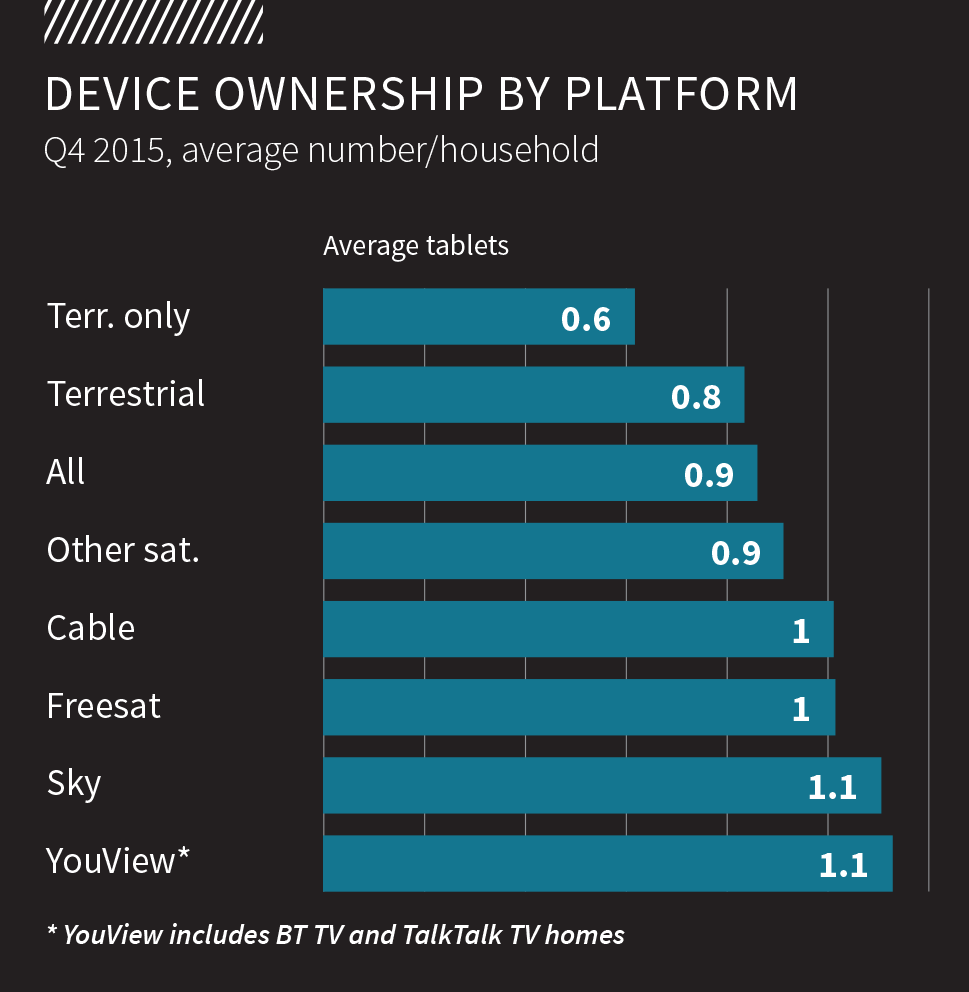 Otherwise Freesat conforms to the accepted picture of a free-to-air platform: it skews older and more towards smaller households (see following two graphs). Sky and cable, on the other hand, have the youngest profiles and the largest households: these are the households with the greatest demand for TV. Terrestrial skews slightly older and towards smaller household size than Freesat.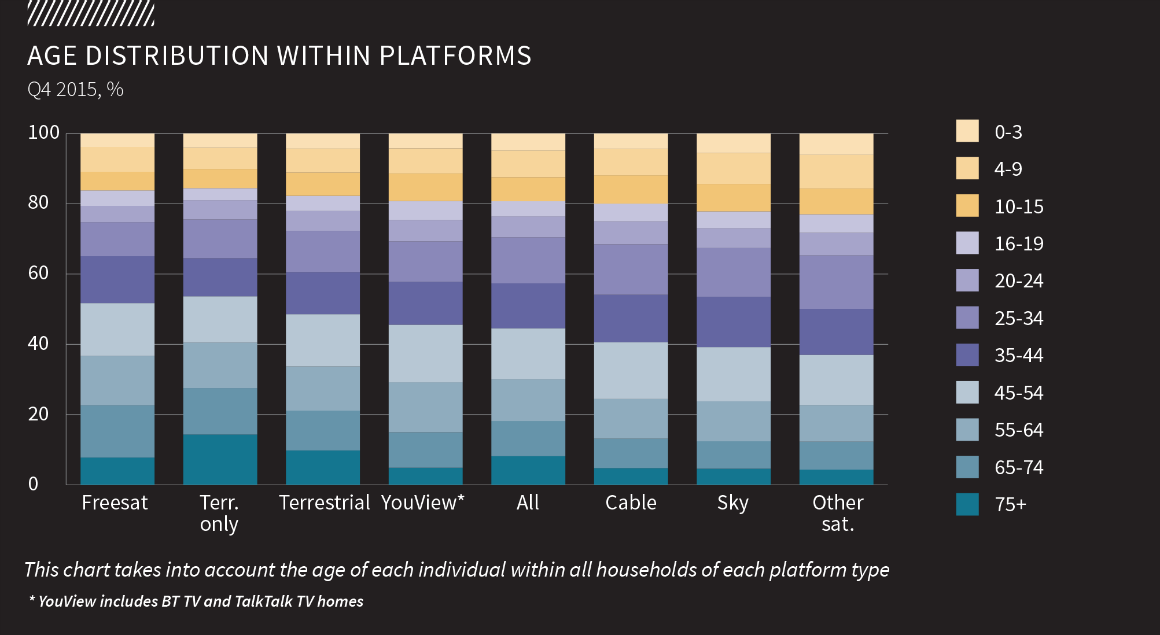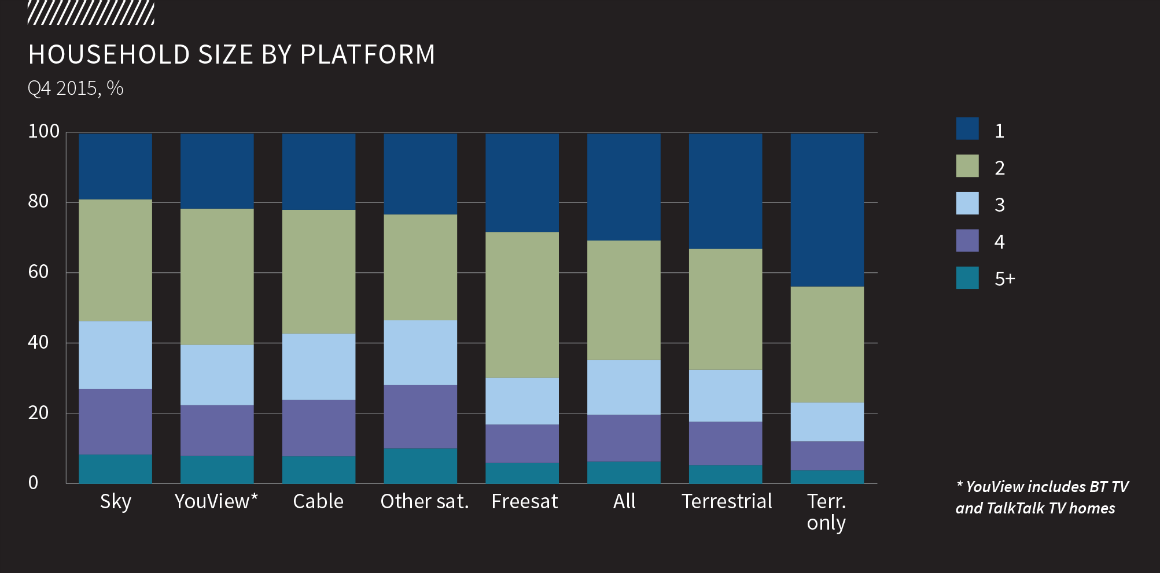 Broadband penetration
Broadband penetration is significantly higher for pay platforms than free-to-air platforms. Where the UK average is 83% broadband penetration, all the pay platforms have over 90%, while terrestrial only homes only reach 70%. Freesat is the highest of the free-to-air platforms at 91%. This is a natural result of the investment made by pay providers in broadband marketing and delivery.