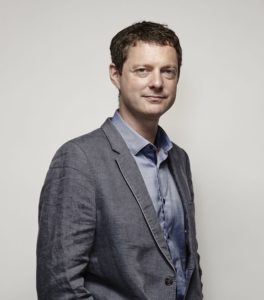 Q&A with Dan McGolpin, Controller of BBC Daytime and Early-Peak. 
You've worked in channel management roles for 15 years. What's the biggest change that's happened in that time?
It's tempting to think that the biggest changes have been in the way that people watch and the devices they are using, that it's gone online, mobile and so on. But the biggest change was simply the explosion of choice in the multi-channel era, going from five channels to hundreds of them.
Now of course there are services that no longer look like channels in the traditional sense but given this explosion of choice in what's available, it's remarkable how resilient the traditional broadcasters have remained by attracting viewers through a wider range of programmes across their portfolios. Also, the most popular programmes, such as The Great British Bake Off, can still unite huge audiences for a moment in time.
How do you think the attitude of programme commissioners to audience measurement has changed? Why is that?
I think they recognise that audience measurement has become more complicated because viewers can watch across a greater timeframe and on an increased number of devices. After a programme is first broadcast you now need to wait a week to obtain an accurate level of viewing rather than finding out the full picture by the following morning. For some genres, namely drama and comedy, the difference a week later can be quite dramatic, especially where younger viewers are concerned.
Online viewing is harder to measure than recorded viewing and although it's not huge currently in overall percentage terms, it's becoming increasingly important for some audiences. The danger is that people ignore online viewing in the decision-making or start contrasting apples with pears through different measurement systems. This is why what BARB is doing is so important because BARB can help to simplify measurement across platforms and time periods – that's what we need.
How much do BBC commissioners use the new BARB data such as the TV Player Report in their commissioning decisions?
I couldn't say that it's had an influence on commissioning decisions, yet. People have got used to the internal ways of measuring online viewing but I think that the TV Player Report will become increasingly useful. Being able to look across the industry at data that you can rely on to be robust, comparable and consistent will become really important and BARB can bring together leading broadcasters and media agencies to ensure a common approach. The TV Player Report will also become increasingly useful in its next phase of development when the data are integrated with the rich demographic detail of the BARB panel. We need comparable metrics that we can trust.
We know we can trust BARB: it has high standards and robust approaches that have been emulated around the world.
If you could ask for one single form of measurement to be top of BARB's development list what would it be and why?
It would be measuring subscription video on-demand (SVOD) services. They are commercial organisations and it's up to them what data they'd like to share but I think that a transparent cross-industry approach to audience measurement should be encouraged so that we can all understand to what extent audience behaviour is changing and how quickly.
In an age when major proprietary datasets are created and available, how important is it to have joint-industry measurement systems?
Proprietary datasets can provide a lot of insight for particular businesses but we also need a robust audience overview of the industry. We know we can trust BARB. It has high standards and robust research approaches which have been emulated around the world.
Tell us about your live+7 and underserved overnight reports and how they sit alongside BARB.
These are BBC reports that we use internally for editorial conversations and each is grounded in BARB data but designed to supplement the overnights. The BBC's underserved overnight report provides a colour-coded illustration of how shows are reaching different audience demographics so that we can see which programmes are the most effective at attracting audiences who tend to watch less of the BBC than other groups. The live+7 report offers a total audience figure for each programme encompassing four sets of data: live and viewed on same day as live (the overnight), recorded playback across the week (consolidated), narrative repeats and iPlayer viewing.
Looking at your first year in this role, what programme have you brought to our screens that you're most proud of and why?
I'm very proud of Food: Truth or Scare, because what we eat is so important for the health of the nation but the advice that people receive can often be confusing and contradictory. Increased levels of obesity and diabetes are worrying trends and in this series I think we gave viewers a lot of useful information. We were able to put some of the scientific data in a context that can be hard to convey in individual news reports. This was done using a very accessible tone that meant people could enjoy watching a programme about healthy-eating.
What three qualities do you need to be a good commissioner?
Audience empathy, creativity, focus.
What's the biggest programming risk you've ever taken?
The Voice UK, which recently completed its fifth and final series on the BBC. When we commissioned it to play in the peak- time Saturday night schedule on BBC One there was a huge amount of press interest. Many people thought that it would struggle alongside other more established shows but it's been one of the biggest entertainment hits of recent years.
Dan McGolpin
As Controller for BBC Daytime, Dan is responsible for all daytime commissioning across BBC One and BBC Two. In a Q&A, he brings a programme maker's view to the development of television audience measurement.