BARB's TV Player Report can tell us more than total viewing levels for online TV – we can also build a picture of when and how people are viewing.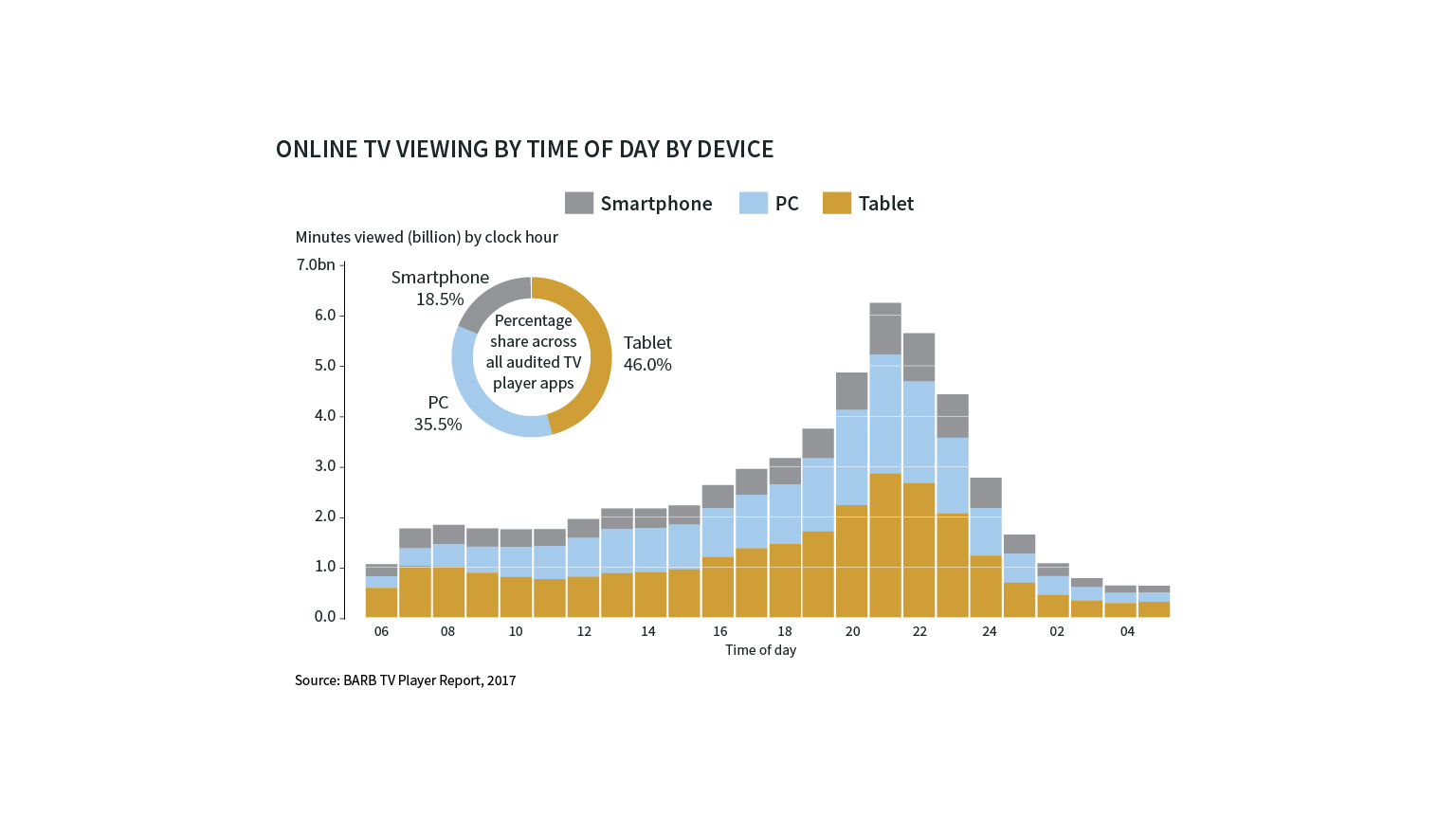 In this first chart, aggregated data for the whole of 2017 show us the pattern of viewing throughout the day on PCs, tablets and smartphones. Broadly speaking, it shows an evening viewing peak, just like TV – although the viewing peak for devices (8-11pm) is later than TV's peak (around 7-10pm).
Looking in detail at share of viewing by device at different times of the day, we see a picture that's consistent overall (tablets ranking first, PC second and smartphones in third place), but with some interesting peaks and troughs.
Tablets peak in the morning – and it's clear that tablet viewing dominates breakfast time and the morning commute, peaking at 7am with 58% of device viewing, and dominating all the clock hours from 6-9am with more than 50% share. It's tempting to put this down solely to viewing while commuting, but from what we also know about the popularity of tablets amongst children, perhaps there is also an element of tablets as breakfast-time childminders.
PCs get their highest share of device viewing in the middle of the day between 12-3pm, no doubt driven by workplace viewing in the lunch hour (but perhaps not just in the lunch hour!), peaking with 40% share at 2pm. By contrast, share of viewing on tablets slumps at lunchtime (from 12-2pm) – with a share of 41% at 1pm (just fighting off PC to retain top place). In fact, in the second chart, we see that the share of tablet viewing and PC viewing are inversely related to one another over the day.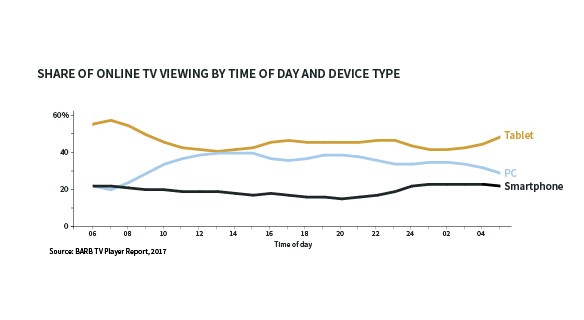 Meanwhile, smartphones get their highest share (23%) at 2am and throughout the early hours of the morning from 1-5am – reminding us that while smartphones are always within reach, they are rarely first-choice device for viewing TV content.
So, device usage grows throughout the day and tablets are the device of choice; but has that been changing over time? In short, not really. The TV Player Report has been gathering data since 2015 and in the third chart we show the trend for the past six quarters.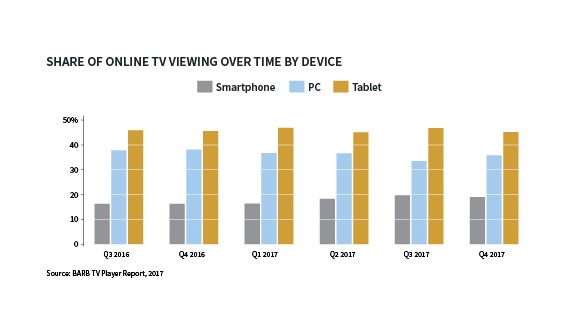 Since Q3 2016 (and indeed consistently since 2015), tablets have been the nation's favourite device for viewing TV content away from the TV set – taking around 45% of viewing time on non-TV devices. This first-choice position for tablets looks to be pretty unassailable, as viewing on PCs, the next most popular device, has declined 4.3 percentage points year-on-year from Q4 2016 to Q4 2017.
In contrast to this, viewing via smartphones has been on the increase – climbing more than three percentage points year-on-year – most likely due to a combination of the ubiquity of smartphones, the trend towards larger handset screens and cheaper data packages.
Nevertheless, the ranking of devices seems to reflect what we'd expect by way of the quality of the television viewing experience – larger screen sizes winning out over smaller and PCs losing out to the more personal devices of tablets and smartphones.
But overall, it's clear that we love watching TV around the clock on whichever device we can get our hands on; and, if we can, having prime time all the time. Let's take a look next at who's doing this online viewing.