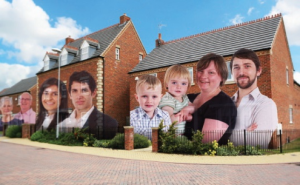 BARB announces a new agreement with global information services group Experian that enables our customers to analyse potential TV channel splits and schedule choices by Mosaic geodemographic groups.
Mosaic uses more than 340 demographic, lifestyle and behavioural variables to determine its groups and has been a trusted source of targeting for many years. This is the first time media planners will be able to examine how their clients' television advertising campaigns perform among the Mosaic lifestyle groups and gives further insight into programme profiles.
TV planners and brand managers are constantly looking for different ways to determine the most effective channel, daypart, or programme options. Combined with BARB, the Mosaic classification system gives planners an additional predictor of viewers' lifestyles and how they spend their money. It is also another tool for broadcasters to demonstrate the nature of their audiences in a way that goes beyond traditional demographic descriptors.
The diagram below brings to life how the use of the classifications differentiates viewing when compared to the use of standard demographics.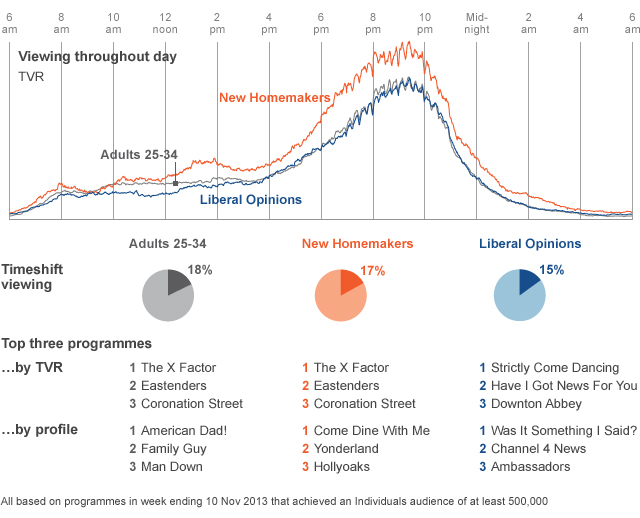 The analysis compares a Mosaic group called New Homemakers with another group labelled Liberal Opinions, both of which have a young profile. There are noticeable differences in viewing when looking at these two groups alongside the classic 25-34 year old demographic, such as higher peak time audiences for New Homemakers compared to the Liberal Opinion target or the 25-34 group. Timeshifted viewing is relatively high for each of these groups, althoughalthough Liberal Opinions are more likely than New Homemakers to watch their favourite programmes at the time they are broadcast. Liberal Opinions are more likely than New Homemakers to watch their favourite programmes at the time they are broadcast.
Strictly versus the X Factor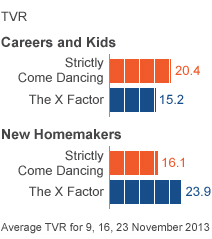 Another Mosaic group with a high level of timeshifted viewing (14%) is Careers and Kids. Comparing this group with New Homemakers shows how Mosaic definitions can bring colour to programme comparisons such as 'Strictly Come Dancing' versus 'The X Factor'.
New Homemakers are more likely to be 'X Factor' fans, while the Careers and Kids group prefer 'Strictly'.
Analysis such as this is now available from BARB data bureaux for viewing data from 1 November 2013.
David Fletcher, Head of Analytics and Insight, MEC, says "The BARB integration with Mosaic is good news. Geodemographics are a great surrogate for lifestyle and it provides another hook into the currency where we spend most of our money"
Denise Turner, Chief Insight Officer, Havas Media Groupsays "This is another great development. It shows how BARB is thinking about how to add more colour to the data and expand the ways it can be used. It also demonstrates how other information can be integrated with the main panel, which is increasingly important for major currencies going forward. No currency is an island after all."

Justin Sampson, Chief Executive, BARB, says "BARB continues to evolve. Adding Mosaic data brings more vibrancy and value to the data we provide to our customers. The BARB panel will continue to be the bedrock of our measurement as it enables real insight into who is watching and how they watch. Augmenting the relevancy of the panel through initiatives like this is important while we plan for the integration of machine-generated data."
About BARB.
The Broadcasters' Audience Research Board (BARB) provides official viewing figures for UK television audiences. Its principal funders are BBC, Channel 4, Channel 5, IPA (Institute of Practitioners in Advertising), ITV and Sky.
On behalf of these organisations and other subscribers, BARB commissions specialist research companies Ipsos MORI, Kantar Media and RSMB to collect data that represent the television viewing behaviour of the UK's 26 million TV households.
BARB viewing data give broadcasters, advertisers and other interested parties a minute-by-minute breakdown of viewing at regional and national levels. This information is vital in assessing how programmes, channels or advertising campaigns have performed and provides the basis for airtime advertising trading.