As London and the rest of the UK prepares itself for the Olympics starting on 27th July we thought it would be interesting to take a look at past Olympics and the viewing they received.
The opening ceremonies are spectacular extravaganzas and set the stage for the events ahead. Looking at the past 5 Olympics, the viewing was varied, with a high of 11.3 million viewers for the Barcelona Olympics in 1992 and a low of 1.1 million viewers for the Atlanta Olympics in 1996. The opening ceremonies are broadcast live and the time differences explains the wide variation in viewing figures.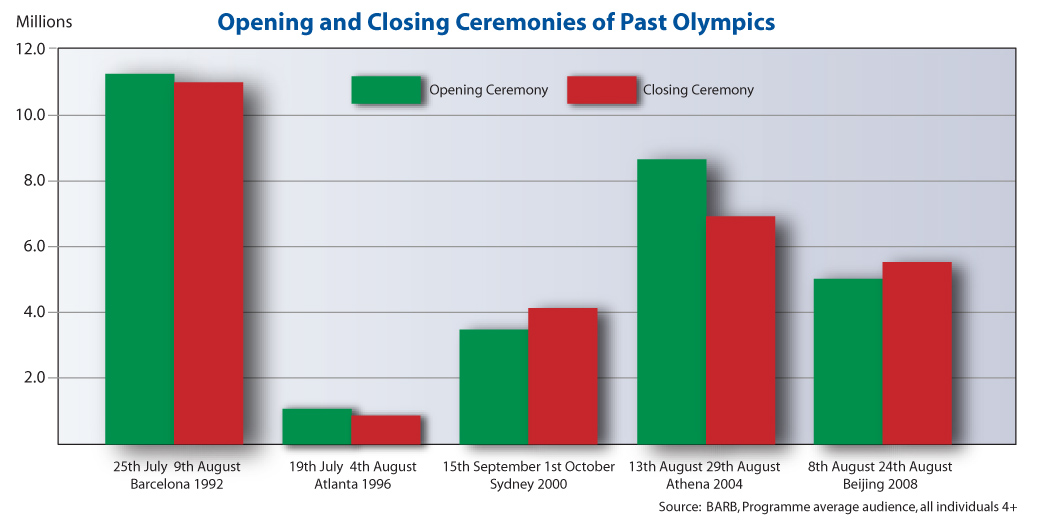 The closing ceremonies are equally as spectacular and achieved similar viewing levels to the opening ceremonies. From the chart above, the Barcelona closing ceremony on 9th August attracted the highest level of viewing with 11.1 million viewers with the Athens closing ceremony on 29th August attracting 7.0 million viewers. Both ceremonies were shown in the evening with Barcelona at 9pm and Athens at 7pm. In contrast the closing ceremony in Atlanta on 4th August achieved viewing of just 0.9 million but this was shown at 2.00am.
We are sure that the London 2012 opening and closing ceremonies will be equally spectacular. So the very best of luck to Team GB and let's hope the rain stays away.