It's been an eventful summer. Times are changing and of course we're all aware that television is no different. The TV Player Report has just celebrated its first birthday and as expected, unlike viewing through a TV set, online viewing favours on-demand to live streaming.
However, there is still one thing that people, regardless of device, prefer to watch as live rather than on-demand and that is sport.
Who wants to miss out on watching the winning goal happen, or, more to the point, who wants to be reminded that it didn't?
We have enjoyed a vibrant summer season of sport starting with the Euros and Wimbledon and ending with the Olympics and Paralympics in Rio. And there's nothing like an international competition, with its endless rounds and awkward time differences, to test the UK's viewing habits.
Just like viewing to news, weather and current affairs programmes, well over 90% of viewing to sport through a TV set is done at the time of broadcast and online viewing seems set to follow suit.
You can see here that while the live streaming does not increase enough to overtake on-demand viewing in the TV Player Report, there is still a significant bump in minutes when the Euros start. Indeed sporting events seem to boost live viewing into the autumn.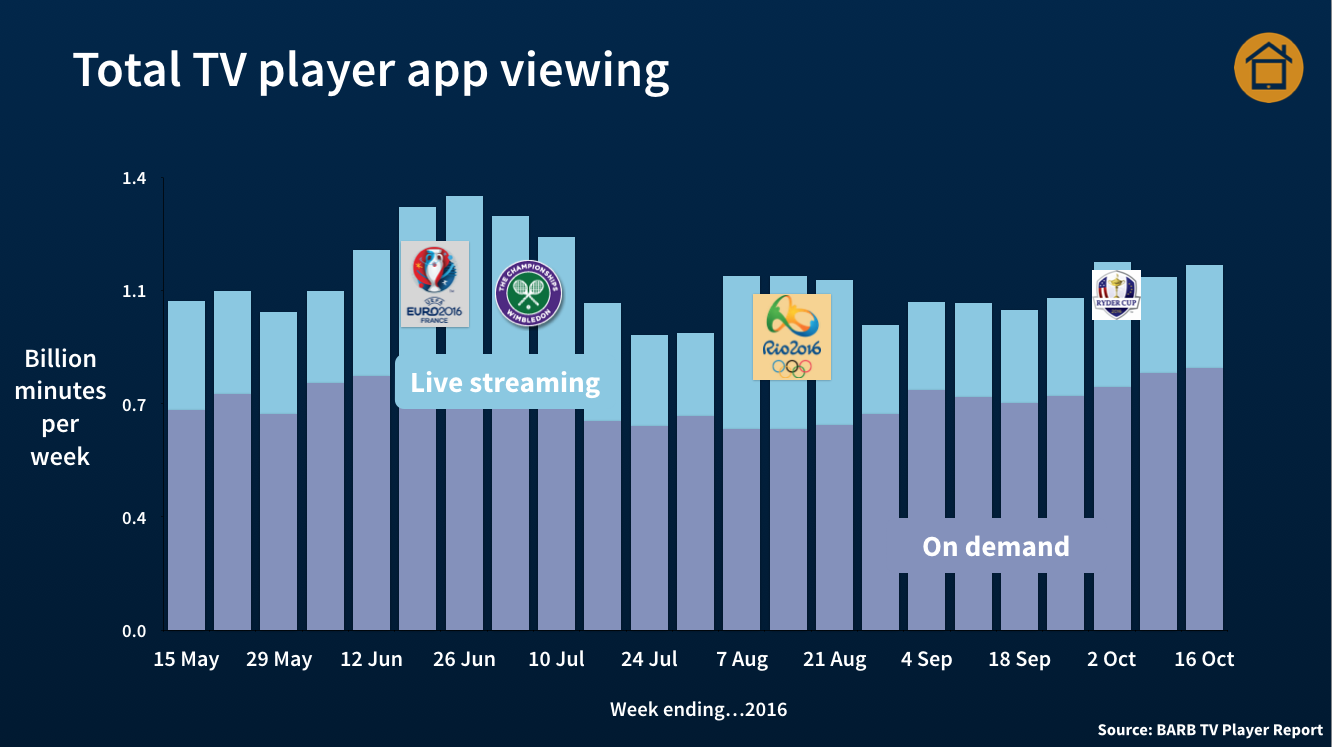 Although this is viewing from devices, looking at the live only viewing to the TV Player Report for weekdays in May we may see evidence of the human patterns we're used to by now.
There is a clear spike in the morning as people lazily reach for their tablets or hide behind them on commutes; viewing then bumbles along with maybe a slight rise for lunchtime distraction; a steady incline as everyone makes their way home and then a big boost at 9pm. While this evening peak comes a little later than viewing through a TV set, the patterns are not too dissimilar.
Compare this to live viewing online for weekdays in June and it's much the same, except one obvious change.
We'll put aside for the moment the increased morning bump in June. With everything that was going on, it was probably people just checking the world hadn't ended.
A 2pm bump on PCs cannot just mean post-lunch procrastination. Most likely it is viewers trying to catch Euro games. Indeed, when comparing the most popular matches according to the TV Player Report with those watching on a TV set we see that convenience is driving online viewing.

Source: BARB Live viewing data and TV Player Report
What was so special to online viewers about England v Wales? It was on a Thursday at 2pm. It's not about what online viewers and TV set viewers prefer to watch, it's about people trying to watch football when they should be working.
The considerable gap in popularity on the TV Player Report between the England v Wales game and the others further suggests that when viewers are more likely to have access to a television set they will take it.
That said there may be times when having a smaller screen is the best option. For example, when you feel you should watch a historical event like the Rio Olympics opening ceremony but it's 3am and watching people samba makes you tired so you watch it on your phone in bed. Or maybe you do want the carnival music full blast but the neighbours don't so in go the laptop headphones.
While the opening ceremony was top of the TV Player Report's live list for that week, it came in at 15th for live viewing through the TV that day and didn't even enter the weekly top 30 consolidated ratings for BBC.
Likewise, pole-vaulting and hurdle jumping on the 15th August was popular for online viewers but not so much on the TV charts.
This is exactly why we need to start combining data with our panel because I'd love to know who these people are watching pole-vaulting until 4am on a Tuesday.
Interestingly, the slots earlier on this Monday shift were very popular for those viewing through the TV, with 7.4 million tuning in to watch Laura Trott win gold. The numbers were even higher the following day when she did it again and this programming was also top of the live chart for the TV Player Report.
You could say that maybe Britain just likes watching the sports it's good at but then Mo Farah winning gold and Jessica Ennis-Hill taking silver was 4th most watched live online and only 11th in the overnights. Again, the four-hour time difference might be the issue.
What seems to be most important to TV set viewers of the Olympics is a decent bedtime. If it's after midnight people either turn off, switch over or squirrel up over a small screen in bed.
This is mainly speculation. Once TV Player Report data are fused with our panel data we should be able to get a more holistic idea of when and how people choose to watch television.
However we can already infer that there are not necessarily two camps of people: people sat in front of TV sets and people with their noses in screens. The devices may be different but the people are the same.
Viewing through the TV set is still the most popular medium and in the case of all the events discussed, millions more have watched them this way than online. It's just millions more had also watched other programmes that day and pushed the Olympics down the chart.
UK viewers love sport and they love watching it as it happens. If that means it's more comfortable or convenient watching it on a big screen TV one minute and a tablet the next then so be it. It's not as if it changes the score.
Charlotte Martin, Communications Executive, BARB