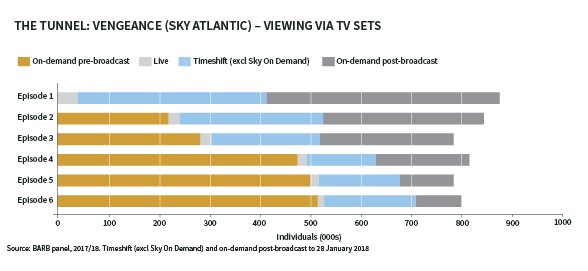 This article by Justin Sampson, our Chief Executive, was first published in Broadcast on 2nd May 2018.
Last autumn, Sky director of programmes Zai Bennett called on the television industry to move away from its adherence to overnight or consolidated viewing figures. He said we should be looking at the bigger picture, considering the myriad ways in which television is now viewed.
BARB has been dealing with audience fragmentation since its formation in 1981. We can now measure both major new ways in which people are watching television: on-demand via the TV set and viewing on devices.
Broadcasters are making entire series available for binge-watching on-demand via TV. We can track this viewing – and thus measure it as we do with traditional linear broadcasts – when the content owner gives us a copy of the programme assets before they make it available on-demand.
The BBC has been working with us to measure such non-linear viewing since BBC3 went online-only in 2016, while Sky started to use this technique to track on-demand viewing of its box sets following Zai's call to action last year.
The first Sky programme we measured like this was British-French crime drama The Tunnel: Vengeance. Sky released all six episodes on-demand on the day the first episode premiered on Sky Atlantic in December. As well as live and timeshifted viewing, we tracked on-demand viewing pre- and post-broadcast.
Across the series, live made up just 3% of TV set viewing. Most was either on-demand pre- or post-broadcast (70%) or timeshifted (27%).
As the series progressed, viewing changed from mostly post-broadcast catch-up (95% for episode one) to pre-broadcast on-demand (64% for the final two episodes). The total audience remained consistent at around 816,000 per episode.
Just over half of total TV set viewing came from 45-64s, but this age group also accounted for 57% of on-demand pre-broadcast viewing of the series – showing older viewers have got to grips with new ways of watching TV.
Another new way to watch programmes is via devices, and in September, we'll report on viewing figures across TV sets, PCs, tablets and phones. The future of TV viewing – and new ways to measure it – is here.
Justin Sampson, Chief Executive, BARB